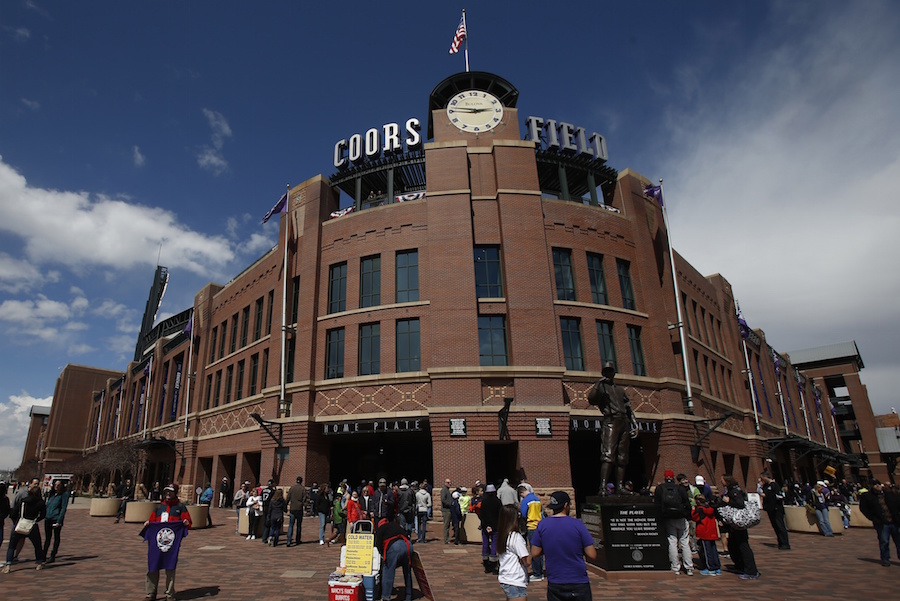 Cruise down Denver's Blake Street or 20th Street and you'll find no shortage of folks holding up cardboard signs with messages that will make you question the lucidity of their authors.
If I held up a cardboard sign on the corner of 20th and Blake that read "The Rockies are going to contend," you would wonder the same about me.
If I told you the Rockies can win the division and surpass the San Francisco Giants and the LA Dodgers, you would shield your children's eyes as you passed me and tell them I need to get professional treatment.
If I told you the Rockies might have the recipe and ingredients to win it all, and the right man to cook the meal, you would call the authorities and say I might be a danger to myself and others.
Well, I am here to tell you, the Rockies could do the impossible and make a serious run in 2017. But don't lock me up just yet.
The Colorado Rockies this year have done something we have not seen the Rockies do in a long time – make moves. The Rockies added real talent to this roster and they are not done. They added Mike Dunn, who held opposing left-handers to a .226 batting average during his time in Miami. They added Ian Desmond, an All-Star in Texas and truly a unique athlete. Formerly a shortstop who last season played both left field and center, Desmond averaged .497 slugging at home. (Think that won't go up at Coors Field?) And finally they made a roll of the dice additon in Greg Holland, who is 15 months off Tommy John Surgery. Holland was (and the Rockies are banking that he still is) a stellar relief pitcher who knows how to win in the regular season and postseason. If healthy and back to his filthy self, Holland can be the pine tar that keeps this bullpen together. The Rockies bullpen last season was riddled with injuries and question marks. This move could make the Rockies parts and pieces more steadfast and regular. If Holland makes it 100 percent back to where he was with the Royals, it will be a legitimate bullpen that can hold and win games, both home and away. And in no uncertain terms are the Rockies done making moves. At the trade deadline, the Rockies will be buyers, not sellers.
With prospects galore down in Albuquerque for the Triple-A Isotopes, the Rockies are in a great situation to make moves within the 162 game season. Rather than the usual talk of losing key players, the Rockies can now be in key position to move decent prospects for players who could fill in a hole in the rotation or perhaps solidify an already powerful lineup. Again, a unique scenario in Colorado. I'm telling you the Rockies could contend.
I know what most of you are saying: Say what you will about the lineup, say what you will about the additions, but it all starts with pitching and starting pitching.
The Rockies have that too, and you are going to be pleasantly surprised.
It all starts with the Gray Wolf, Mr. Jonathan Gray. Jon Gray is a decent changeup away from being a 20-game winning, mound-dominating, seed-throwing, dime-dealing starter. New manager Bud Black knows something about pitching and is just the guy to get Gray that offspeed pitch he needs to become elite. Gray, the former Boomer Sooner, has a slider that on a good day, no one can touch and a consistent fastball that has great movement. He has been working on his changeup and according to reports it's almost there.
The rest of the crew behind Gray will be just fine as well. Chad Bettis was phenomenal after the All-Star break last year and proved himself as a leader of this rotation. Tyler Chatwood was nothing short of outstanding with an 8-0 record on the road and an ERA of 1.69. Tyler Anderson also showed flashes in his rookie year and that last spot in the rotation might belong to Colorado hurler Kyle Freeland (of Denver's Thomas Jefferson HS). Freeland in the mold of Jon Gray has a 90 MPH fastball, a good slider, and is a changeup away from being formidable. Freeland will have his role on this team, either as bait at the deadline, or as the fifth starter late in the season. (Listen to Freeland's recent interview with Afternoon Drive.)
Combine all of this with the best infield in baseball with All-Stars Nolan Arenado, DJ LeMahieu and budding star Trevor Story, not to mention and an outfield consisting of David Dahl, Charlie Blackmon, and Carlos Gonzalez: The Rockies will be contenders.
It's not crazy at all to think the Rockies could be playing in October.