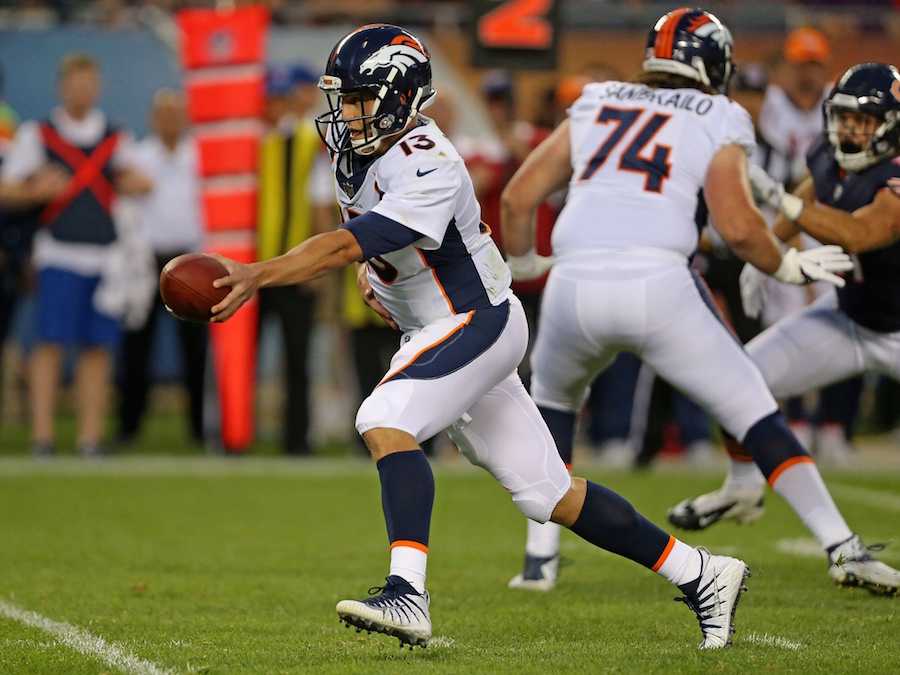 The No Fly Zone was dominant, even it was for only three plays.
As promised, Garett Bolles is nasty. It took him all of eight plays to get under the skin of Chicago's Willie Young.
And speaking of the Bears, they're awful. (Note to Foxy: You might want to consider starting rookie Mitch Trubisky in the opener.)
As were the Broncos on third down (1-for-6 in the first half).
Equally awful were Paxton Lynch's first two possessions. The second-year quarterback who's not necessarily second-string (not yet) went 1-for-3 in the air and had three carries for three yards. While leading the offense in those first two possessions, he produced zero first downs.
To be fair, his first pass of the third quarter resulted in a first down. But that might have been the highlight. All said and done, Lynch was 6-for-9 for 42 yards. He tucked it away four times for 11 yards. To run is clearly his gut instinct, and that's reason for concern.
But before you conclude that this is a "conclusive" argument that Lynch shouldn't be the starter, it's not.
Trevor Siemian? Well, he wasn't bad (he never really is). In fact, he almost looked good – he was, after all, 6-for-7 in the air. But then again, that stat doesn't exactly tell the story accurately.
Like most everything and everyone in last night's preseason game, Siemian was who he is – a game manager, a dink and dunker and not exactly mobile.
Remember all of that, Denver?
Sure, Siemian didn't make any catastrophic mistakes. But, as he consistently did last year, he didn't make many plays either. His first possession, initially aided by Chicago penalties then stunted by Denver penalties, was decent… between the 20s. Not unlike last season, the Broncos stalled near the red zone, settling for an opening drive field goal.
Then, Siemian engineered a three-and-out, defined by a third down completion that hit Jordan Taylor in stride but just short of the first-down marker. Perhaps a bad route, perhaps a poor decision.
Next possession: Seven plays, capped by – you guessed it – a punt.
While Siemian's "6-for-7" was nice, his 8.5 yards per completion was uninspiring. For the sake of comparison, and noting the extremely small sample size, the worst yards per completion average in 2016 belonged to Houston, at 9.2. In 2015 Minnesota held that honor at 9.8. The 2016 Broncos ranked 20th in yards per passing attempt last season (7.0). Last night Siemian edged that number at 7.3.
Dink. Dunk. Yawn.
The Broncos offense, no matter whether Siemian or Lynch was in charge, wasn't good. No touchdowns. Three points. And 2.8 yards per rushing attempt. In fact, the O looked eerily similar to 2016. Should Kyle Sloter, who posted better numbers (5-for-6, 94 yards, and one TD) against the Bears fourth-stringers than both Siemian or Lynch, seriously be considered in this quarterback competition?
Yikes, Vance Joseph.
If there is one word that can accurately describe the Broncos' first preseason game of the 2017 season, it might be familiar. Tell me, Broncos fans, what looked different? Turn off the sound and try not to read the names on the jerseys; looks like a team we know all too well, doesn't it? Whether you watched last November or from the hillside in the shadow of the UCHealth Training facility, you've seen this all before.
The offense will struggle.
The defense will save.
Lynch is an athlete, but not yet a quarterback.
Siemian is a quarterback, but will never be an athlete.
It's probably safe to say that the Broncos currently lack the quarterback they truly want.
We all tuned in just in case, but preseason game No. 1 revealed what we already knew.
What's that you say, Denny Green?
These Broncos, well, they are who we thought they were.