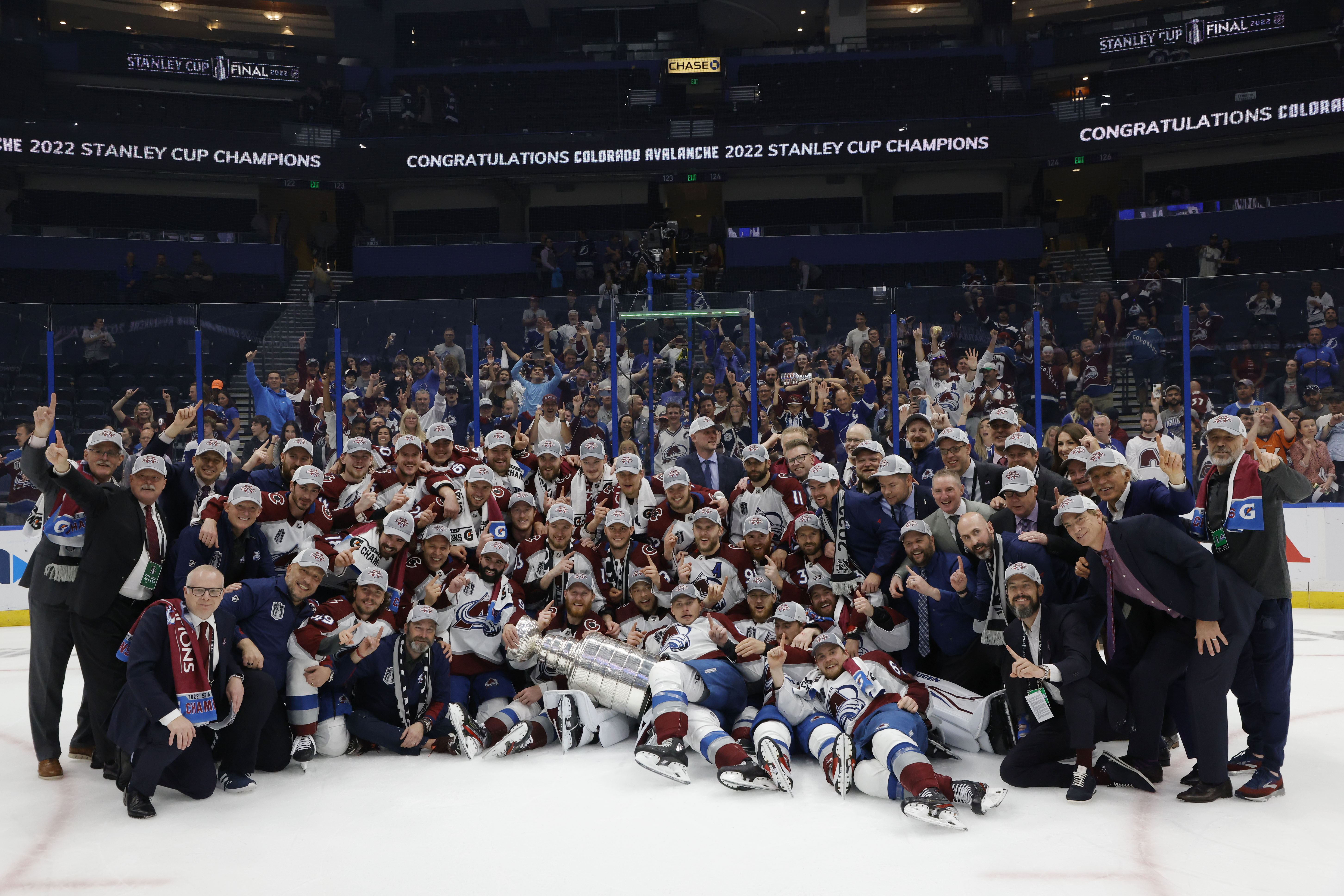 He would never say it. Never. Not ever.
He'd offer up Norris and Conn Smythe Trophy winner Cale Makar. He'd confidently nod toward Nathan MacKinnon, who only trails Wayne Gretzky, Mario Lemieux and Bobby Orr for the highest points per game average in Stanley Cup Playoff history. He'd never forget about his Captain of 10 seasons, the youngest one ever named in the NHL. Nor would he dismiss Erik Johnson, the humble elder statesmen who's seen his fair share of ups and downs as the anchor the Avalanche's defense since 2011.
He'd certainly consider Darcy Kuemper, a new-to-the-franchise netminder who was shaky at times during the postseason but came up huge in Game 6 of the Stanley Cup Final. He'd gush over the heroic effort put forth by Nazem Kadri who won for Colorado both on and off the ice.
His players would always come first – in fact there are 25 or more names that would spill from his lips before anyone else – but he'd never fail to recognize his fearless coach, a man who boldly stepped into his first NHL head coaching job less than a month before the 2016 training camp, and somehow wound up with his name on the Stanley Cup six seasons later. Yes, there's no doubt Jared Bednar would be lavished in praise, too.
In fact, he would credit anyone and everyone in the Avalanche organization – from President and Governor Josh Kroenke to the guy who drives the Zamboni at the Family Sports Center where the Avs practice to the guy who dries the gloves to Bernie the mascot – for their role in hoisting the franchise's third Stanley Cup on Sunday night in Tampa.
But he'd never say this:
This one belongs to Joe Sakic.
That's not the hockey way. It's certainly not the Joe Sakic way. But it's not untrue, either. The Stanley Cup is smudged with thousands of grimy fingerprints, but long before he held it with his own mitts on Monday night, Sakic's prints were as clear and prominent as the ones we see on C.S.I.
Hockey is a game steeped in "we" and never "me" – that's just the culture – and nobody but nobody embodies that culture more than Avalanche general manager Joe Sakic. As good as Sakic was as a player, as good as he's been as an executive, he'd never, ever suggest that he had anything to do with it.
In reality, he had everything to do with it.
He always has. Remember, it was Sakic the player who won a Cup in 2001 and put his own celebration on pause in order to hand over the Cup to teammate Ray Bourque. It's Sakic who took the job with the Avalanche as a suit but rolled up his sleeves like an NHL grinder; there's no way that Super Joe would ever accept a title without simultaneously embracing the responsibilities that come along with it. He's no celebrity figurehead, no sir.
For most, and without records or standings, the Avalanche were the best team in hockey all season long. That's an indisputable fact as of today. Nobody was better than the Avs, who were carefully constructed by Sakic, a guy who knows more than just a little about what it takes to win the Stanley Cup.
Sakic is big on respect, especially when it comes to the GM when he wore the skates. The late, great Pierre Lacroix will always be held in the highest regard, not just by Sakic, but by anyone who recalls those early Avalanche teams.
But the job Sakic has done in the NHL's salary cap era is every bit as impressive (if not more) as anything Lacroix ever did. That's not a knock on Lacroix at all – he'll always be on Colorado's Mt. Rushmore of Colorado sports execs – it's only to say that Sakic has been just that good.
You don't have to take the word of some scribe, writing from his own couch some three hours after the game, either. But you can and should listen to the Captain.
"In '16-'17, it would have been easy to fire the coach," Landeskog told the media gathered on the ice of Amalie Arena following the Avs nailbiting, 2-1 win over the Lightning. "It would have been easy to let go of some players. It would have been easy to – after the third year of a second-round exit – to blow it up and move some pieces. But they stuck with us. They committed to us. They brought in some really high, high quality people that just wanted to do anything they could to win. All these guys that we've added in the offseason and during this season…
"…it's just so special."
If you don't speak Swedish-Canadian, "they" can be accurately and easily translated to "Joe Sakic." Special, in any language, means special.
On the way to the Cup, Sakic made tough decisions, exhibited both urgency and patience, and perhaps more than anything, he knew that he had something special going in Colorado and didn't panic. None of that is easy when your team has massive expectations and a short history of even bigger collapses.
He might humbly discuss how or why he's handled this decision or that transaction, but one thing he'll never do, is take credit.
It's indisputable though; he deserves a ton of it.
Hey Colorado, the Stanley Cup is on its way.
And this one's for Joe.