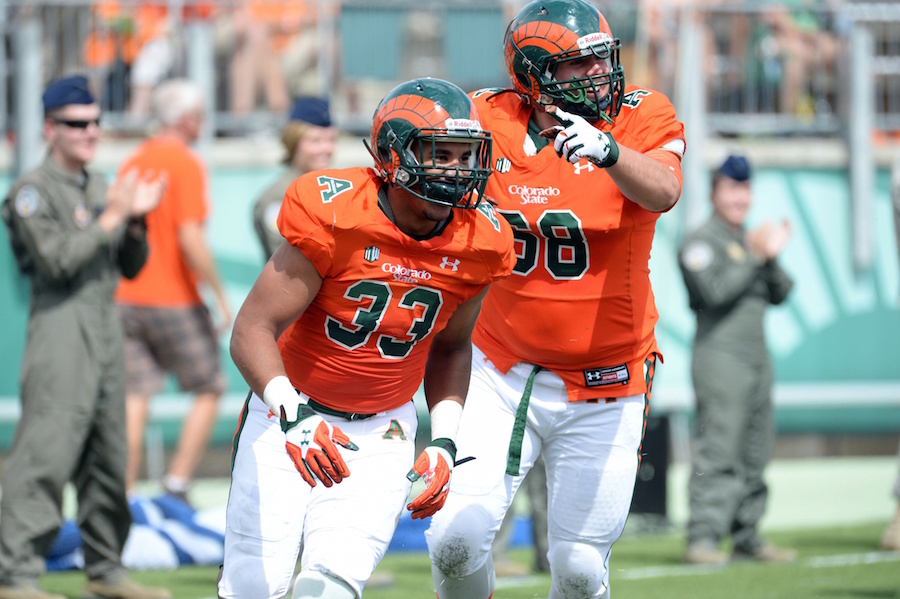 Read this story at CSURams.com
A trio of former Colorado State standouts will take part in college all-star games this month. Linebacker Kevin Davis will participate in the East-West Shrine Game, while offensive linemen Nick Callender and Fred Zerblis will compete in the Tropical Bowl. Zerblis is also participating in the College Gridiron Showcase.
The weeklong East-West Shrine Game begins Sunday, Jan. 15, and caps with a game at Tropicana Field on Jan. 21 (1 p.m. MT on NFL Network). The East-West Shrine Game includes some of the top seniors in college football. In its history, the nation's first college all-star game has produced 72 NFL Hall of Famers – including former Colorado A&M star Fum McGraw – and an average of 265 players who are annually on active NFL rosters.
While the teams are divided by East and West, the players come together for the beneficiary of the event, Shriners Hospitals for Children, an international pediatric specialty health care system. Shriners Hospitals for Children is changing lives every day through innovative pediatric specialty care, world-class research and outstanding medical education. The 22 hospitals in the U.S., Canada and Mexico provide advanced care for children with orthopedic conditions, burns, spinal cord injuries and cleft lip and palate.
Davis will compete for the West side and wear his traditional No. 33. A complete schedule of events can be found online.
The Tropical Bowl – which debuted in 2016 as the Tropic Bowl and featured former Rams tight end Steven Walker – is a three event in Daytona Beach, Fla., that culminates with a game on Sunday, Jan. 15. Callender and Zerblis will go through a series of practices, meetings and interviews with scouts on Friday and Saturday, before competing for the American Team on Sunday.
Callender will wear No. 71 while Zerblis will wear No. 74. The American Team is coached by former FBS coach Todd Littlejohn, who has coached at several prominent schools, including UCLA and Cal. More than 60 NFL scouts will evaluate talent over the weekend, headed by 13-year veteran Ken Moll and former Fritz-Pollard NFL Scout of the Year Jerry Hardaway.
CSU fans can watch Callender and Zerblis compete on Sunday (7 a.m. MT kickoff) via a livestream. A complete agenda for the weekend can be found online.
Both Callender and Zerblis also were invited to the College Gridiron Showcase, which Zerblis is participating in. The four-day event (Jan. 7-11 in Bedford, Texas) aims to provide exposure and education for top college senior football players. The Showcase prides itself on providing professional coaching, mentoring, life coaching and seminars.
Throughout the week, players attend meetings, practice, perform individual drills, one-on-ones and team drills, and in many cases have personal interviews with the scouts and executives from these professional clubs. The event also contains a strong professional football education symposium component. The athletes attending the will have seminars relating to financial education, life as a professional athlete, player expectations on and off the field, first-hand accounts from former NFL rookies, social media responsibilities, and more.
Davis was a 2016 All-Mountain West second-team selection, leading all Rams defenders with 110 tackles and 10.5 tackles for loss. He was one of two FBS players nationally to rack up 100-plus tackles, at least three sacks, and an interception, fumble recovery and forced fumble. His 8.5 tackles-per-game average ranked eighth in the MW, while his four forced fumbles rank 14th in the country. He led a defense that posted shutouts in six halves this season.
Zerblis earned first-team All-Mountain West honors and second-team All-America consideration by Pro Football Focus, while Callender was All-MW honorable mention. They anchored an offensive line that allowed just 13 sacks (one in the final six games), a figure which ranks eighth in FBS. They blocked for the third-best offense in school history and averaged 47.8 points and 533.8 yards per game over the final six games – figures which were the second- and fourth-best in all of FBS since Oct. 16.