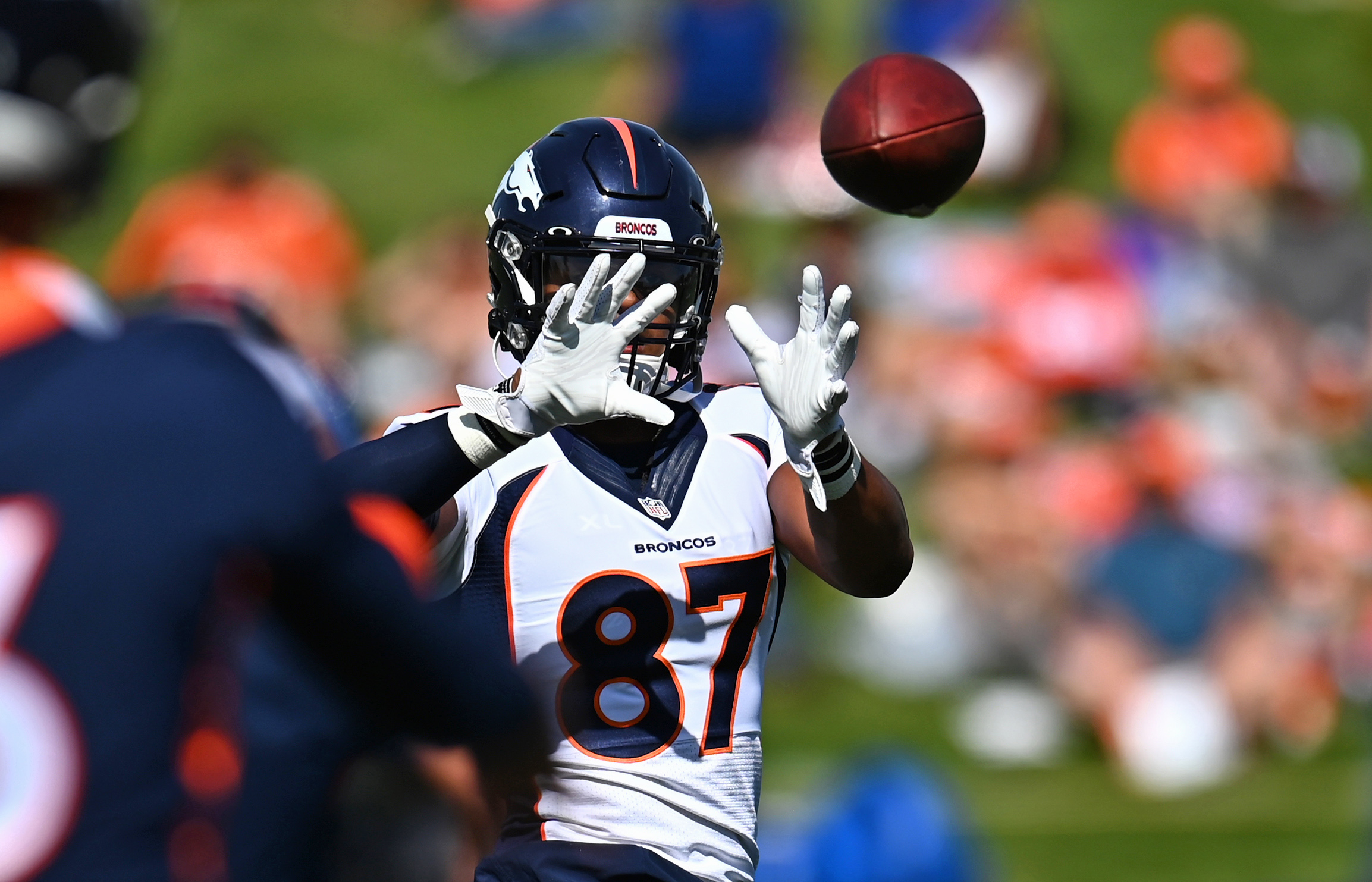 It goes without saying that the quarterback – on any NFL team – is the most important player on the roster. Without a respectable signal caller, no team goes very far at all.
But in Denver, Colorado, it would appear that the position of tight end is a close second. Of course, that's a matter of opinion, but there's evidence to back it. Just look at the track record.
In the past five drafts, John Elway has selected a tight end in four of them. He's used a first-round pick (Noah Fant, 2019), a third-round pick (Jeff Heuerman, 2015) and two fifth-round picks (Troy Fumagali, 2018 and Jake Butt 2017). In addition to the draft, Elway has acquired multiple, notable tight ends through free agency and trades: A.J. Derby, Austin Traylor, Virgil Green, Vernon Davis, Owen Daniels and Joel Dreesen.
The tight end position has always been valued at a premium in Denver, dating back to Hall of Famer Shannon Sharpe and hoopster converted to pass-catching phenomenon Julius Thomas. Players like those two have wet the whistle, giving Elway and the organization some solid examples of the good that can come from having an above average tight end. Even a quite serviceable Owen Daniels had two touchdown catches in the 2015 AFC Championship Game over the Patriots.
It's easy to see why so many resources – and so much time – has been devoted to the tight end position for the Broncos.
But in any other town would Noah Fant have been selected at No. 20 (especially considering the Broncos could have had inside linebacker Devin Bush at No. 10 before trading back)?
In any other town, would Jake Butt or Jeff Heuerman still be around? They say one can't make the club from the tub. But in Denver, both players likely will.
Here's the thing though, if all three of those players – or even two out of the three – pan out, the Broncos will have arguably the best set of tight ends in the league. Even Fumagali (who's also been dinged up) could be a key piece of the puzzle in Denver (especially if fullback Andy Janovich is unable to go early in the season).
Aside from Elway's affinity toward quality tight ends, his quarterback needs one, too. How badly? Consider this: For the past 10 seasons, when Flacco's teams post a winning record (seven times), his top tight end records more than 500 receiving yards. In the two seasons when the Ravens were 8-8, the tight end had 729 receiving yards (Dennis Pitta in 2016) and 345 yards (Dallas Clark in 2013). And in 2015, when Flacco's Ravens went 5-11, tight end Crockett Gillmore only tallied 412 receiving yards. Only twice in the last 10 seasons has a Flacco tight end finished worse than third on the team in total receiving yards (2018 and 2013)
Point being: When Flacco's tight ends are racking up the yards, his teams generally win.
Further point being: The Broncos tight ends must not only be healthy, but also good.
And that's where the appeal – especially with Butt and Fant – comes into play. The upside is so tempting. If either or both becomes the player that some (particularly John Elway) believe they can be, good things are in store for Flacco and his team. If they're not – if the Broncos are forced to lean on the services of mediocre tight ends (see Matt Lacosse, Brian Parker, Virgil Green, Austin Traylor) – then trouble lies ahead.
Noah Fant has had good days and bad so far in camp. Jake Butt is finally back to practicing. Jeff Heuerman appears to be healthy as well. Troy Fumagali has been steady when healthy.
But if that quartet can become good instead of hurt, the Broncos record will benefit greatly.
Tight end – behind (and for) Joe Flacco, it's the most important position in Denver.