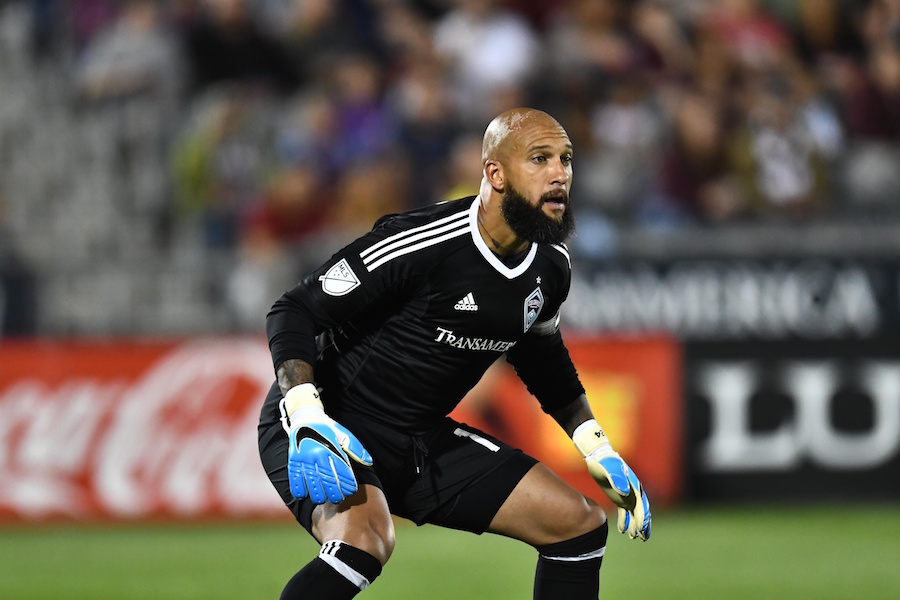 U.S. Men's National Team head coach Bruce Arena announced he will stick with Colorado Rapids goalkeeper Tim Howard as the starter for the team's upcoming World Cup qualifying matches. What's more, the decision to start Howard over Brad Guzan was not a particularly stressful one for Arena, who is confident in the crop of goaltenders his team boasts.
"As of now, it's Tim Howard," Arena told Marco Cummings of MLSSoccer.com on Monday. "It's two good games, and we'll have to see how these guys look over the next couple of weeks. But we have good goalkeepers here, so that's the least of my worries."
After playing in a friendly against Venezuela on June 3 in Utah, the USMNT will play two crucial World Cup qualifying matches, the first on June 8 against Trinidad & Tobago at Dick's Sporting Goods Park. The USMNT will then travel to Mexico City for a bout against Mexico on June 11 in the final of two qualifying matches.
Players reported for their first training session for this round of World Cup qualifying on May 28 in Denver and will remain with the team through the process. For the Colorado Rapids, the timing of the matches is ideal as Howard will presumably miss only one game with the team.
During the USMNT's friendly against Venezuela on June 3, the Rapids will host the Columbus Crew. However, they then go on a two-week break, not playing again until June 17 against the Portland Timbers, allowing Howard and the rest of the USMNT to focus intently on qualifying. For Howard, the ability to remain in Denver for training is an added bonus that other members of the USMNT do not receive.
"Not having to travel and having my own people around in terms of my normal weekly routine, which is quite rigorous, is nice to have it here and not have to move too much," Howard said. "It's normal for me to travel and do all of those things, so home comforts are great."