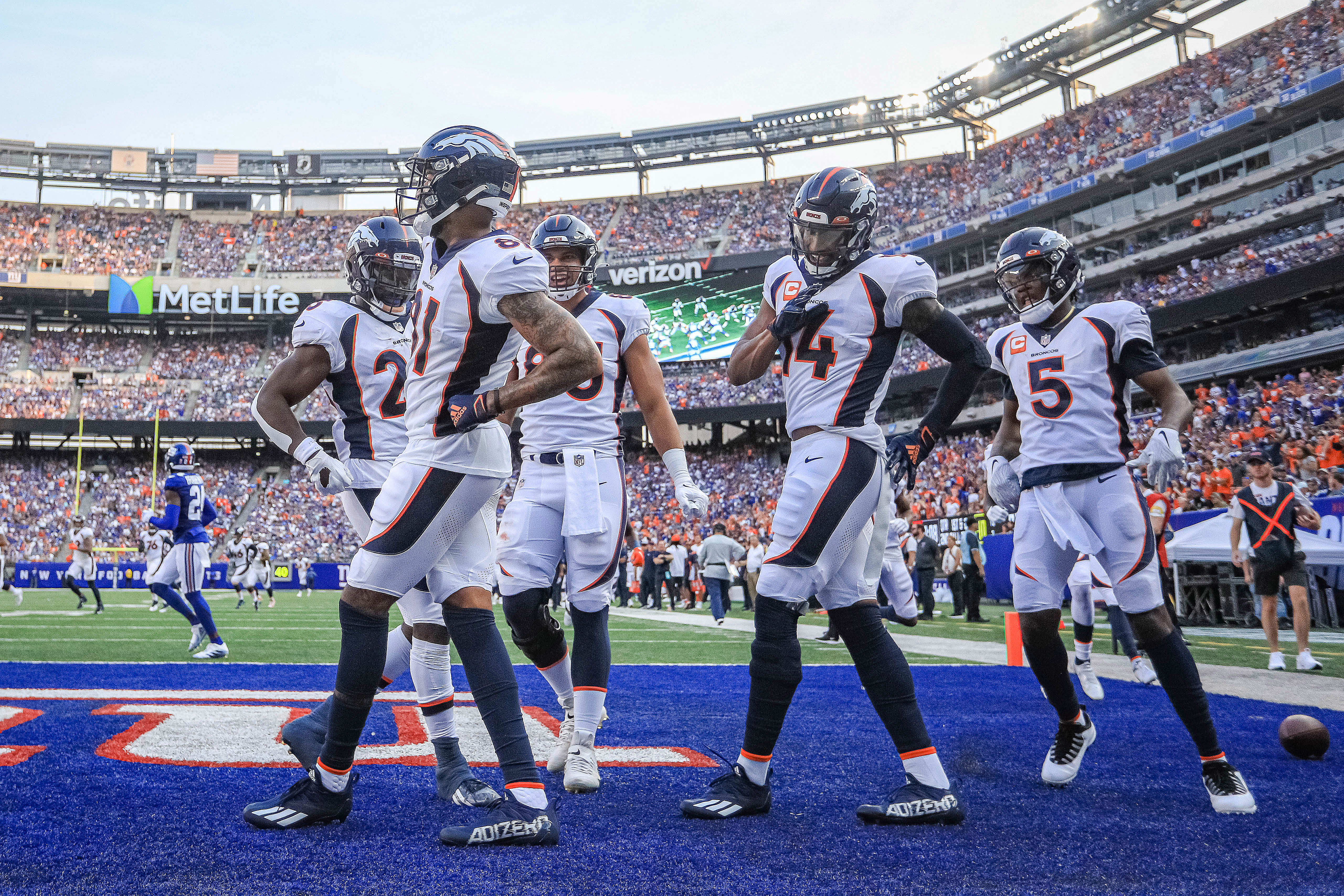 After weeks of tumultuous on-field performances, the bye week was surprisingly positive for the Denver Broncos, as it saw star receivers Tim Patrick and Courtland Sutton receive well-earned contract extensions.
Seeing big moves like that should not only energize the fanbase and provide them with some excitement, but it also sets an excellent precedent for the other members of the Broncos organization that good work will be properly rewarded.
Of course, with all that said, no one enjoyed the bye week more than Patrick and Sutton, as demonstrated by the smiles that littered the timeline over the past week.
"[They] are important parts of what we're building as a team. And it's a priority for us to reward and secure these types of players for the long term."

How GM George Paton and the Broncos re-signed @SuttonCourtland and @Tpstreets » https://t.co/fZ7URPq4wB pic.twitter.com/ljax1ol9Qb

— Denver Broncos (@Broncos) November 23, 2021
Along with joy, gratitude was another emotion expressed frequently by the receivers during their Monday press conference.
"This is something you can only dream of being—undrafted and starting from the bottom," Patrick told the media. "You literally take levels of your confidence like, 'All right, they want me to play special teams. I'll be the best special team player.' Then you get a couple reps here and there at receiver, then you're starting. There were just a lot of levels, a lot of patience, and a lot of self-motivation to get where I'm at now. I couldn't even dream of something like this. I'm very thankful."
"This is such an honor and a privilege to be in this space," Sutton said, before clarifying that his 2020 knee injury never discouraged him in his pursuit of a contract extension with the Broncos. "It was more of this is just another chapter you get to write in your book. It becomes a part of your testimony and the story I get to tell people about how my life went about. I never looked at it as something that I would allow to hinder myself mentally. I've talked to you guys a lot about how my rehab process went. I looked at it as an opportunity to self-evaluate and get myself better in whatever aspect that may be. [I'm] trying to get better every single day. I knew that if I went into it with the mindset that I can get better at something every single day through this process, I'm going to like where I'm at on the other side. I'm in a spot now physically that love. [I'm] continuing to elevate. I always feel like you never plateau, and you never reach a peak. There's always room to climb, to ascend and to continue to get keep getting better."
Another common theme from the presser was how excited both Sutton and Patrick are to continue to play with each other.
"We grew together," Patrick said of his relationship with Sutton. "I came in a little bit earlier, but it's kind of like we both came in at the same time because my first year—considering the [practice] squad—it doesn't really count. We kind of came in together and we've just seen each other grow. We see each other get better day in and day out. I don't think you could come up with a better story than us both being under contract here and being able to lead this team some just more wins."
That sentiment was echoed by Sutton.
"Like Tim [Patrick] explained, we pretty much came in together," Sutton said. "He might not have been a rookie when I was a rookie, but we technically kind of came in together. I got to see his development. He got to see my development. We've spent every offseason together pretty much besides his past one when I had to do rehab. We've grown to become brothers. When I saw him get his deal done, I was so excited for him. You look at his journey. I know y'all kind of touched on it, but my dog touched two different teams before he was able to get here. Then he got here, and he had to grind his butt off to be able to get into the role and to be able to play receiver. To see him in the space that he's in now—I know I tell y'all all the time how proud I am of him. I'm happy I get to do this alongside him. I'm excited for the continued success that we have going on."
The next chapter in the careers of Patrick and Sutton is sure to be an exciting one.