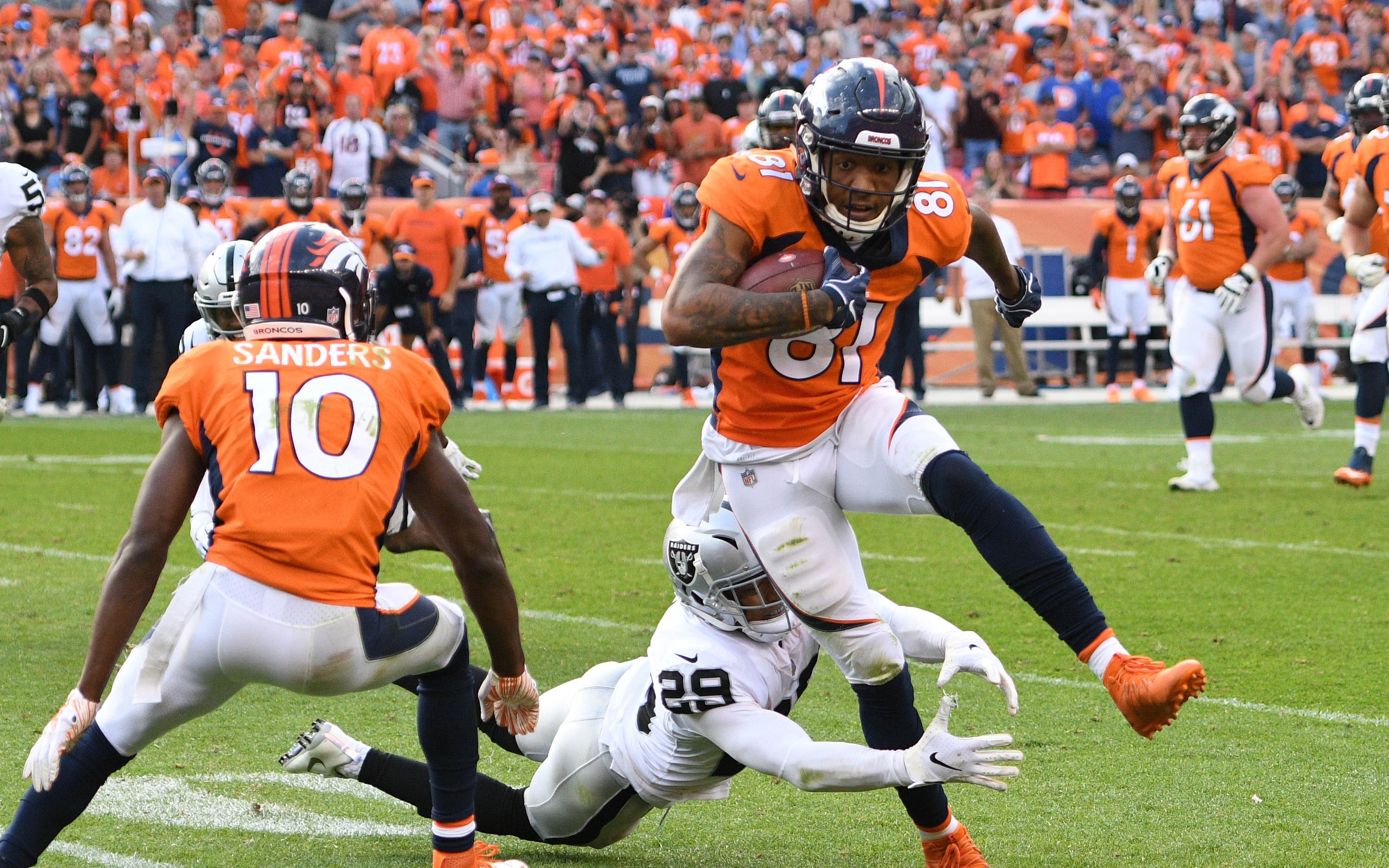 The Denver Broncos narrowly defeated the Oakland Raiders 20-19 in their second game of the season. Despite a slow start to the first half, the Broncos offense finally found its rhythm and scored just enough points to complete the second-half comeback.
Despite strong, late-game performances by Case Keenum, Emmanuel Sanders, and a solid effort by the offensive line, the Broncos victory couldn't have been made possible without the heroics of one player that set up Brandon McManus' last-second field goal. Tim Patrick is the real hero of the broncos victory over the Raiders, whose incredible 26-yard catch-and-run set up the Broncos' game winning field goal.
With 18 remaining and no timeouts left, the Broncos needed 10-15 yards to be in comfortable field goal range for McManus. Keenum, facing an incoming blitz from the Raiders' defense, got rid of the ball quickly to Patrick, whose opposing defensive back had fallen down. Patrick caught the pass in bounds and began running to the middle of the field. Without any way to stop the clock, tackling Patrick in bounds would have been the end of the game. Instead, Patrick weaved his way through the Raiders defense, and eventually ducked out of bounds deep in Raiders' territory. Patrick broke two tackles on the play, and ran out of bounds with enough time for the Broncos to attempt (and make) the game-winning field goal.
After the game, Keenum addressed the incredible, miraculous play made by Patrick, telling the media in his post-game press conference: "[Tim Patrick], that's a guy I trust."
"I was really glad he got that catch because we had the one called back earlier in the game," Keenum continued on Patrick. "But it is trust. He has made plays like that all preseason, made plays in practice and in camp. When it comes down to it, in the fourth quarter, we are tired and we need everybody."
The Broncos receiving corps is loaded with talent, from the Pro Bowl duo of Emmanuel Sanders and Demaryius Thomas, to rookie sensations Courtland Sutton and DaeSean Hamilton. Few would have guessed that a member of the 2017 Baltimore Ravens' practice squad would have been the player to save the day for the Broncos in a critical game against an AFC West foe.
"Stay ready. [We were] told we are going to a two-minute situation, so two-minute situation guys get tired," Patrick said of the crucial catch in the two-minute offense. "I just made sure I stayed ready on the sideline when my number was called."
Patrick should have plenty more chances to make big plays for the Broncos. He appears to have already gained Keenum's trust – enough for the quarterback to look his way in the most important play of the game, in the most important game of the Broncos' young season.