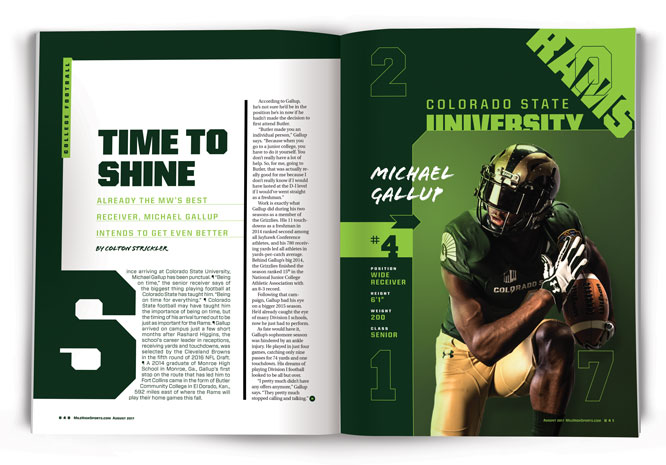 This story originally appeared in Mile High Sports Magazine. Read the full digital edition.
Since arriving at Colorado State University, Michael Gallup has been punctual.
"Being on time," the senior receiver says of the biggest thing playing football at Colorado State has taught him. "Being on time for everything."
Colorado State football may have taught him the importance of being on time, but the timing of his arrival turned out to be just as important for the Rams.
Gallup arrived on campus just a few short months after Rashard Higgins, the school's career leader in receptions, receiving yards and touchdowns, was selected by the Cleveland Browns in the fifth round of 2016 NFL Draft.
A 2014 graduate of Monroe High School in Monroe, Ga., Gallup's first stop on the route that has led him to Fort Collins came in the form of Butler Community College in El Dorado, Kan., 592 miles east of where the Rams will play their home games this fall.
According to Gallup, he's not sure he'd be in the position he's in now if he hadn't made the decision to first attend Butler.
"Butler made you an individual person," Gallup says. "Because when you go to a junior college, you have to do it yourself. You don't really have a lot of help. So, for me, going to Butler, that was actually really good for me because I don't really know if I would have lasted at the D-I level if I would've went straight as a freshman."
Work is exactly what Gallup did during his two seasons as a member of the Grizzlies. His 11 touchdowns as a freshman in 2014 ranked second among all Jayhawk Conference athletes, and his 780 receiving yards led all athletes in yards-per-catch average. Behind Gallup's big 2014, the Grizzlies finished the season ranked 15th in the National Junior College Athletic Association with an 8-3 record.
Following that campaign, Gallup had his eye on a bigger 2015 season. He'd already caught the eye of many Division I schools, now he just had to perform.
As fate would have it, Gallup's sophomore season was hindered by an ankle injury. He played in just four games, catching only nine passes for 74 yards and one touchdown. His dreams of playing Division I football looked to be all but over.
"I pretty much didn't have any offers anymore," Gallup says. "They pretty much stopped calling and talking."
Then he got a call from Charlie Winslette, a member of the Georgia Athletic Association Hall of Fame and Gallup's former offensive coach at Monroe. Luckily for Gallup, Winslette's Georgia football connections came in handy.
"He called me one night and was like, 'Where are you thinking about going?' And I said, 'Honestly coach, I don't know if I'll be going anywhere.'"
Winslette made one phone call.
"He called coach Bobo, and Bobo called me that night."
Just like that, Gallup was a Ram.
Gallup, along with the rest of the Rams, got off to a slow start in 2016.
After coming up on the wrong side of a 44-7 beatdown at the hands of their in-state rival, the Colorado Buffaloes, the Rams bounced back with a 23-14 win over the University of Texas-San Antonio the following week. While the Rams found their way into the win column for the first time in 2016, Gallup found himself at a crossroads.
"For me I think it was the UTSA game, the second game of the season," Gallup says. "I didn't have a catch. I didn't even touch the ball that game."
He had a decision to make. He could either work harder, or settle into a mediocre season.
"I went home and I sat there and I said, 'I don't think I ever went through a whole game where I didn't touch the ball or even get targeted.' That's when it clicked for me."
Kevin Nutt Jr., Colorado State's top cornerback and the lucky guy that gets to work against Gallup every day in practice, recognized the change in Gallup after that game.
"I've definitely seen a change in his attitude," Nutt says. "When his attitude changed, his game went up another notch, and you can see that just over the season how his play progressed every single game. He's putting up big numbers every game, over 100 yards each game."
While Gallup's big 2016 season may have come as a surprise to the casual fan, it wasn't a surprise to any of his teammates.
"Definitely before we went into the season, I'd seen that he was going to be a good player," Nutt says. "And that's from going against him every day."
"You could tell that he was going to be something special," redshirt junior quarterback Nick Stevens says. "It was just kind of waiting for that right moment, and as soon as it hit he kind of took off from there and couldn't be stopped."
Gallup finished his first season at the Division-I level with 76 catches for 1,272 yards and 14 touchdowns, the second-most by a receiver in Colorado State history, and the eighth-most in the FBS in 2016. His 1,272 yards ranked atop the Mountain West with Boise State's Thomas Sperbeck. He caught 13 passes for 213 yards, both career highs, in CSU's 49-46 loss to Air Force. Of his six 100-yard receiving games, five came consecutively at the end of the season. As a result, he was voted first-team All-Mountain West.
Stevens saw firsthand how lost defenses were in their attempts to shut down the 6-foot-1, 200-pound receiver.
"No matter what you do, it's going to be tough to stop him," Stevens says. "No matter who you have on the defense and what you try to do, he finds ways to get open and he has explosive ability running by guys or if he can't run by somebody he goes up and makes a freak catch."
According to Nutt, Gallup possesses a combination of characteristics that make covering the receiver incredibly difficult.
"His releases are sometimes pretty fast, it gets you off balance, and it's just his strength within the route," Nutt says. "When I place my hands on him he's good at getting my hands back off him and pushing me off my point, to where, I'm having good coverage but as you go down the field, I end up getting out of coverage because of his strength."
Not only does having Gallup on the team make Saturdays much easier for the Rams, it also helps make his teammates become better players in the process.
"If you have a guy like him, you automatically have a little more confidence," Stevens said. "That's probably the biggest thing, the confidence and the happiness it brings you when you get to see him run 60 yards when you only threw it a couple."
"I definitely see a change in my game because of Mike," Nutt says. "He competes every play. He goes up, he's very strong, he jumps high and all this stuff. He's just an amazing athlete."
His breakout 2016 was enough land him on Athlon's preseason Fourth-Team All-American list. Gallup is just one of eight receivers to receive the All-American recognition, which is something he is still adjusting to.
"It means a lot," Gallup says. "I've worked hard to get here, and I've really always been under somebody. For me to come here and do what I needed to do, I'm finally, I would say, at the top over here."
But just because he's at the top doesn't mean he's ready to settle. According to Gallup, he won't consider 2017 a successful season unless he improves on the marks he set in 2016.
"I just need to improve in every area," Gallup says after a long pause in what used to be the receiver's meeting room in the McGraw Athletic Center. "Talking about stat wise, if it goes up in that area, touchdowns, catches, no drops, yardage, but if it doesn't, I'm not worried about it because we've got a lot of players on our team that are really good, too."
While pressing Gallup to top the numbers he posted in 2016 may seem steep, it's more of an expectation than a hope according to his teammates.
"I believe he's going to have a better season this year," Nutt says. "Like I said, he's more familiar with the system, he knows what everybody is expecting out of him. I'm pretty sure he wants to go to the next level and he wants to go ahead and show out, and I expect that of him too.
"I expect more receptions, more touchdowns more yards than last year, mainly because of the fact that it should be, if things continue, if he continues to work, for the length of the season not just towards the end."
When the best season of your life is an expectation rather than a dream, it comes with some added pressure. According to Gallup, pressure is just one of the costs of doing business.
"There's some pressure, but I mean if you don't have pressure, I don't even know why you play the game," Gallup says. "Especially being a wide receiver."
As Colorado State gets ready for their inaugural season in their brand-new, on-campus stadium, the pressure is beginning to build from multiple directions. But as long as he takes care of business, he can put the pressure aside.
"We've got to play well," Gallup says. "We just got a new stadium; we've got to play well. That's all I'm looking to do is play well in that new stadium."
Colorado State will kick off the 2017 college football season on Aug. 26 in their new stadium against the Oregon State Beavers. Gallup would be lying if he said he hadn't thought about being on the receiving end of the touchdown that christens the Rams' new home.
"That's run through my mind a couple times," he laughed. "That's run through my mind. If they call a play for me, I'm determined to try to get in that end zone."
The timing, no doubt, would be perfect.