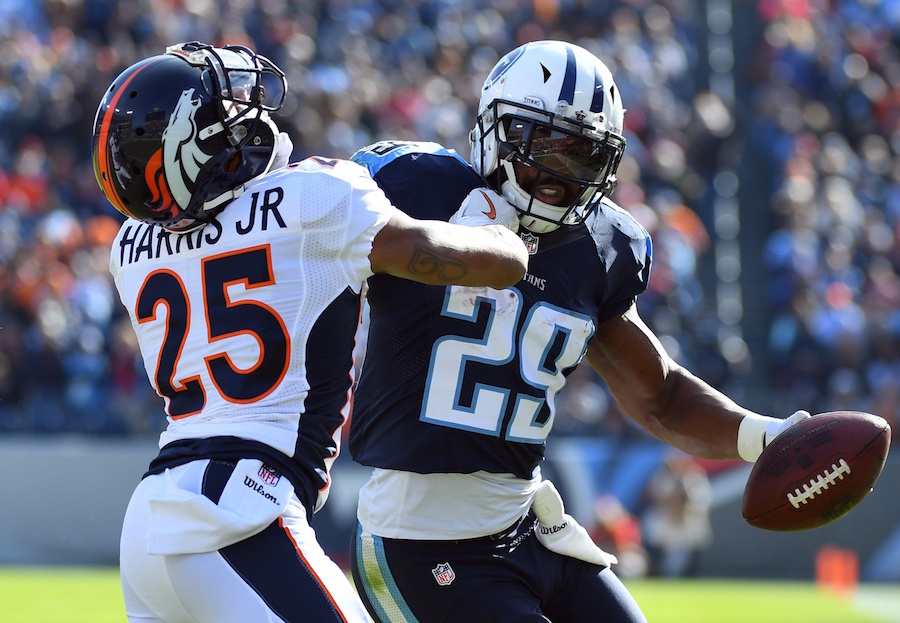 The Tennessee Titans took a 13-0 lead into the locker room against the Denver Broncos in Nashville as Denver struggled to contain DeMarco Murray and Marcus Mariota on the ground.
Denver's offensive woes continued and Tennsee amassed 138 yards rushing in the Week 14 matchup with playoff implications for both teams. Trevor Siemian and the Broncos offense produced just five first downs and were 0-for-4 on third down, leaving themselves a big hole to dig out of in the second half.
Denver went three-and-out on the opening drive and the Titans immediately began exerting their will on their first possession with an 11-play, 70-yard touchdown drive. Nine of 11 plays were rushing plays. Tennessee ran for 47 yards on the drive, including the 1-yard score by Murray who had 22 yards on five carries.
The nightmare start for Denver continued as Justin Forsett fumbled on his first touch in a Broncos uniform. The Titans took over at Denver 40. A failed trick play targeting Mariota as a receiver eventually led to a 53-yard field goal for Ryan Succop to extend Tennessee's lead to 10-0.
Denver finally forced a three-and-out after the Titans elected to pass on a third-and-three, but Brett Kern pinned Denver back at its own 5-yard line to start their fourth drive. Denver finally converted a first down on a nice one-handed catch by Demaryius Thomas, but their continued struggles on third-and-short continued and Riley Dixon punted for the third time in four drives.
As the clock turned over to the second quarter, Denver got a little help on defense with a pass interference call to reverse a first down. Shane Ray got to Marcus Mariota to stall a Titans drive that appeared to be heading to more points. Kayvon Webster took a block-in-the-back penalty on the ensuing punt, though, to pin Denver back inside their own 10.
Justin Forsett picked up a first on a catch-and-run on his first play coming back into the game to give Siemian and the offense a little breathing room. Back-to-back catches for Emmanuel Sanders kept moving the chains, but Sanders dropped a deep try that was tipped and Denver again had to punt.
Tennessee's penalty problems popped up again after they converted a third-and-seven on a screen pass, but Mariota showed off his legs again, rushing for a first down up the gut of the Denver defense that had over-committed to the pass rush.
Things got ugly from there when Harry Douglas made a low block on Chris Harris at the knees. Aqib Talib retaliated on the next play, throwing Douglas to the ground on the Tennessee sideline and taking a personal foul penalty. The Douglas play appeared to have an intent to injure and could lead to discipline, as could Talib's retaliation. Unfortunately, the Talib penalty moved the Titans 15 yards closer to a score.
Mariota connected with Delaine Walker on third down to give Tennessee first-and-goal, but a pass interference play on a negated touchdown play and an intentional grounding penalty forced the Titans into a 41-yard field goal. Succop snuck the ball inside the left upright and Denver remained within two scores.
Siemian and the Broncos offense moved the ball inside of 2:00 on the ensuing drive, but a Donald Stephenson holding penalty moved them out of field goal range when Trevor Siemian could not advance them with no timeouts.
Tennessee more than doubled the time of possession, helped by an 8:04 final drive.
Here's what the MHS team and some of our favorite follows had to say about the first half and Denver's struggles against Murray and Mariota.
Titans offensive game plan: Run. Run. Run. Run. Run. Run. Run. Run. #4Broncos

— Michael Spencer (@MichaelCBS4) December 11, 2016
Marcus Mariota ran a 4.52 40-yard dash. DeMarco Murray ran a 4.37. Heck of a challenge to stop the run.

— Cameron Wolfe (@CameronWolfe) December 11, 2016
#Broncos on pace to allow 3,418 rushing yards in #DENvsTEN.

— Jon Heath (@JonHeathNFL) December 11, 2016
First time in long time I've seen @broncos D come out & look unprepared. mariotta run, throw to Walker. This is what Tenn does. #Broncos

— Eric Christensen (@cbseric) December 11, 2016
Titans have one on the best offensive lines in NFL, and they're just cratering #Broncos defensive line.

— Eric Goodman (@EricGoodman) December 11, 2016
Murray gets in for the TD. #Titans had 47 yards rushing on that drive on 9 carries (5.2 ypc). #Broncos trail 7-0

— Ryan Edwards (@redwardsradio) December 11, 2016
The #Titans have the chance to expose the #Broncos rush D just like the #Raiders did in week 9: 42 carries for 218 yards that day.

— Brian Billick (@CoachBillick) December 11, 2016
Ugh. Sylvester almost had Mariota for a big sack…instead he scrambles for 13 yards

— Ryan Edwards (@redwardsradio) December 11, 2016
That's an example of what makes Mariota so good. Could have been sacked. Instead picks up a 1st down. #4Broncos

— Michael Spencer (@MichaelCBS4) December 11, 2016
Mariota & Lewan working well together … Mariota moves, and allows Lewan to block Miller … Titans at midfield.

— Andrew Mason (@MaseDenver) December 11, 2016
This defense isn't exposed or bad. It's just the worst match up possible. Bad scenario. Offense has to dig them out. No chance of that

— Ronnie K (@RonnieKRadio) December 11, 2016
Man #marcusmariota fakes are faking out the camera man. His read option is very polished.

— David Hurlbut (@HurlbutHuddle) December 11, 2016
.@StingRay56 gets to Mariota with ease. ?

This @Broncos defense is… Wow. https://t.co/5lJHcE078r

— NFL (@NFL) December 11, 2016
Huge pass interference, and then Shane Ray with a freeway to Mariota — a desperately-needed stop for the Broncos.

— Andrew Mason (@MaseDenver) December 11, 2016
Shane Ray comes up with a HUGE sack that may have just saved three points.

— Jon Heath (@JonHeathNFL) December 11, 2016
Mariota had all day and still got the 1st down rushing. That can't happen.

— Cameron Wolfe (@CameronWolfe) December 11, 2016
Man looked like Von was just spying on Marcus and Marcus still got the first. #DENvsTEN

— David Hurlbut (@HurlbutHuddle) December 11, 2016
Aqib Talib went after Harry Douglas, presumably in response to the dirty knee block against Chris Harris.

— Jon Heath (@JonHeathNFL) December 11, 2016
No ejections. Talib just got personal foul. Fighting for his brother Chris Harris. A lot of emotions down here.

— Cameron Wolfe (@CameronWolfe) December 11, 2016
So after Harris walks off ugly block, Talib doesn't get ejected for backing his boy, #Broncos defense forcing another FG now trail 13-0

— Kami Carmann (@KamiCarmann) December 11, 2016