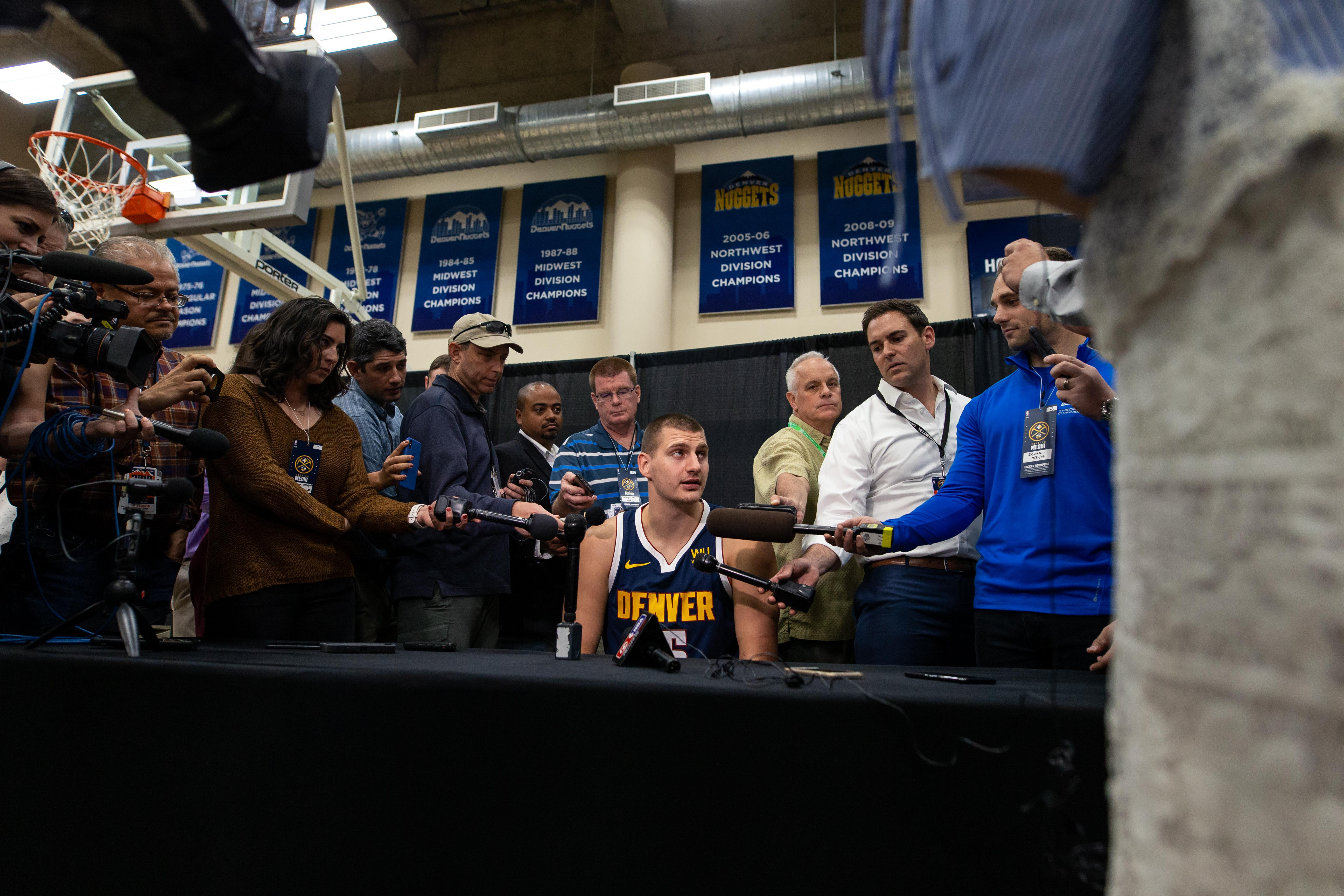 When media day finally rolled around, the Denver Nuggets were not afraid to say exactly what their goals are for the 2019-20 season.
"We want to win a championship," Nuggets head coach Michael Malone exclaimed unflinchingly. "That is something that we are going to talk about. That is something I have been hitting our players about all summer long. This should be our goal. Our goal should not be to get back to the Western Conference Semifinals. Our goal should not be to get to the Finals. That would be selling yourself short."
Some may see Malone's comments as premature considering that Denver has only made the playoffs once in the last seven seasons, but his belief in his team and their chances to hoist the Larry O'Brain trophy were mirrored and vocalized by many his players.
"That is pretty much the goal," Will Barton said. "When you are one win away from the Western Conference Finals, what else can you think about but getting to the NBA Finals? And once you get there, of course you want to win it and you don't want to lose. So that is the goal."
"If we come in everyday with progressive mindset, wanting to get better, and hopes to get better, I think we will have an opportunity to hold up that trophy," Paul Millsap said.
"I think that is our main goal heading into the season — a championship," Michael Porter Jr. stated.
"Everybody is talking about how we have a chance to go to the Finals and this and that, but my mentality is I want to go have a chance to win," Jamal Murray explained. "I don't want to cut short or think that we just need to make it to the Finals or get past the first round or the second round or whatever it is. We need to go and have a mentality that we are going to go and try to win everything."
This is a stark difference from Denver's approach to expectations over the past half-decade. Season after season, the Nuggets gauged their success solely off of their day-to-day improvement. While that mindset has not shifted, Denver is no longer shying away from what they truly desire — the first ever NBA championship for the Denver Nuggets franchise.
"Is it a lofty goal? Yes. If we don't win a championship this year, is it championship or bust? No," Malone asked rhetorically. "But I want our guys to have a championship mentality when they come to work every day; every film session, every player development session, every weight room session, every practice, and every shootaround. We have to have a championship mentality in our approach and, if we do that, we will give ourselves a chance."
So what is holding Denver back from rapidly ascending from a team drafting in the lottery to bringing an NBA championship to the Mile High City for the first time in history? Well, if you ask Malone, the simple answer is human nature, a term he used three separate times during his press conference.
"My concern is human nature to be very honest," Malone said. "Do we think that we can just show up this year and we are automatically going to get to the Western Conference Semifinals? We know what is going to happen if that is the case. We have to set our goals, we have to work for it and we have to earn it. I think our players understand that, but they will be reminded constantly what is at stake."
"Now, the challenge is to fight human nature," Malone said. "We had two years in a row where we came up one game short of making the playoffs. That was an easy source of motivation."
"So now — when you come off of 54 wins, a division championship, first time winning a playoff series since 2009 — how do you keep these guys motivated and not relax and come up for air? That is going to be our greatest challenge this year. It is not the Lakers, the Clippers, the Warriors, the Jazz, or the Rockets. It is us fighting ourselves — fighting human nature — and not thinking that we have arrived because we have not done a damn thing yet."
The Nuggets are the second-youngest roster in the NBA with an average age of each player at just 24.7-years-old so worrying about a letdown after such a successful 2018-19 season is entirely justified, but Denver's roster does not act their age.
Instead of celebrating their newfound success and acclaim, the absurdly young Nuggets were following the lead of their veteran leader — power forward Paul Millsap — who was focusing on what was still ahead of them as opposed to what is in the past.
"In Game 7, against a very good Portland team, we feel like we should have won," Millsap explained. "There are growing pains and there is a process for everything. Last year was a step for us. This training camp, these practices, and these games leading up to the postseason are another stepping stone for us."
This Nuggets roster knows that their Game 7 loss in the second round of the playoffs was just the beginning of their journey. Because of that loss, Denver's roster set to out to improve themselves above all else.
"We don't think about other teams," Nikola Jokic explained. "We just think about ourselves. That is how you have to think. Just how you can get better and win more games or whatever. I never think about other teams or other players. I just think about my group of guys."
Both Barton and Murray not only seemed to agree, but took it a step further.
When Barton asked what was holding Denver back from being the best version of themselves, he bluntly said, "us."
"I feel like right now, especially this early in the season, you can only be concerned about what you are doing, what your team is doing, how we are reacting to things, are we getting better daily, and are we getting better as a team," Barton stated.
Then Murray echoed those same thoughts.
"I don't care what Golden State or Portland or anyone else is doing," Murray explained. "It is just about us and how far we can go."
While media day is always full of extreme positivity and immense hope, the Nuggets managed to strike a balance between understanding that they "have not done a damn thing yet," as Malone said, but also while carrying an aura of confidence that did not exist in years past.
This iteration of the Denver Nuggets understands where they have been and where they want to go. They understand that this season could be their best chance to win a title and how rare these opportunities are.
No one understands this better than 13-year veteran Paul Millsap, who has confidence that this could be the roster that finally carries him, and the Nuggets franchise, to their first ever title.
"Every time I have tried to get out of the West or the East, I had Kobe and then I had LeBron (to beat)," Millsap explained. "This year, I have a stacked team with a lot of young guys who are ready for this moment. That gives me confidence and gives me an edge over those last few teams even if LeBron is in the West and there is still Golden State. I think we can overcome any of those situations."