Peyton Manning versus Tom Brady.
In NFL history, there may never have been a more consistent, hard-fought rivalry, and there may never be again. The argument can be made that both quarterbacks are top five signal callers in league history, and their careers largely road the same path from start to finish.
But this rivalry wasn't bred our of hatred; it was bred out of respect.
Manning proved that again, when he called Brady to let him know he'd be stepping away for good.
.@mortreport says Tom Brady was one of the first people Peyton Manning called to say he was retiring. pic.twitter.com/0WETdZw1s2

— NFL on ESPN (@ESPNNFL) March 7, 2016
And the feeling is obviously mutual, as Brady posted this to his Facebook page yesterday: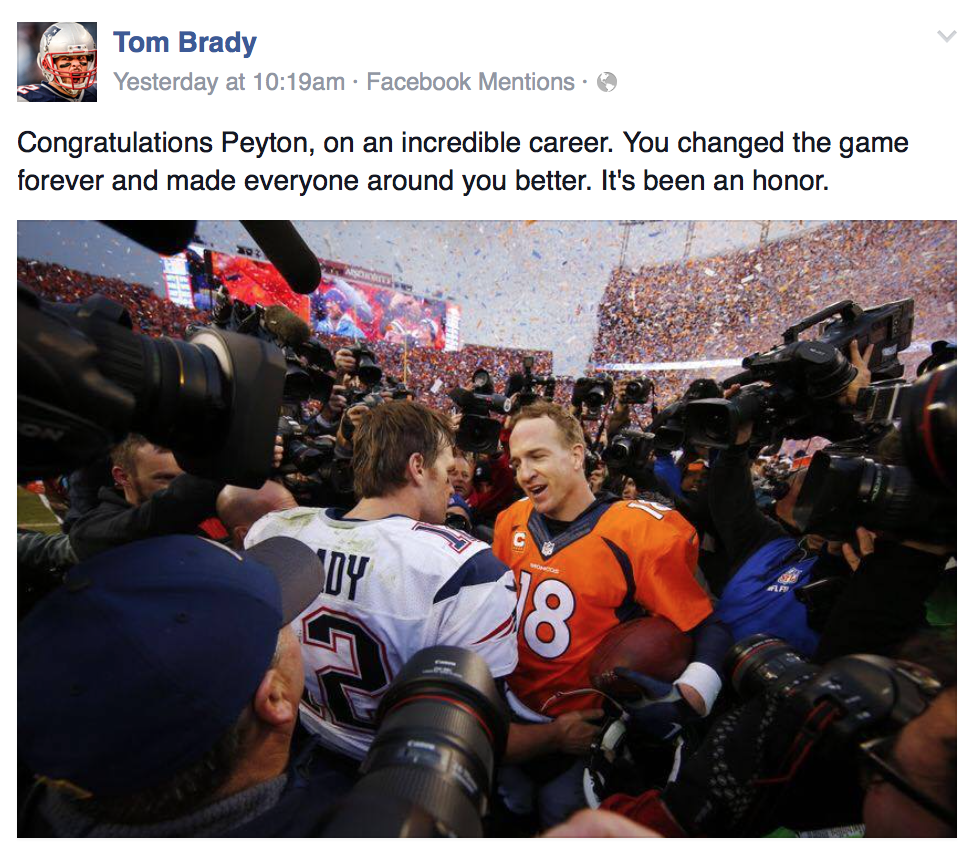 And in an interview with Peter King of The MMQB, Brady reiterated how much he's learned from No. 18.
"Every game he has played, I have watched," Brady told Peter King of The MMQB. "I have file folders of his plays, of how he plays. It'd take years for me to watch it all again."
He continues: "I realized the level of commitment you must have to be great, watching him do it. I know the time I put in, so I knew the time he had to have put in. It's not 9 to 5. It's a lifelong commitment. Football is a sport, it's an art, it's a religion. It's all-encompassing. He mastered it."
This may be the end of a great rivalry, but both quarterbacks will forever live on in the history books of the NFL.