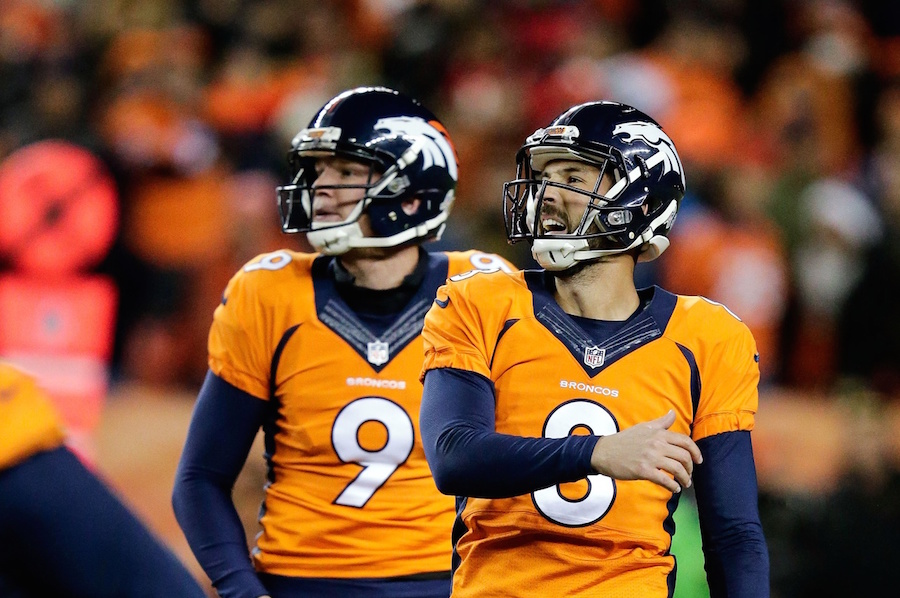 The Denver Broncos have plenty of areas to improve as they head into the 2018 season, and the special teams issues rank right near the top of that list.
Quality special teams play is often taken for granted. Broncos Country got a taste of what poor special teams play can do to a game and ultimately a season.
The problems came from every direction in both the kicking and the return game.
Brandon McManus, the man President Barack Obama dubbed MVP after the Broncos won Super Bowl 50, in 2017 had his worst season since his rookie year. McManus hit 75 percent of his field goal attempts in 2017, ranking 28th in the NFL and nearly 10.7 percentage points lower than the Broncos' Super Bowl season in 2015. While those points might not have mattered in the long run, those are still points being left off the board.
Like McManus, Riley Dixon, the Broncos' second-year punter didn't have his best year either. He attempted 73 punts totaling 3,331 yards. His 45.6 gross yards per punt ranked 14th in the NFL. In a season where the Broncos desperately needed the field positioning in their favor, Dixon left yards to be desired.
But Dixon wasn't the only problem in the Broncos punting game. He was one of two punters in 2017 to have two punts blocked. The Broncos and the New York Giants shared the top spot for most punts blocked in 2017.
That doesn't fly.
In the return game, Denver was tied for seventh in the league in terms of average kickoff return at 22.6 yards. They ranked tied for 23rd, allowing that exact same number against them. The punt return unit was middle-of-the-pack, ranking 15th with a 8.6-yard average return. In quite the statistical anomaly, they also allowed an 8.6-yard average against, which ranked 21st.
In an attempt to fix the problem, head coach Vance Joseph fired former special teams coordinator Brock Olivo at the conclusion of the 2017 season, his first with the team. Olivo was a fiery personality, but the results simply weren't there on the field. His replacement is longtime Indianapolis Colts special teams coordinator Tom McMahon.
"The biggest philosophy I have is half-court offense and full-court defense," McMahon said. "Offensively, from a return standpoint, we want to give our offense a half court to work with. We want to give our defense a full court. In essence, what we're really trying to do is field position. If we get a turnover for example, we don't call it a turnover on our special teams. We'll call it points. Any turnover on special teams, because of the ball being punted 50 yards or kicked 60 yards, when you get a turnover, it's already in field goal range. We call it points. All we're trying to do is half-court offense and full-court defense and control field position."
There is no other way to put it. The Broncos return game was an absolute nightmare. Despite playing in just 11 games, rookie returner Isaiah McKenzie coughed the ball up six times (two lost). Jordan Taylor, who replaced McKenzie late in the season, had one muff of his own.
When you combine the yards, points and possessions the Broncos' special teams unit left on the field in 2017, it starts to become clear why they finished the season 5-11.
Despite the down year, McMahon believes the Broncos have all the pieces necessary to be successful moving forward.
"I think these are quality guys and Pro Bowl quality players," McMahon said. "I had Brandon McManus in 2013 (as a training camp player in Indianapolis). Riley Dixon, played against him in Game 14 this year. I think Casey [Kreiter] is one of the best in the league. Those guys, you build around them. I love the core."
McMahon knows that there is nothing he can do about the past, but he is very confident that he can fix the issues that exist moving forward.
"I don't get into the past," McMahon said. "I'm a big 'fix' guy. I'm not going to be a 'fault' guy. Anything that happens, which you'll find out with me in the media, anything that goes down there that goes bad on special teams, it's on me. I'm going to fix it though, I guarantee that. I'm a fix guy. I'm going to go to the fix part of it and never ever be a fault guy. I've got a job to do. I'm going to get those guys [right]. If there is 12 on the field, that's on me. We're going to fix that and it's going to be right going forward."
McMahon has the right attitude, but so did Olivo. Broncos Country can only hope that he'll bring different results.