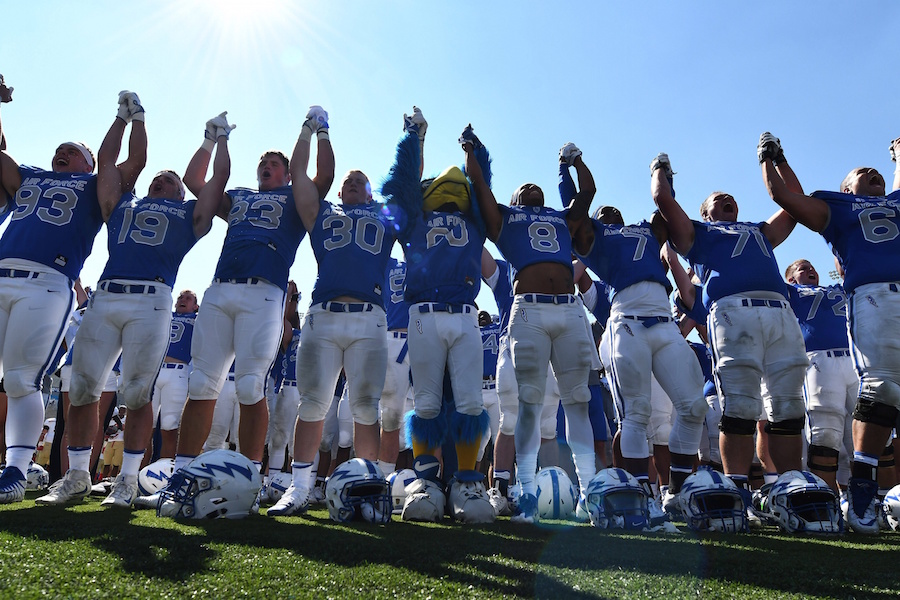 The Air Force Falcons face a huge challenge this weekend when they meet up with the No. 7 Michigan Wolverines. Air Force Head Coach Troy Calhoun joined Kent Erickson, Benny Bash, and Joe Williams on Mile High Sports AM 1340 | FM 104.7 to discuss why he views the game as a fantastic learning experience for his team.
"No matter which game we play, you've always got to pull and derive experiences and lessons that help you with your development and your growth," Calhoun said. Calhoun as a coach looks to help his team improve and learn from every game they play.
Despite what a tough opponent Michigan will be, Calhoun is still confident in what his team is able to do. Last time Air Force went into Ann Arbor, they were 22-point underdogs, and lost the game by only a touchdown. This time, the Falcons enter the game as a 23.5-point underdog.
"They have a superb football team," Calhoun told Erickson, Bash and Williams, "probably the best team they've had this century. Ability-wise they are very explosive offensively, you can tell they've recruited extraordinarily well. Defensively, they've already scored three touchdowns on that side of the ball. Their defense has outscored their opponents so far this year."
Michigan comes into the game having outscored their opponents by an average of 30.9 points in the Jim Harbaugh era. The offense has slowed a bit so far this season, only averaging a 19-point differential against their opponents. However, they are scoring an average of 34.5 points per game while their stingy defense is giving up only 15.5.
Air Force, meanwhile, enters the game with a team that lost a lot of talent to graduation last year. The Falcons only have one starter returning on defense, linebacker Grant Ross. A lot of firepower was lost on offense as well.
"It's as brand new a squad as we've ever had," Calhoun said. "On offense we have to replace an awful lot of production. Jacoby Owens rushed for over 3,000 yards the last three years. Jalen Robinette, the most productive receiver in the history of service academy football."
Ability aside, Calhoun views the game as a great measuring stick for his team going forward.
"I'll say this, this team likes to go out and practice, and work and sweat," Calhoun said about his team. "There are no shortcuts in the minds of this group. We'll make progress as the season moves along."
Despite how new the team feels, they came out firing in week one against the Virginia Military Institute, winning the lopsided affair 62-0. Air Force looks to carry that momentum into Ann Arbor on Saturday and see where they measure up against a stingy Michigan football team.
"For us, I think it can be a tremendous learning experience. It gives you a huge, huge indicator for where you are." Calhoun said. "But I hope more importantly what we'll do is we'll take some lessons and it'll help us as we head into league play and then certainly with our service academy games."
Listen to the full interview with Troy Calhoun in the podcast below.
Catch The Big Show featuring Irv and Joe every weekday from 12p-2p on Mile High Sports AM 1340 |  FM 104.7 or stream live any time for the best local coverage of Colorado sports from Denver's biggest sports talk lineup.