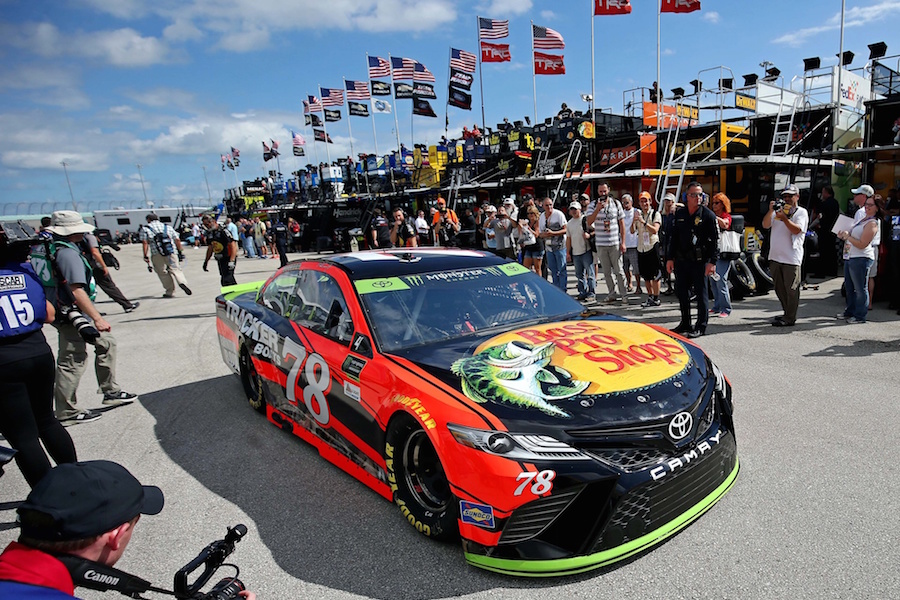 Martin Truex Jr. qualified second and Furniture Row Racing teammate Erik Jones qualified 14th for Sunday's NASCAR Cup Series season finale at Homestead-Miami Speedway.
Truex, one of four drivers eligible to win the championship, wheeled the No. 78 Bass Pro Shops/TRACKER Boats Toyota to a pole-round lap of 31.043 seconds at 173.952 mph around the 1.5-mile oval. His lap was a mere five-thousandths-of-a-second slower than pole winner Denny Hamlin's lap of 31.038 at 173.980. Truex was quickest in the first two rounds of qualifying.
"We missed it a little bit that last round and the Bass Pro Shops/TRACKER Boats Toyota lost more grip than I anticipated," said Truex. "We made some adjustments and knew it was going to go that way, but just not far enough. I can't say enough about this group, just a really strong day – five one-thousandths away from it being a perfect day. Just proud of everyone and they did what they needed to do today and we'll get to work tomorrow."
Jones fought an ill-handling No. 77 5-hour ENERGY Extra Strength Toyota to a lap of 31.365 at 172.166 in the second round of qualifying. He will line up on the outside of Row 7 next to Jamie McMurray.
"The 5-hour ENERGY Toyota was just way too loose off the corners," said Jones. "We just missed it. We'll work on it in tomorrow's two practice sessions to get it good in race trim and, hopefully, make our way up to the front early on in the race."
The balance of the top 12 qualifiers were Kyle Busch, Matt Kenseth, Brad Keselowski, Ricky Stenhouse Jr., Kyle Larson, Kurt Busch, Kevin Harvick, Daniel Suarez, Ryan Blaney and Trevor Bayne.
Kyle Busch, Keselowski and Harvick are each finalists eligible for the championship along with Truex.
The 267-lap 2017 NASCAR Cup Series season finale will air live Sunday beginning at 12:30 p.m. MT (2:30 p.m. ET) on NBC, SiriusXM NASCAR Radio Channel 90 and MRN.