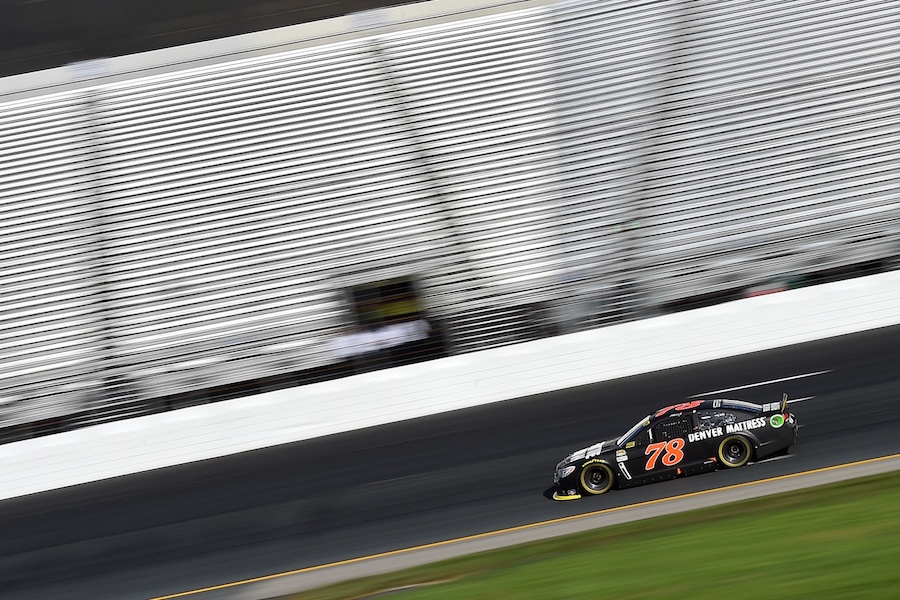 Martin Truex Jr. saved the best for last in Friday's Sprint Cup qualifying at New Hampshire Motor Speedway where temperatures hovered in the low 90s.
After posting the sixth and 12th fastest speeds in the first two sessions, the Furniture Row Racing driver came roaring back with the third quickest lap in the final round to earn the inside of Row 2 starting position for Sunday's New Hampshire 301.
The second round offered some tense moments for the Furniture Row Racing team. With Truex sitting one position outside the cutline to advance to the final round, he made an additional run late in the session and came away with just enough speed to qualify for the pole shootout round of 12. He edged out Toyota teammate Carl Edwards by one thousandth of a second.
Truex nailed his fastest run in the final round as his No. 78 Furniture Row/Denver Mattress Toyota covered the 1.058-mile oval in 28.558 seconds at 133.371 miles per hour.
His elapsed times and speeds in the first two sessions were 28.701 at 132.706 and 28.675 at 132.827.

"It's been a hectic day," said Truex, who posted the fastest speed in the earlier practice session. "It seems like we've been thrashing all day long. Everything is last minute, last second and just throwing stuff at it, but when it counted we kept hitting it. We were first in practice and third here. We barely made it through the second round and then went on to finish third. All in all, it was a good day. Just a lot of quick decisions by everyone."
He added, "This is a tricky place for sure and both line sensitive and heat sensitive. We just have to work tomorrow on getting the car balanced for Sunday. I think for us, we've had really good speed all day, it's just if we can get the balance close or not. Tomorrow, that second practice seems to really be the one that counts – that first one, not so much. We'll do some experimenting in the first one and try to learn what we need to make differences in our car and what we need to make it feel somewhat decent. Then in the second practice we'll concentrate on getting the balance hopefully right for the weather conditions on Sunday."
The pole winner was Jimmie Johnson (28.430 at 133.971). Rounding out the top-12 in order were: Kyle Busch, Truex, Kurt Busch, Denny Hamlin, Joey Logano, Chase Elliott, Kevin Harvick, Brad Keselowski, AJ Allmendinger, Kasey Kahne and Tony Stewart.
Sunday's race will be televised on the NBC Sports Network, starting at 11:30 a.m. MT (1:30 ET).