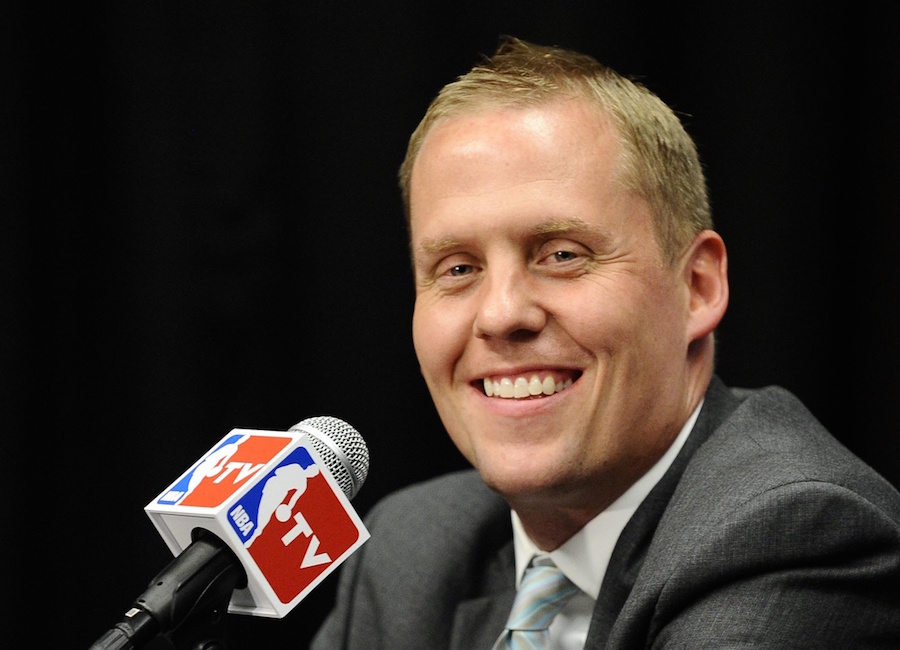 The Denver Nuggets haven't won more than 36 games in the last three years. They're on their second head coach and have finished 11th, 12th and 11th in the West. There hasn't been much to cheer for at the Pepsi Center. But that is changing.
Changing quickly? No. Are the Nuggets going to contend for an NBA title next season or push for a top-4 seed in the Western Conference? No. But Tim Connelly is quietly building a very young, very talented core.
Trust the process. This might be a phrase thrown around a lot in Philadelphia but it's a phase Nuggets fans need to start embracing. That's because the Tim Connelly process is starting to come into focus and it's starting to look really, really good.
As the Denver Nuggets continue to rebuild one thing has become very clear, they aren't looking to take shortcuts. Denver isn't overspending on aging, overpriced free agents. They've refused to trade young talent for veterans with their best days behind them and aren't giving up the farm to move up and gamble in the draft.
Connelly's process has been consistent and steady. He has shown great patience in the draft and believed in his coaches' ability to develop the young talent he gives them. To his credit, he has done a damn good job.
Since taking the reins Connelly has been a wizard in the NBA Draft. In 2011 he took Creighton standout Doug McDermott with the 11th overall pick (aka Dougie McBuckets) and traded him to Chicago for little-known Bosnian Jusuf Nurkic. At the time that trade was universally lampooned in Denver. Connelly got the last laugh.
Nurkic has had his problems recently (work ethic, or lack thereof, is his biggest problem), but there's no doubting Denver won that trade. Nurkic had a great rookie year and has shown flashes of being a franchise center. McDermott's career arc looks a lot like Adam Morrison's.
The Nurkic trade was good, but the Nikola Jokić pick was great. Connelly picked Jokić with the 41st pick in 2014 as a draft and stash. Last season Jokić arrived in the NBA and put the league on notice averaging 10-7-2 while finishing third in Rookie of the Year voting.
Last season it was apparent the Nuggets were targeting a point guard and you couldn't find an analyst that didn't think they should move up to grab D'Angelo Russell or Emmanuel Mudiay. Connelly didn't panic. He held fast and Mudiay landed in his lap at pick seven. Franchise point guard point secured.
This year's draft played out exactly the same. Denver was targeting a shooter, no question about it, and they patiently waited for their guy, Jamal Murray. The Nuggets had Murray rated third overall on their board, getting him at seven showed great reserve.
Murray can be the perfect complement to Mudiay and Jokić. He can create his own shot and he knocked down threes at a 41 percent clip his freshmen year at Kentucky. Murray represents the outside threat Denver desperately needs.
Murray, Mudiay, Jokić, Nurkic, and Gary Harris (whom Connelly traded for on draft night two years ago) represent an extremely talented young core. It's a core with Connelly's fingerprints all over it.
Over the last three years he has steadily done a great job rebuilding this team the right way. His process has been questioned, mocked and even doubted, but he has never wavered. Now, three years in, that method is finally starting to become clear. This Nuggets team isn't built for next season; they are built for the next ten seasons.
To Connelly's credit, he hasn't taken the easy path to rebuilding. Asking fans to buy into a three-year (plus) rebuild is risky. He has risked attendance, wins and, frankly, credibility but this team is going to ultimately prove he was right.
Soon the losing seasons will be a thing of the past in Denver. Fans and media members won't be debating about whether or not the Nuggets should be losing for ping-pong balls but rather how far they can go in the NBA playoffs. This franchise is on the right track and in good hands.
The time has come to put full trust in Tim Connelly's process because he has built a team that can make noise in the West for the next decade.