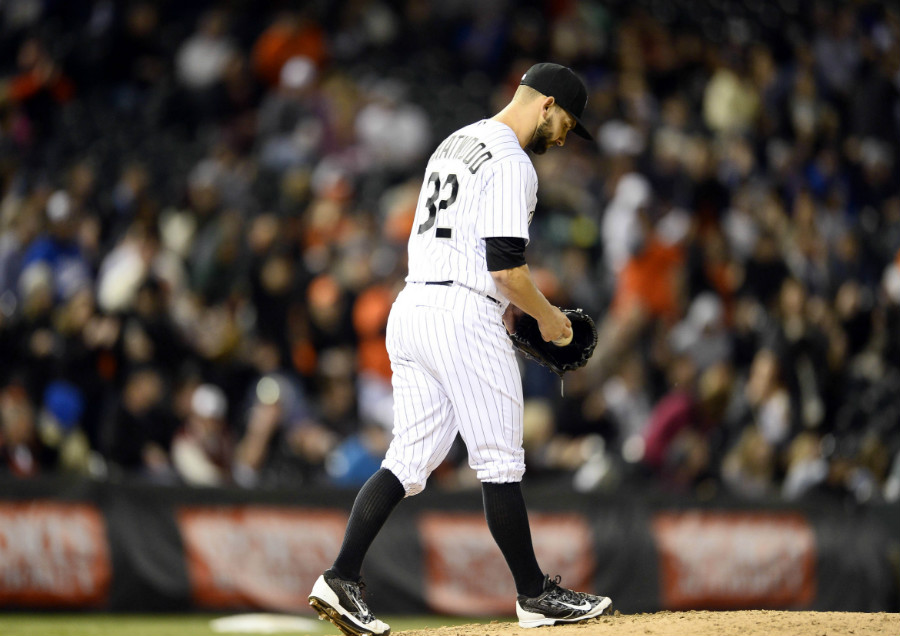 The Colorado Rockies managed to knock off the new-look Arizona Diamondbacks Friday night thanks to a strong performance by Tyler Chatwood.
The Rockies pitchers had an ERA over nine heading into the game, and that number had only continued to rise over the last few series; Chatwood stopped that trend on Friday.
Chatwood managed to go out and throw six and a third shutout innings, allowing five hits and three walks while striking out four.
"We knew as a starting staff that we had to do that," Chatwood told Patrick Saunders of The Denver Post. "We haven't been throwing the ball like we have wanted to the last couple of times through. I think that's where it starts, with our starting staff. We have to be able to go out there and throw up some zeroes and give our offense work, instead of working from behind all of the time."
Chatwood, 26, has impressed to start the season for the Rockies, owning a season ERA of 2.73, leading the team in wins and ERA thus far.
He managed to work out of a jam when he allowed a leadoff walk followed by a single early in the game. Chatwood kicked it into gear, managing to generate a double play ball to snag two outs and then followed with a strikeout.
These kind of marquee innings and outings are exactly what the Rockies need moving forward, and to see Chatwood provide that is a major confidence booster.
All of Chatwood's starts have come against good offensive team's like the San Francisco Giants, Los Angeles Dodgers, Arizona Diamondbacks and Chicago Cubs.
The one hiccup in his season thus far was his second start against the Giants, but everything since has been spot on.
While the Rockies do have a couple potentially good starters in Chad Bettis and Jon Gray, there is no doubt that Chatwood has taken firm control of the team's No. 1 starter thus far.
One of the biggest problems the Rockies pitching staff has had is pitching on the road. Chatwood has shown this season that that is not a problem, allowing just one run in 19.2 innings pitched away from Coors field.
He has put together an extremely solid start to the season, and if he can coontinue to provide solid starts every fifth day the Rockies may have found a consistent, solid arm in their rotation.
With Jorge De La Rosa, Jon Gray and Jordan Lyles all struggling, Chatwood has a legitimate chance to become the face of the staff for the Roxs.
The 26-year-old Chatwood still has a ways to go before he truthfully solidifies himself as a staple in the Rockies rotation; however, he has done a great job a taking the first steps to doing so.