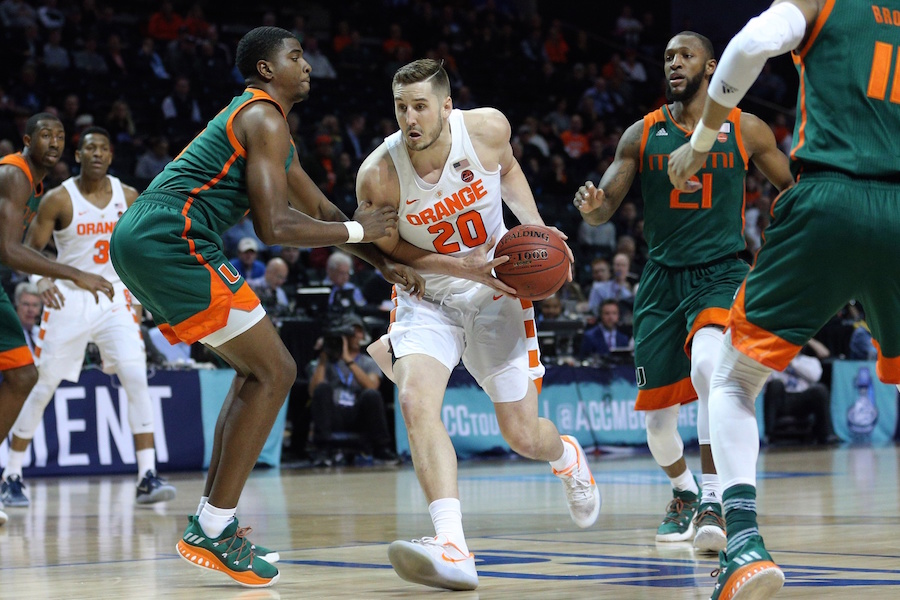 With the 24th pick in the 2017 NBA Draft, the Denver Nuggets selected Tyler Lydon, a forward from Syracuse University. Lydon's best-case and worst-case scenarios cover a ton of ground based on measurables and college career stats. Lydon has the measurables and college career that suggest he could be an All-Star, or a lifetime role player.
In 71 career games for the Orang, Lydon averaged 11.6 points, 7.4 rebounds and 1.6 assists per game while shooting 47.5 percent from the field, 39.8 percent from deep, and 80.9 percent from the charity stripe. At 6-foot-9, 220 pounds Lydon is an undersized big man who has floor-stretching capabilities and could even slot in at small forward or shooting guard if he improves his foot speed and perimeter defense.
His worst-case scenario player comparison is Boston fan favorite Brian Scalabrine. While the White Mamba was beloved by Celtics and won a championship in 2008, his biggest impact on the floor came in in garbage time. Scalabrine appeared in 520 NBA games in his career. He averaged 3.1 points, 2.0 rebounds, and 0.8 assists per game over 11 years in the league. In three seasons at USC, Scalaborine (6-foot-9, 236 pounds) averaged 15.7 points, 6.1 rebounds, and 2.7 assists on 51.3 percent shooting, 34.3percent from three point range, and 77.0 percent from the free throw line. These numbers are quite similar to what Lydon did at Syracuse and can easily be a preview of Lydon's career if he doesn't add more dimensions to his game.
That's the bad news.
The good news is that Lydon can also draw comparisons to 2017 free-agent darling Gordon Hayward. Hayward, 6-foot-8 and 226 pounds, averaged 14.4 points, 7.4 rebounds, and 1.8 assists in 69 games with Butler, shooting 47 percent from the field, 36.9 percent from deep, and 82.4 percent from the line. Lydon put up similar numbers, but where Hayward was facing off against the Horizon League, Lydon was seeing ACC competition every night.
To this point in his career, Gordon Hayward has appeared in 516 NBA games. He has averaged 15.7 points, 4.2 rebounds, and 3.4 assists per game. Those numbers are even slightly misleading because Hayward has been hovering right around 20 points per game in each of his last three seasons.
Tyler Lydon needs to add some strength, quickness, and finishing ability to his game as he transitions to the NBA. If he can do that he has a chance to be a perennial All-Star. If not, he could end up as a garbage time hero.