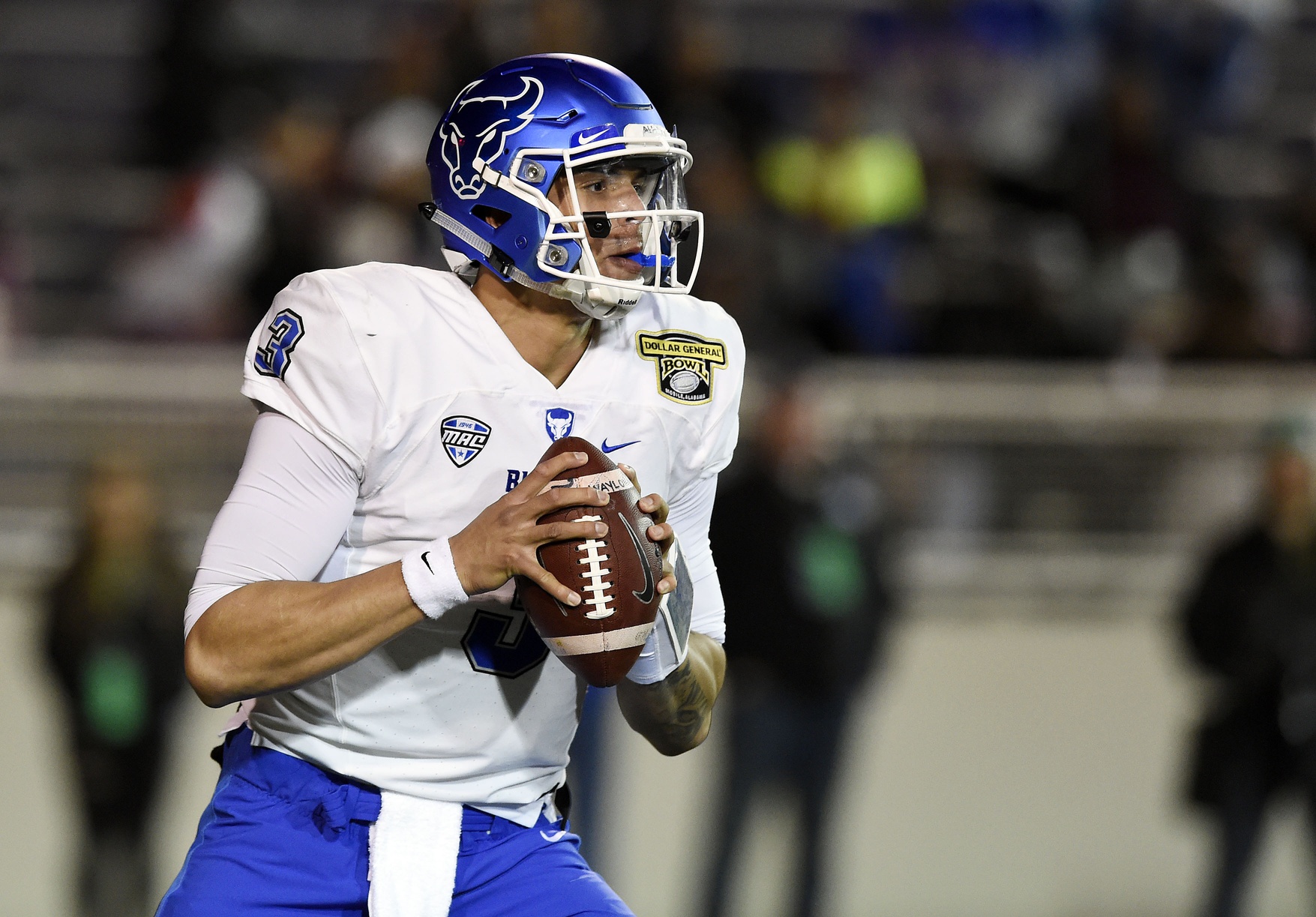 Any Broncos fan following the 2019 NFL Draft has heard of Kyler Murray, Dwayne Haskins, Daniel Jones, and Drew Lock. These four have been mentioned as top quarterbacks Denver could target in this year's draft, with an emphasis on Lock. However, most Broncos fans have never heard of Tyree Jackson.
That will change shortly.
When it comes to quarterbacks, one could certainly say Broncos general manager John Elway has a type. The two quarterbacks Elway has drafted high (Paxton Lynch and Brock Osweiler), had nearly identical height and weight measurements, separated by only a quarter of an inch and two pounds. The two checked in with an average height of 6-foot-6 and three-quarters of an inch and tipped the scales at 243 pounds.  Each had above-average athleticism, a howitzer for an arm and a lot of raw potential. Lock certainly has the athleticism and the arm talent and he's close to the height and weight of Lynch and Osweiler, measuring in at just under 6-foot-4 and 230 pounds.
Jackson may fit that Elway quarterbacking mold even more. Lock has a strong arm, but that howitzer looks a lot more like a Red Ryder BB gun when compared to Jackson's. Jackson also showcased his athleticism by running the second-fastest (and most impressive considering his size) 40-yard dash among quarterbacks at 4.59. At 6-foot-7 and 249 pounds, Jackson fits the mold with near perfection.
Another positive for Jackson is where he may fall in the draft. Lock could be off the board within the first nine picks. But many draft analysts have Jackson available in the third and potentially even the fourth round. This would allow the Broncos to address their more pressing needs at offensive line, linebacker, and in the secondary earlier in the draft.
Elway's previous picks at quarterback show the emphasis he places on raw potential and physical traits. If history repeats itself, Jackson could be the next project. Before arriving at Buffalo, he had never had a quarterbacks coach. His Xs and Os were lacking, but have steadily improved over his time with the Bulls. Jackson is able to progress through reads and manipulate defenders with his eyes.
Like many NFL prospects, Jackson carries his share of concerns. Throughout his collegiate career Jackson struggled with accuracy. This is likely a product of his footwork. Jackson had just one season with a completion percentage above 60 percent and finished with a career completion percentage of only 55.8. For the sake of comparison, Lock also had just one season completing more than 60 percent of his passes and a career completion percentage of 56.9.
Jackson did show off improved footwork and accuracy at the combine, but still has a way to go before he's ready to start at the NFL level. That being said, the Broncos should consider taking Jackson if they want to continue following the Elway mold.
Yes, Drew Lock has the higher floor and Jackson may not get to start until year two, but Jackson's ceiling is much higher, and he's a far less expensive gamble.
It is entirely rational for Broncos fans to get a little uneasy when comes to a high-risk/high-reward quarterback prospect like Tyree Jackson or Drew Lock, especially given the past. When a player like that misses, you have a Brock Osweiler or Paxton Lynch. But when they hit, you have a Patrick Mahomes or Cam Newton.