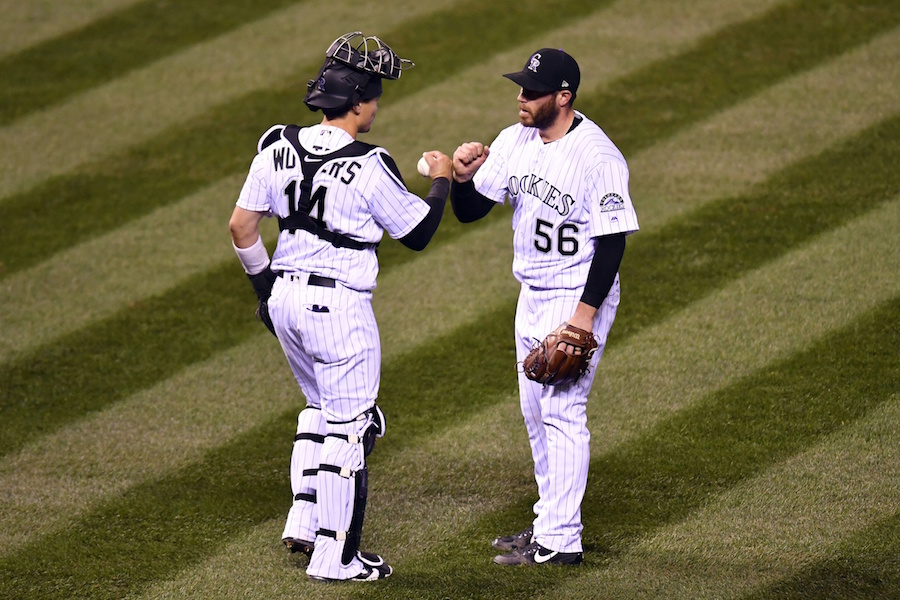 As the bell is about to ring and open the second half of the slugfest that has become the 2017 Major League Baseball season, the Colorado Rockies have suffered some major body blows of late.
Battered and bruised, they're going to have to take some advice from the late, great Muhammad Ali if they're going to still be swinging come October.
The Rockies need to get back to floating like butterflies and stinging like bees.
For the first two and a half months of the season, the Rockies were landing punches left and right on their opponents – especially those in the National League West. Over the final three weeks of the first half, however, they were sent to their corner, breathing heavy and with a cut above their eye.
In the ring, Ali was precise and timely when exacting his punishment on opponents. He used power when power was a necessity, but mostly jabbed and dodged his way to victory. Keeping opponents at bay by defense and tact, then landing crucial blows in crucial moments. When it came to the sweet science, Ali was a gifted genius and a calculated competitor.
The NL West has become a slugfest full of teams who can land blows and crush bombs. The Rockies were dynamite in the opening rounds, laying the leather on the division by way of a group of sensational rookie starters. Those arms are getting heavy, though.
If the NL West is to be knocked out, the Rockies need to be like Ali.
Mike Tyson-like in their ability to knock anyone out within seconds, the Los Angeles Dodgers have a style and a team that is hard to beat.
Ten Dodgers sluggers have 19 or more RBIs and seven of those hitters already have nine or more home runs, including 21-year-old Cody Bellinger (25 HR) and 23 year old Corey Seager (13 HR).
The Arizona Diamondbacks do not have the team stats, but like Joe Frazier, might have the most dangerous 1-2 combo in the NL West. Both Jake Lamb and Paul Goldschmidt have 20 home runs and 67 RBIs with an average OPS of .964. They are heavy-hitting heavyweights.
In comparison, the Rockies have four hitters with nine or more home runs and are combined to have 104 home runs total on the season. The Dodgers as a team have 127 dingers and Arizona 113 HRs. If the Rockies want to compete in the West, trading punches will just get them knocked out.
The Rockies, like Ali, need to find the Dodgers and Diamondbacks weakness and exploit it. The Dodgers and D-Backs hitters, while tough, are not perfect. They are free swingers, and often times miss the mark when taking their shot. L.A., as a team, has a batting average of .256. and Arizona is not much better at .259. The Rockies team batting average is so so pretty, sitting at .270. If you can get on against these teams, you have more than just a punchers chance, you're a real contender.
By fielding percentage, Colorado is the best defensive team in the National League at .988. The Dodgers are slightly above average at .984 (sixth in the NL) and the D-Backs are clustered with five other slightly below average teams at .983.
The Rockies have allowed only 17 unearned runs this season. They are 4-9 in games in which they have allowed an unearned run, including 0-2 against the Dodgers and 0-1 against the Diamondbacks.
The way Nolan Arenado and the Rockies are capable of playing defense, it sometimes seems as though they have wings. To stay competitive in the West, they've got to float on those wings.
As mentioned earlier, the Rockies are hitting a robust .270 as a team. Prior to their late-June, early-July slide, that number was as high as .275. But the Rockies aren't just getting hits – they're getting hits when they matter.
With two outs and runners in scoring position, Colorado is hitting .311 as a team. They're hitting .277 and have produced 269 RBIs when the game is tied or within one run. They've been incredibly clutch, stinging their opponents when it mattered most.
The Rockies were the best team in baseball through two and a half months by playing steady, mistake-free defense, by scoring in opportune moments and by taking their shot when the opportunity came. Like Ali upsetting Sonny Liston, the Rockies must knock out the favorites with a combination of tactics.
This is a long, big-ugly-bear of a season, but if the Rockies can last all twelve rounds, maybe they will come out saying they truly are "the greatest."
"Don't count the days, make the days count." – Muhammad Ali