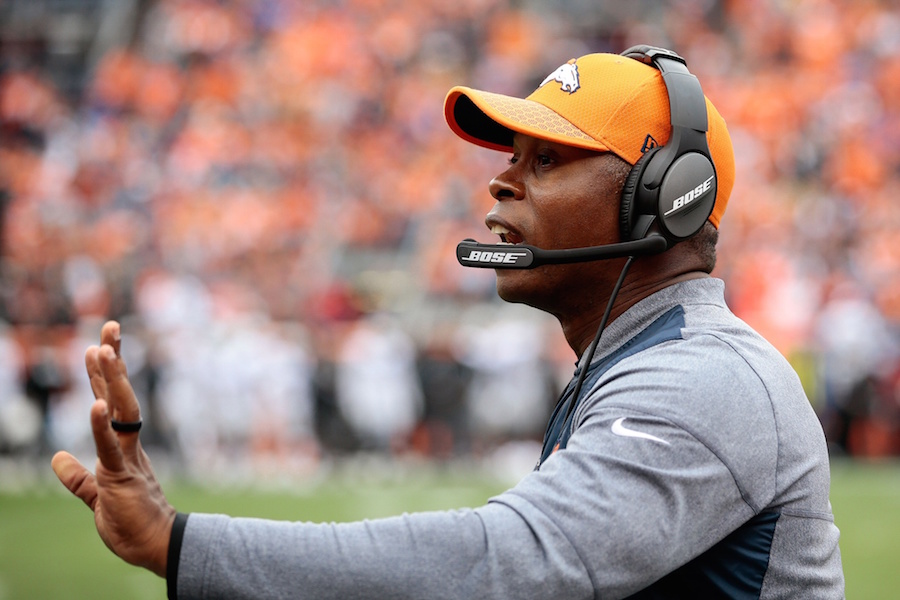 Denver Broncos head coach Vance Joseph believes his team did not miss a beat today, despite having multiple veterans  take the day off from OTAs.
Joseph addressed the media Monday, speaking on the running backs, tight end Jake Butt, and the development of their young players. The team is in the early stages of the preseason workouts but the Broncos second-year head coach likes where his young backs are with the playbook and hopes it will translate down the line when the teams strap up with full pads.
"All three backs have been very good with their assignments," Joseph said. "They've been good with that part and there all good workers. Royce [Freeman] is obviously better in pads. Most backs are better in pads. It's hard to tell how good they are right now without pads."
After releasing veteran running back C.J. Anderson during the offseason, the Denver backfield is extremely young, meaning the stable of young backs will have much to learn over the course of the summer. It also means that somebody is going to have to step up and take hold of the starting position.
"What you want from your room is obviously a lead back," Joseph said. "You need two or three backs to make it though an entire season. You want more then one guy to be a contributor there."
Along with running backs, Joseph has been impressed with the work Butt is putting in at tight end. The second-year player is healthy for the first time in his NFL career and depending on how this season plays out, the Broncos very may well have found a steal in the fifth round of the 2017 NFL Draft.
"He's finally totally healthy," said Joseph. "He's working hard and he wants to be a great player. We haven't played games yet so I don't know what Jake's going to be. He's very engaged, he's worked hard, and he's here everyday."
It is no secret that general manager John Elway and the organization as a whole have struggled mightily to draft consistent talent, only selecting one Pro Bowl player during Elway's tenure as GM. The Broncos know this needs to change and are hoping that the an emphasis on developing young talent this summer will pay off.
"I think having a plan for each player-that's so important. Especially when it comes to developing players," Joseph said.
"We've got some young kids here that we want to see get better every day. Our system right now is really good on both sides of the ball. I've been impressed with both coordinators."
Joseph also mentioned that he would love to see guys like DeMarcus Ware around the facility more frequently, as there is no true supplement for on-field experience.
"Obviously he played with these guys. They have great respect for DeMarcus," Joseph said.
"He (has) so much knowledge when it comes to pass rushing. It was good to have him out here and hopefully we can get him back in a couple of weeks."
#BroncosCountry LIVE: Coach Joseph addresses the media after Day 7 of #BroncosOTAs

Posted by Denver Broncos on Monday, June 4, 2018