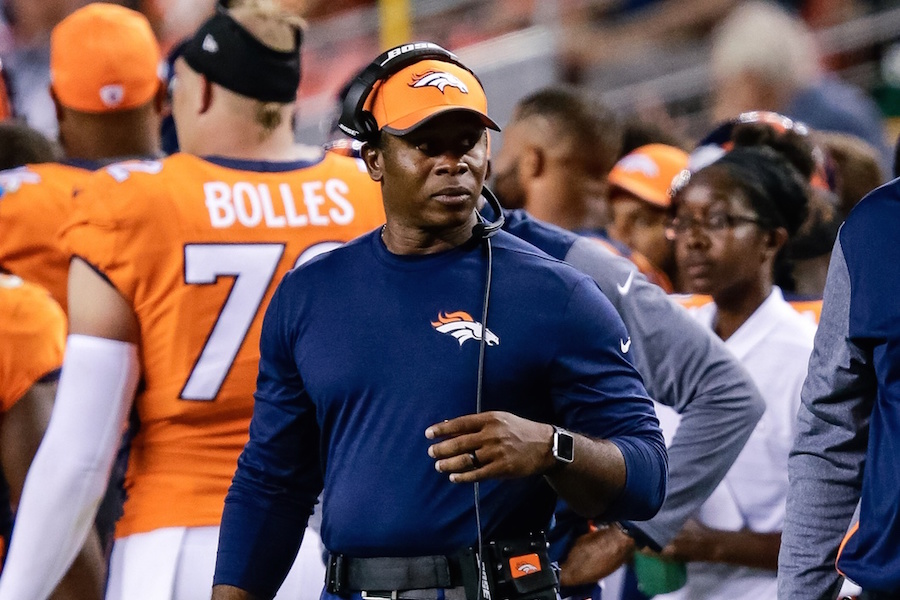 When the Denver Broncos kick off their 2017 season, they will do so with a new head coach at the helm. First-year head coach Vance Joseph was tabbed as the Broncos' next head coach during the offseason after former head coach Gary Kubiak retired with health concerns. The stage couldn't be much bigger for Joseph's regular season debut. His Broncos will kick off the final game of Week 1 on Monday Night Football in front of a national audience, hosting a division rival – the Los Angeles Chargers.
Joseph's comments earlier this week are a good sign that the first-year coach is more focused on the game being played, not necessarily when it's taking place or how many people will be watching.
"Not really," Joseph said when asked if he was nervous about the magnitude of debuting on Monday Night Football. "It's our first football game. It's a home game. It's a divisional opponent, so that's big enough for me. That's big enough for our team. It's on Monday night, that's huge, but it's Week 1. It's huge for every team in the league."
Coach Joseph's focus on playing against an AFC West opponent is a good sign that the team is being coached to focus on the game plan against the Chargers, not worrying about playing in the spotlight of a nationally televised game.
Despite being a first-year head coach, Joseph has found comfort in preparing for the role with the help of his offensive coordinator, Mike McCoy, who faces his former team Monday. McCoy was the head coach of the Chargers from 2013 to 2016 and has passed on some of what he's learned from being a head coach to Coach Joseph.
"Mike is a hell of an offensive coordinator and that's his first duty for me. As far as the head coaching duties, I've bounced things off of Mike," Joseph said, "just for confirmation more than anything. Mike has been great for me. I've been selfishly using Mike as my sounding board."
Having coached Denver through four preseason games, Joseph knows the challenges of the regular season are going to be different, although he can't yet pinpoint what will be the biggest thing for him in his regular season debut.
"I'm not sure," he said. "We've had four games and it's really the game management part. We've been good with that. Other than that, it's less coaching. That part bothers me. But it's more game management and that's the thing."
Joseph seems to understand the magnitude of this game being the first of the season as well as a chance for the Broncos to get an early division win in a highly competitive AFC West. Despite the fact that the Chargers finished the season an unimpressive 5-11, the Broncos are not sleeping on Los Angeles for the upcoming season.
Coach Joseph had nothing but praise for his first regular season opponent as a head coach.
"This team [had] 13 games [decided] by one possession last year and lost three by a field goal. They were 4-9 last year; they could have been 9-4. We know the challenge. It's a Hall of Fame type of quarterback with two great tight ends, with three great receivers and a big-time young running back. And a defense with two major rushers. It's going to be a challenge for our football team. We understand that."
The Broncos take on the Chargers Monday at 8:20 p.m. MDT on Monday Night Football.