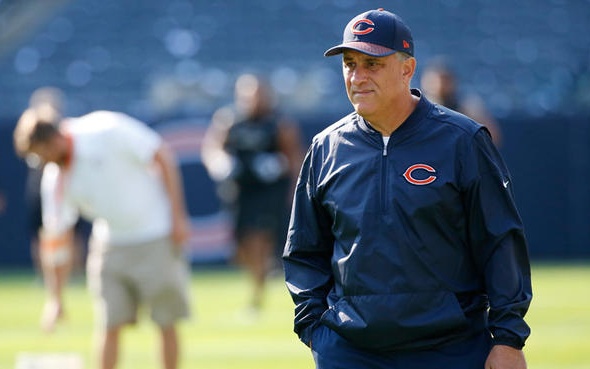 Vic Fangio is a coaching phenom.
At least, he was in 2018.
Last night, at the NFL Honors show in Atlanta on the eve of the Super Bowl, Fangio was named AP NFL Assistant Coach of the Year. He earned the same honor by the Pro Football Writers Association of America last week.
Fangio joins former Denver Broncos defensive coordinator Wade Phillips as winners of the award; Phillips won in 2016 following Denver's Super Bowl 50 victory. Today, Phillips and the Los Angeles Rams face the New England Patriots in Super Bowl LIII (4:30 p.m. MT) while Fangio looks to translate his superb success from Chicago to the Broncos defense.
Speaking of the high-flying, No. 1 offense in the LA Rams; Fangio's defense was the only one to stifle the Rams in 2018. Fangio's Bears defense held Sean McVay's high-scoring offense to a mere six points in early December, as Chicago won 15-6. It was the only time all year LA was held to single-digit scoring, with their second-lowest point total coming against Denver (23).
And while that defensive performance was impressive, it only begins to tell the story for Fangio's unit's success last season.
The Bears were No. 1 in points allowed (17.7), turnovers forced (36), first downs allowed (278), net passing yards per attempt (5.7), rushing yards and touchdowns (1,280, 5 TD), and interceptions (27).
It's why many are hopeful Fangio can restore Denver's defensive dominance immediately, in 2019. Certainly, the Broncos new head coach — who will be calling the defensive plays — has a lot of playmakers to utilize. From Von Miller to Bradley Chubb to Chris Harris Jr. and the list goes on.
Of course, Denver now must compliment those superstars with more key, role players, likely in both free agency and the draft. For the Broncos defense to be as sensational as the Bears were this year, Denver needs to find two, athletic inside linebackers, two more cornerbacks, more defensive line depth and another safety.
There's a lot of work to be done, no doubt about it. But, if anyone's up to the task at hand — turning the Broncos back into playoff contenders immediately — it's Fangio.
Denver won't be dying a "death by inches" under his reign as head coach; they'll be focused on all the little details, from the top-down.