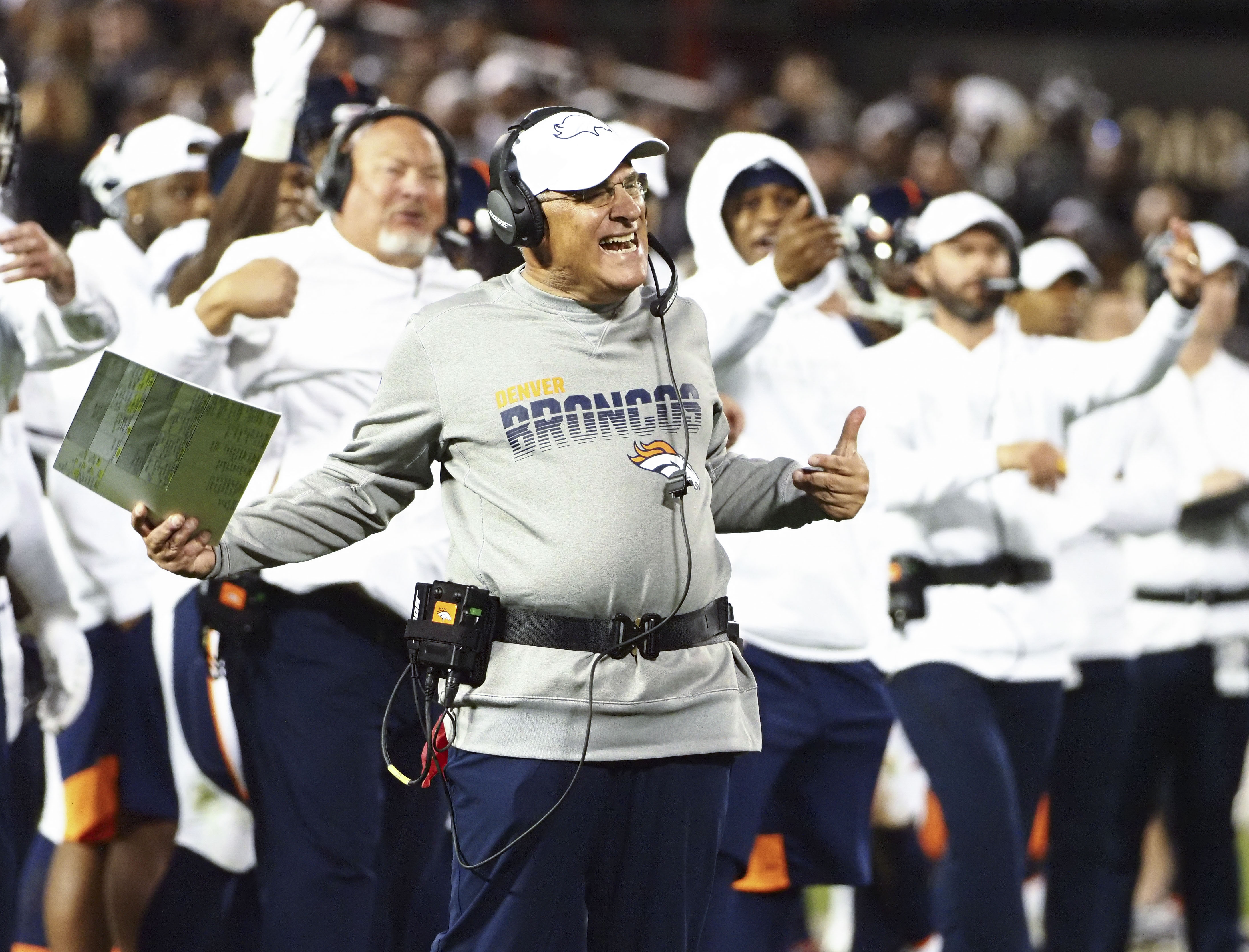 The Denver Broncos 2019 campaign started on a sour note as Jon Gruden and company torched Denver's defense in a 24-16 victory on Monday Night Football.
Monday's contest was Vic Fangio's debut as head coach of the Broncos, and the output was underwhelming, especially on defense, considering it is his area of expertise.
Denver marched to Oakland for their last regular season matchup by the bay before the Raiders move to Las Vegas. Following a slew of preseason turmoil surrounding the Raiders, Denver entered the game as two-point road favorites.
Oakland looked comfortable on the converted baseball field, driving down the field early in the first quarter to establish a 7-0 lead. Fangio's motto entering the season was "death by inches."
Unfortunately, Fangio's mantra turned into "death by yards" as the Broncos were torched by Dereck Carr, especially on third down.
"One of the biggest issues was they had so many 3rd-and-3 minuses—ones, twos and threes, which was more a reflection of our first and second down defense than the third down defense," Fangio said. "We've got to be able to make some plays and get some stops no matter what the yardage is, and we didn't get them."
Carr was stellar throughout the night, completing 22-of-26 pass attempts for 256 yards and a touchdown.
The Raiders' offense set the tone early by playing a fast, run-and-gun style of offense in an attempt to neutralize Denver's pass rush, a strategy that was successful.
Broncos' pass rushers Von Miller and Bradley Chubb were virtually nonexistent thanks in part to Carr finding his running back and tight end early and often. Carr's quick release prevented Miller and Chubb from disrupting the Raiders' play call throughout the contest.
"They were throwing it quick, that was pretty obvious," Fangio said. "They did some chipping, which every team in this league does against every defense. They were getting it out quick I think was the main reason."
Oakland dialed up a hearty amount of passes in the direction of Broncos cornerback Isaac Yiadom. Raiders tight end Darren Waller's first three catches racked up 44 yards and came with Yiadom defending him.
The Raiders were clearly trying to exploit Yiadom's deficiencies, targeting him in seven of their first 14 passing attempts. All seven plays resulted in a completed pass.
Yiadom's poor play caught the eye of Fangio who is working on a solution prior to Denver's next game.
"We've got to give him some help," Fangio said. "We gave him a good bit of help, but not all the time. He's going to have to answer the call there when he's got a one-on-one situation. You're never going to be rolled up to a guy every play. We rolled up some [but] obviously, we didn't roll up enough in that particular game. So part of it is on me, but he's going to have to win some one-on-one battles."
While the Broncos' defense was less than stellar Monday night, their offense also failed to provide the necessary firepower to win. The Broncos' offense ranked 24th in the NFL last season in average points per game with 20.6, and things were looking eerily similar to the 2018 squad in Oakland.
Denver revamped their offense in the offseason, headed by the acquisition of veteran quarterback Joe Flacco. In addition, the Broncos poached offensive mastermind Rich Scangarello from Kyle Shanahan's coaching staff in San Francisco to be their offensive coordinator.
Flacco was fine versus Oakland, throwing for 268 yards and a touchdown. Denver's receivers struggled at times as DaeSean Hamilton dropped a touchdown pass in the end zone and Emmanuel Saunders was dormant to start the game.
"He's a guy, too, that is fighting the fatigue part because he is not through his injury and lack of practice time," Fangio said of Sanders. "He's still rounding into football shape to play every play. I thought he had a good game. He had some catches there. I think he'll improve weekly."
The Broncos played a poor game collectively, but they dug themselves a hole early by failing to score in the first half. Overall, it appeared as if the Broncos lacked energy early on as the team seemed to be a bit starstruck in the first game of the season.
However, Fangio had his own take on the situation.
"I thought our guys were ready and fired up and ready to roll. They put together a very nice drive on us where they completed a bunch of balls there and had some runs. There was nothing big. We could have made that play better, their touchdown. Our red zone defense, we really had two guys assigned to the guy that caught the ball, and we didn't execute it right. To come out of there with three instead of seven would have been nice. When they got the touchdown, your observation is validated."
Denver experienced growing pains in Monday night's loss, but that is to be expected with a rookie head coach, a new coaching staff and offensive scheme.
When asked about his comfort level on the sideline, Fangio kept his answer short and sweet.
"I was fine."
It's on to the next game for Fangio and the Broncos. Denver is set to host Fangio's former team, the Chicago Bears, this coming Sunday at Empower Field at Mile High.