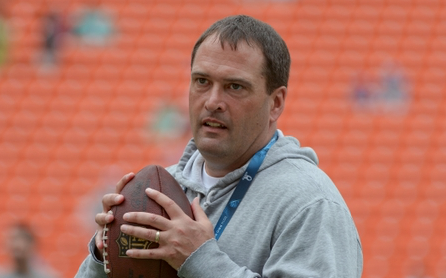 As long as Vic Fangio has been the head coach of the Denver Broncos, the special teams unit has been abhorrent.
The main reason? Tom McMahon, the special teams coordinator who has continually fielded one of the league's worst units, and who has yet to face any sort of consequence for these perpetual failures.
To make matters worse, Fangio has continued to show no willingness towards holding McMahon accountable.
"We've had a lot of good play in the special teams, but we've had our plays that critically affected the game in a negative way also," Fangio said when asked if there was anything he would change about how he handled the special teams unit during his tenure. "That's an area that we've got to clean up. You don't want to negatively affect the game with the special teams and that's happened too often. Even if it's just a couple of times, that's too often. That's got to be a solid area for us each and every week that we at least go out there and cover the kicks, get them downed; we make our kicks, we get some return yards–it's been inconsistent. No doubt about it."
That question was pretty obviously asking if Fangio would give McMahon a second and third chance again, now with the power of hindsight, and all Fangio could offer was mild criticism. That inability to hold his assistant coaches accountable, while showing no hesitancy towards critiquing players, likely doesn't go over well in Denver's locker room.
Another consistent problem for the Broncos all season, no matter who has been in the lineup, is their inability to turn redzone possessions into touchdowns.
This particular problem reared its head in a major way on Sunday, against the Los Angeles Chargers, as the Broncos fell just short of a touchdown multiple times.
"We need to find the right combination of plays that can get us in there, especially when we're in there tight. We had two great chances. The one [where] we lined up in an illegal formation which nullified a touchdown [and] the other one we didn't get enough in the run game. The pass that we tried on the first-down play didn't work well enough, and then we tried that trick play for the fourth-down play. It was open but it was too much pressure there on Kendall [Hinton], and he couldn't get the throw effectively to Drew [Lock], but there's no doubt we've had our ups and downs in the red zone all year. We've had some really good games and some games where it wasn't good enough. Yesterday was one of those, but it's definitely an area we place a lot of emphasis on, and we will continue to."
Hopefully, the next coach will be able to solve this issue, as it seems like time is running out for Fangio and his staff.