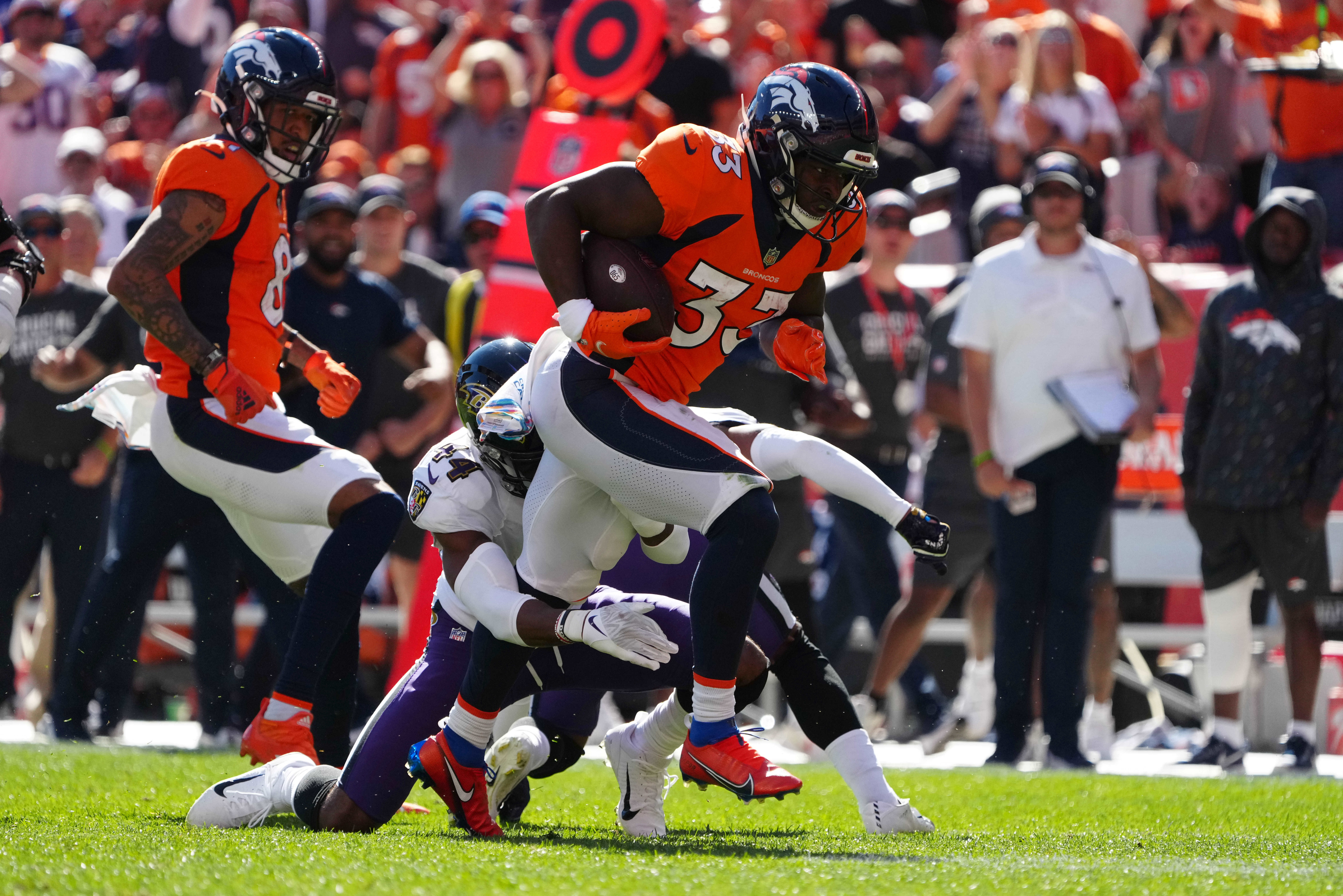 Last week's loss at the hands of the Baltimore Ravens was thoroughly demoralizing for a countless number of reasons, but there are still things to be optimistic about.
For starters, Von Miller, who is in the midst of a wonderfully resurgent season, racking up 4.5 sacks already. Another would be Javonte Williams and his marvelous power-running ability.
With those two positives in mind, let's take a closer look at just how statistically dominant this pair of stars could end up being.
Von Miller: 110.5 career sacks
It's already been written a thousand times this season, but it bears repeating; Anyone who thought Miller was washed up before the 2021 season has been proven horribly wrong almost instantaneously.
Through four games, Miller has tallied 4.5 sacks (recording at least 0.5 in each game), two additional hits on the quarterback and a total of 17 pressures.
If he keeps that performance up, it should be one of the best and most productive seasons of his career.
His impressive start has already seen him leap up the all-time career sack leaderboard by three spots, from 26th to 23rd, and the pace he's producing at now presents him with the opportunity to climb much, much higher.
If he maintains his current pace, he would finish the season with approximately 19 sacks, the highest mark of his career, and enough to place 19th all-time, right between Robert Mathis and Dwight Freeney. Passing Mathis would also make Miller the fourth-highest-ranked sack artist on the leaderboard, who has spent their entire career with one team (only Michael Strahan, Lawrence Taylor, and Derrick Thomas would have more).
It would also place him right in the middle of where a herd of pass rushers find themselves on the leaderboard. In other words, it would set the table for him to climb into the top-10 all-time, as he would need just 12.5 more sacks over the remaining years of his career.
Javonte Williams: 17 missed tackles forced
The Broncos' second-round rookie is a tackle-breaking machine. The ability to bounce off contact and keep churning ahead comes so naturally to him that it's truly remarkable, as Miller noted during his session with the media session on Thursday.
"The guy is so incredible when it comes to breaking tackles," Miller said of Williams. "I just wanted to test it out one day. I tried to trip him in the hallway, and he just kind of like rolled off it and kept going. He just has a sixth sense when it comes to breaking tackles. He's just incredible. His center of balance is incredible. I've never seen a play like that. I've been in the league 11 years. I've never seen a guy break tackles for 40 yards straight and then almost tumble into the endzone. He's a hell of a player for us. He's a hell of a compliment for [RB] Melvin [Gordon III's] game. Both of those guys can break tackles. It's just a great switch-up to have Javonte go in there and do the things that he does. He's a hard runner, and he means business. For the longest, I thought that he didn't like me at first because when he first got here, he kind of stepped on my foot. I looked at him and I'm like, 'Bro, what's going on.' He kind of gave me this look. I was like, 'Oh, this rookie is different right here. This rookie means business.' You fast forward and you get to know your teammates. He's one hell of a player. I'm so happy that he's on our team and I'm not out there trying to tackle him"
The stats back up that story from Miller.
Through four games, Javonte Williams has forced defenders to miss 17 tackles, good for second-best in the league. In fact, He's one of just two players (Nick Chubb, 18) with more than 15 missed tackles forced already this season. What's even more impressive though, is that Williams' relatively small workload means he's forcing defenders to miss their tackles at a much higher rate than anyone else in the league.
Williams is forcing defenders to miss a tackle once every 2.71 carries, which is the best mark in the league by a mile. That's 18.22% better than the back in second place and 25.38% better than the back in third.
It's hard to fully contextualize just how dominant that is, but let's try.
No other running back in football (min. 20 carries) is averaging at least one forced missed tackle per every three carries. There are only seven running backs in the entire league forcing a missed tackle per every four carries. The next-best rusher is Kareem Hunt, who is forcing a missed tackle once every 3.31 attempts, but even that doesn't fully encapsulate how far ahead of the pack Williams is.
Despite carrying the ball just three times more Hunt, the second-place back, Williams has forced four more missed tackles.
Here's a good look at how dominant Hunt has been in this category, when compared to the five other best runners in football in this category, not named Javonte Williams: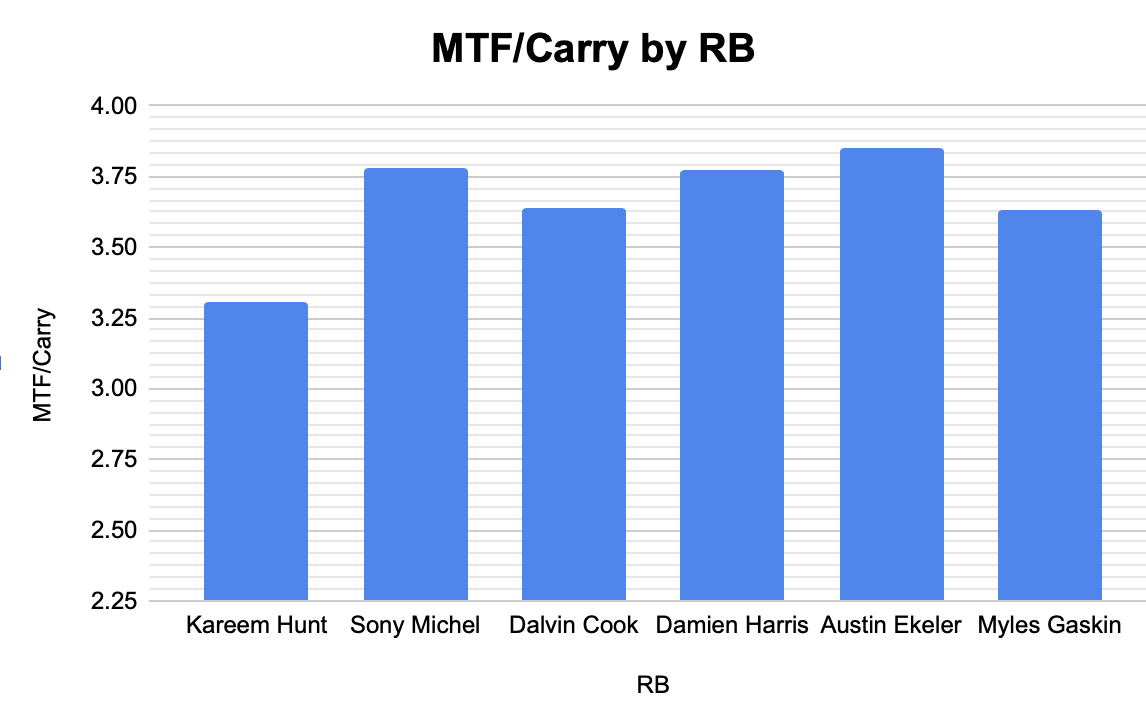 And here's how it compares to Williams: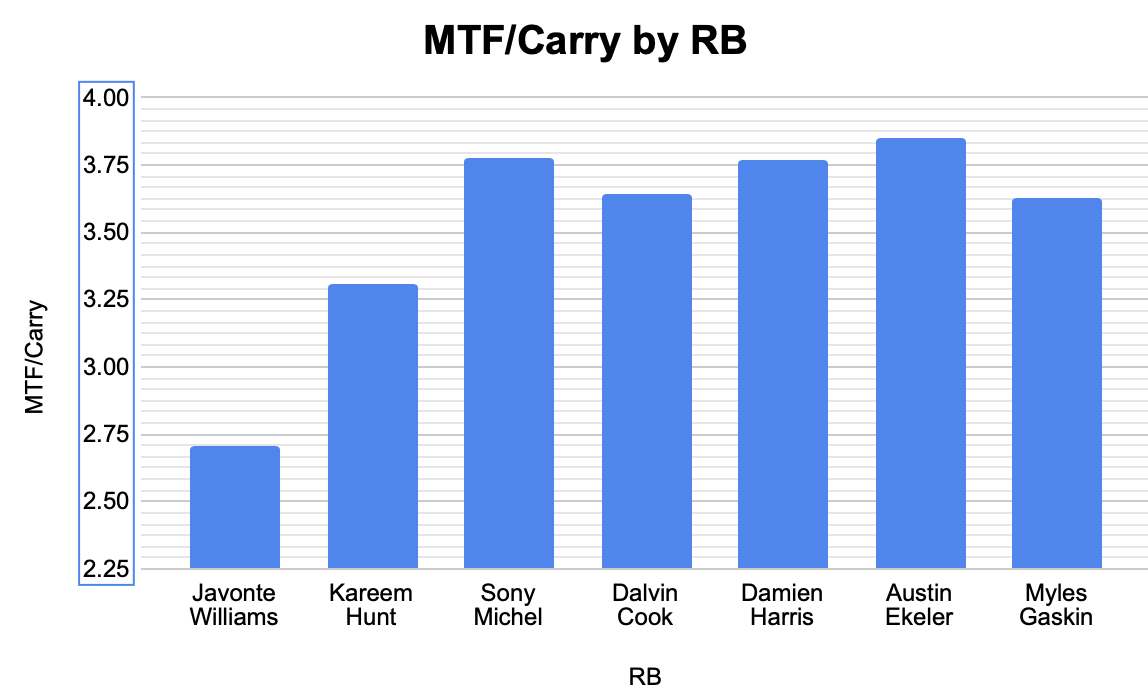 Sweet mother of god.
Hunt would have to force at least one missed tackle, on each of his next five carries to eclipse Williams, which would require him to more than triple his rate. To catch Williams in 20 carries, he would have to force a missed tackle once every 1.82 carries, practically requiring him to double his rate (that is currently the second-best in all football), for approximately two entire games (considering how many carries per game Hunt is receiving).
Williams is singlehandedly creating more opportunities for himself than any other running back in football, and frankly, it isn't even close.
Williams also leads the NFL in forced-missed-tackle rate at 37 percent and ranks eighth in yards after contact per carry (3.20).
Denver landed themselves a real one.