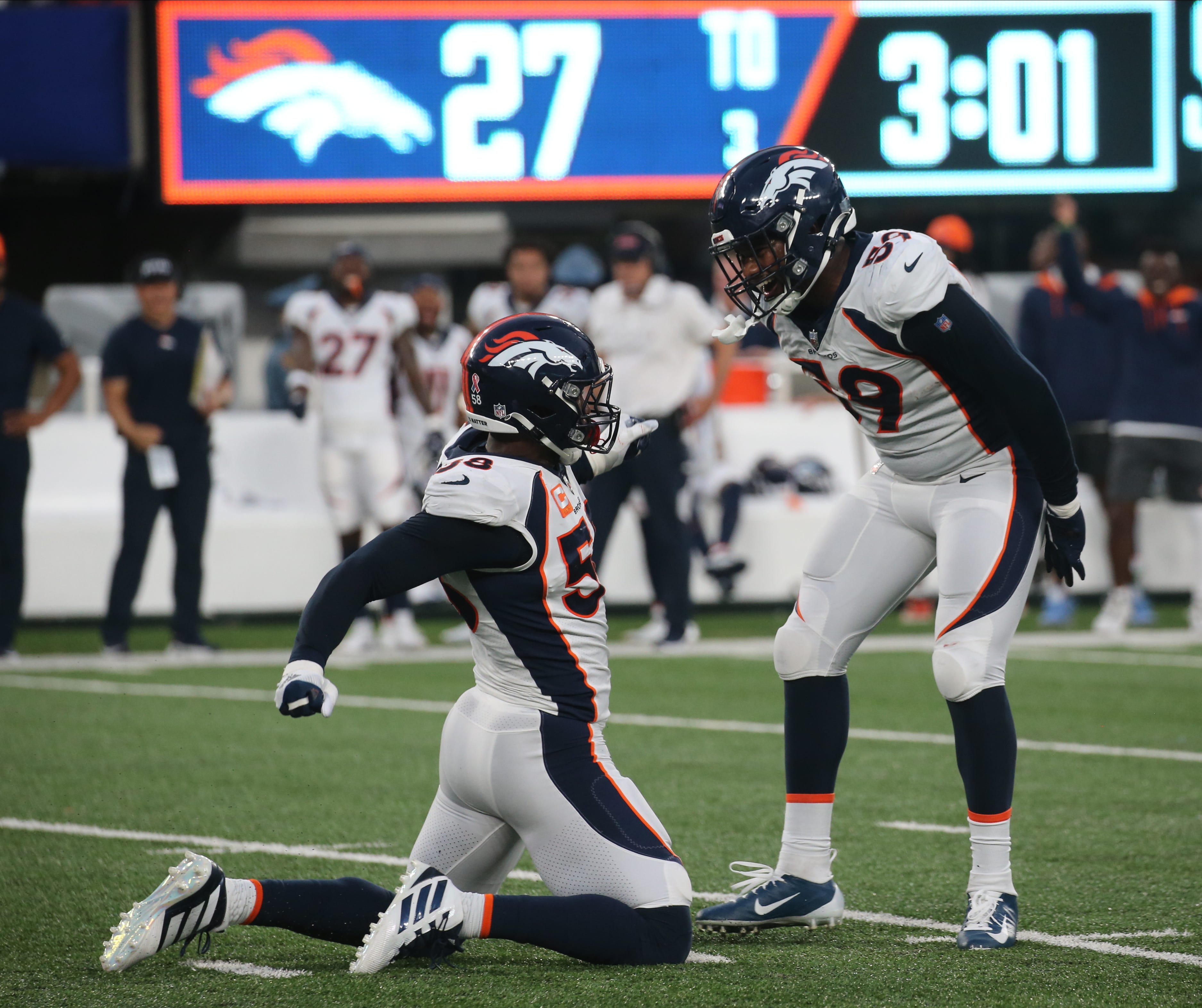 Over the past decade of Denver Broncos football, no player has defined and encapsulated the team more or better than Von Miller. He has been the heart and soul of this franchise for a long time, and last season's Broncos team was without that crucial element.
That changed this season, as Miller returned from the torn peroneal tendon that sidelined him for 2020 looking every bit the dominant player he had been throughout his career, prior to the injury.
On Sunday, against the New York Giants, Miller played like a tasmanian devil, as he lived in the backfield and created constant pressure. His five pressures led the team and were more than twice as many as Shelby Harris and Dre'Mont Jones had, who tied for second. On top of that, Miller got both of the Broncos' two sacks, a bonus quarterback hit, and a huge tackle for loss that snuffed out a promisng New York drive.
"It felt great, not just the game, but the whole process leading up to the game," the star edge rusher told the media after the game. "[R]iding on the plane with the guys, preparing this week with the guys and the bus ride over. Just being in the locker room and being involved, being back a part of the team is super dope. It's good to get sacks, but it's good to get wins as well and I got both today, so it's a good day."
Of course, the return of Miller was much-needed for the Broncos, as was the return of good quarterback play, which the Broncos got from Teddy Bridgewater.
"[Bridgewater] did an incredible job," Miller told the media, before cracking a joke about his statement that even he, the defensive star, could play quarterback in this loaded Denver attack. "He's ten times better than me – well, he's about eight times better than me (laughs), but he did an incredible job. He was poised back there, he got out of some big-time sacks early in the game and he converted off of those scrambles. Just a great day from Teddy. He gave us a great speech before the game. You could just feel it. When guys are not faking, you can just feel it in them. Teddy's a great pickup for us. I'm happy he's on my team. He's a great guy."
The added love for Bridgewater might have something to do with the fact the quarterback's masterful performance helped get Miller a game ball to bring home to his newborn son, Valor Miller.
"Today was my first day getting a sack as a dad – shout out Val, I can't wait to see you, bud," Miller said during the postgame press conference. "I played last week, and that game was for him, but to come and get sacks first game out – his name means, 'to show great courage or bravery in the face of danger,' especially in battle. When you name a guy like that, you've got to go out there and you've got to live the same way. I've got to show him that he was named after me. It was a great day here for Broncos country, a great win."
It certainly was, Von. It certainly was.