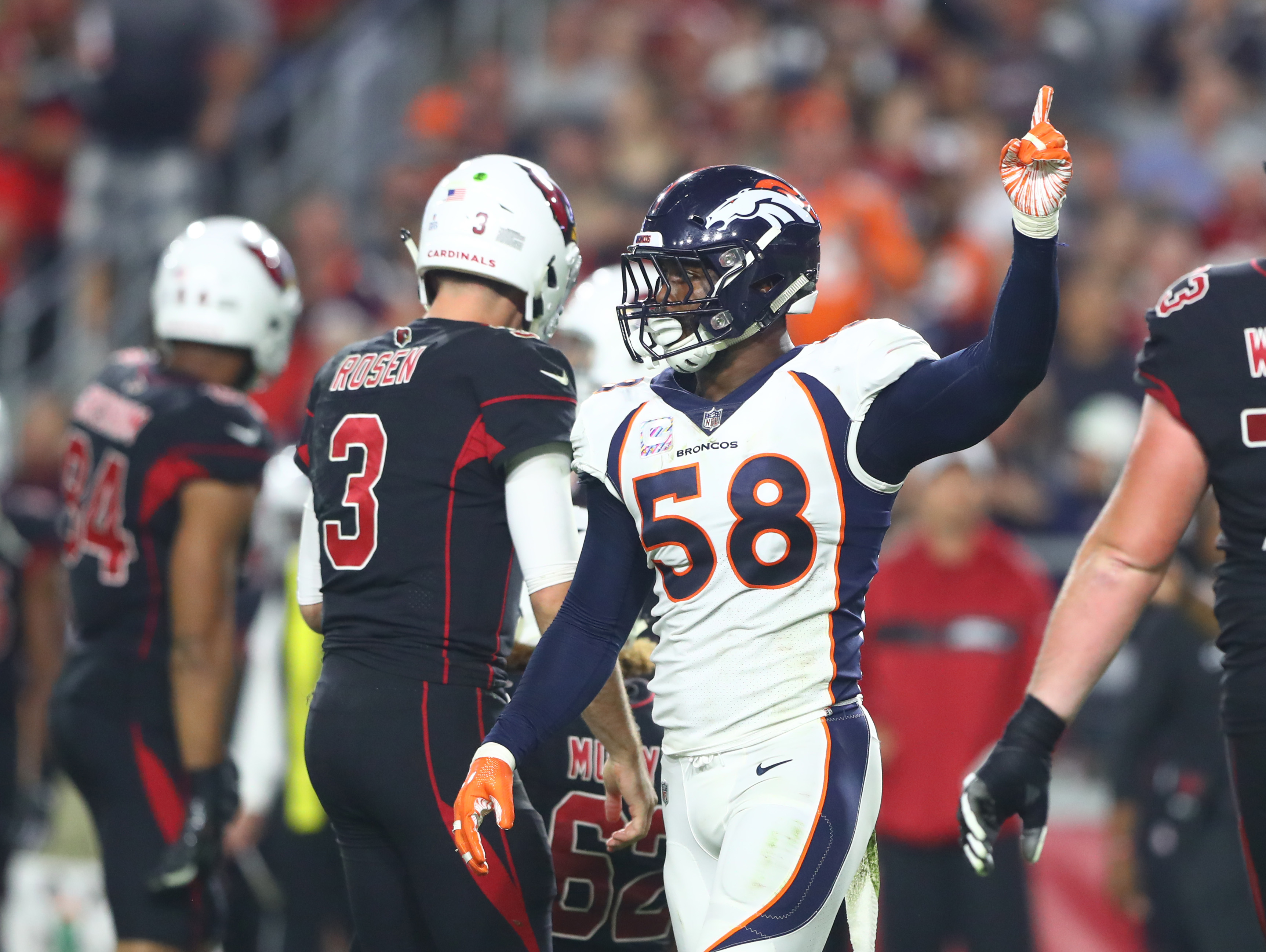 Say what you will about the Arizona Cardinals.
No, they're not a good football team.
Correct, they're not the Chiefs or Rams or Patriots.
But you know the old saying: Those guys get paid, too.
Von Miller did the most un-Von-Miller thing ever – "We're going to kick their ass," he said, in case you hadn't heard. It was the story heading into a game that was devoid of a real storyline. Two pretty bad football teams. Thursday night. Face it, this one was a non-event from the beginning.
Until Miller's comments.
All of a sudden, the previously 2-4 Broncos were on the national radar. And unlike the previous reason, the attention had been deflected away from the red hot trousers worn by Vance Joseph. Miller put the spotlight on him.
Furthermore, he gave a struggling football team some substantial bulletin board material. Why do that? The Cardinals were about to die, why potentially give them a shot of life?
Only because Miller's own team needed a shot of life.
Look, the Cardinals aren't good. That's an indisputable fact. And while some have been critical of Miller – "Hey, why don't just go ahead and pick on the weakling…" – they're missing the point.
Miller didn't say his team would win. Heck, even at 2-4 they had no business losing to Arizona. He did say they'd win big – and there's some merit to that, Cardinals or not. That's actually creating pressure where none existed before.
Leaders do this kind of thing from time to time. The Broncos were circling the drain, and their best player spoke up and changed the flow.
Are the Broncos going to the playoffs? Probably not, but Thursday night's 45-10 win made a statement. Miller himself made a statement. At the very least, he let the world know that he wasn't about to sit idly and watch the Broncos – a franchise he's helped to make one of the most elite in all of sports – crumble. Talking the talk, then walking the walk, made everyone – the coaches, the players, the fans – proud to be a Bronco. That's a pretty important thing in the middle of what was looking like a nightmare of a season.
Miller has always been known more as a "lead by example" star than one who's terribly vocal. But him breaking the silence was exactly what the Broncos needed, exactly when they needed it.
Should Vance Joseph keep his job, for however long he keeps it, he can thank Miller. Joseph could have easily sealed his own fate down in the desert – you'd better believe the buzzards were swirling. Whether Miller has an ounce of loyalty to Joseph we may never know, but for one game, Miller did him a solid. He verbally tossed out a challenge to his teammates – maybe even his coaches – and it worked.
Don't think for a second that Miller wasn't brave enough to make such claim against a much better team. Keep that ear close to the ground – he's not about to say such things heading into a matchup on the road in Kansas City. It's a fine line, a sensitive button to push. If Miller says that against a team that's better, his words would be met with heightened awareness, perhaps even skepticism or sarcasm. There's brave. And there's smart. And there's just plain dumb. It's dumb to pop off against a great offense; if you don't come through it's like doubling the loss. The last thing the Broncos need at the moment is less confidence.
If you offer up some fightin' words heading into the Cardinals game, and you win by a field goal, someone might remember what was said, but hey, a win is a win is a win. But if you come through exactly as you prophesied, well, you've suddenly given the team a shot of confidence it might not have found otherwise against a bad football team.
The best part – aside from the lopsided score – is that Miller did a lot more than talk. He walked. Man, oh man, did he ever walk.
Against the Cardinals, Miller tallied four tackles, two sacks and two forced fumbles. He hit rookie quarterback Josh Rosen four times and recovered a fumble he created. Miller's defense had five takeaways. Before Thursday night, Denver seemingly couldn't force an infant to let go of the ball.
Is it possible that the Broncos just got healthy against the Cardinals? Hey, if they did, so what?
Did Vance Joseph save, or at least prolong his coaching position in Denver? Who knows. Who cares? He coached a nice game in Arizona; then again, your grandmother might have been able to come up with a gameplan to beat the Cardinals. Joseph's worst mistake on the night was leaving too many valuable starters in the game once it was out of reach (including, and most noticeably, Von Miller himself.). Hey, even a cranky writer who's called for the coach's head more than once can appreciate Joseph wanting to get out of Dodge with a win.
But today – a weird Friday with the Broncos already in our rearview mirror – there's a shimmer of hope in Broncos Country.
All because Von Miller talked it.
Then walked it.