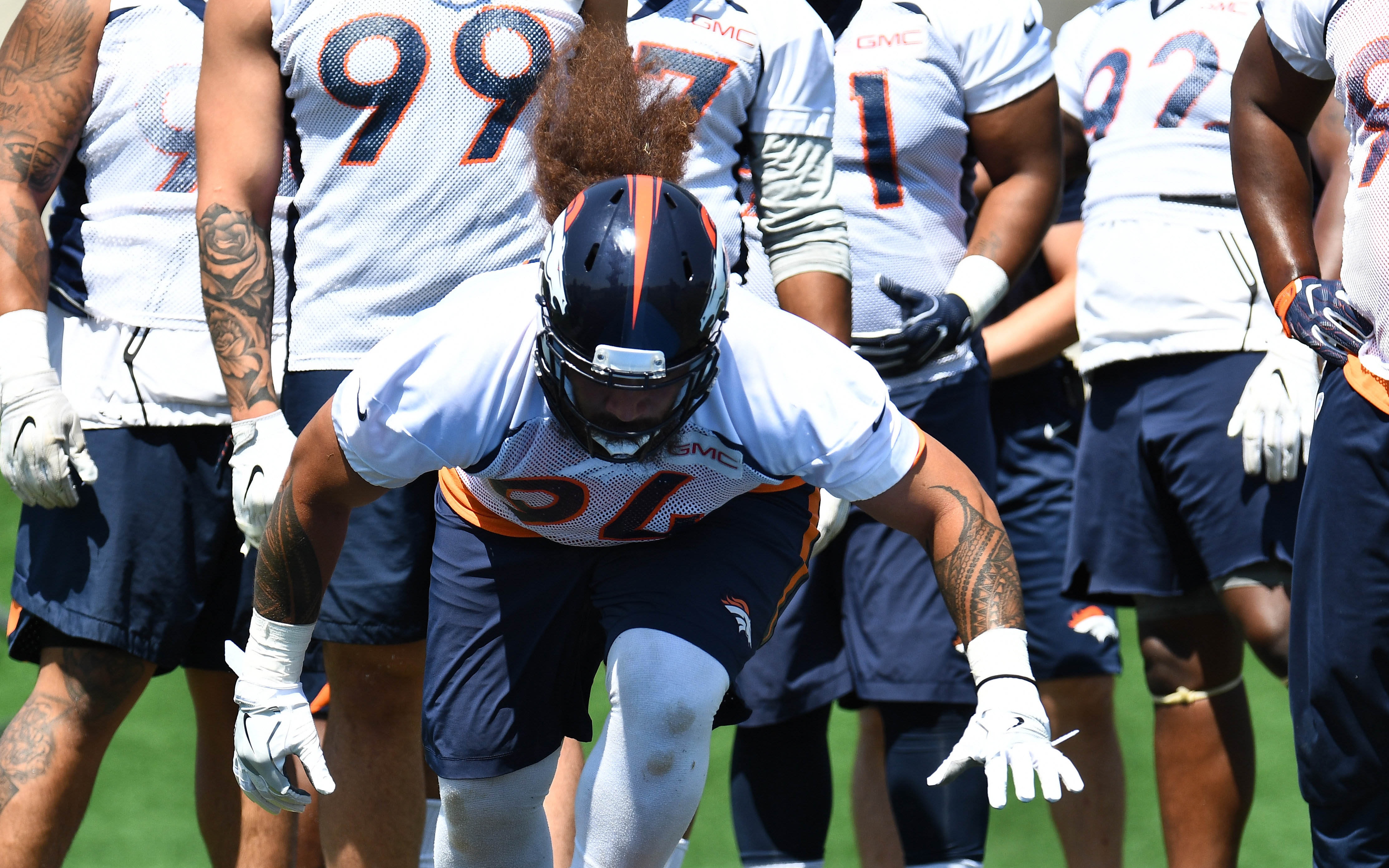 If you haven't yet, right now would be a good time to follow @DLineVids on Twitter.
Why? They're constantly uploading quick videos and photos of players' techniques, helping even seasoned NFL fans learn a little bit more about the game. Specifically, DLineVids is committed to showing off what those big boys in the trenches are doing to get free and get after the quarterback.
They've taken video clips from the most recent Broncos OTAs to show us what the best pass rushers in the game are doing.
First, here's a look at Von Miller using the "long arm" technique. What's always impressed with Miller is not only his agility and speed, but the mix of that along with his incredible power. When he wants to, Miller can power-rush through any offensive tackle; this picture shows one of the ways he can do just that.
Snapshot: Von Miller using leverage & extension on this long arm. He elongates the torso to maximize the move! #Broncos pic.twitter.com/Zv28wwJsog

— DLineVids (@DLineVids) June 14, 2018
Here's Marcus Rush trying to emulate that exact move, and getting a little off-balance while doing so. Still, it's impressive technique.
Marcus Rush (@M_Rush44) works the long arm on the pop up, but focus on the hand. Lands thumb up for a better strike/elbow stays in! #Broncos pic.twitter.com/c9OgHxwLmM

— DLineVids (@DLineVids) June 10, 2018
Rush, who has a perfect name for an outside linebacker, is a 6'2″ and 251-pound young man who played two games for the Jacksonville Jaguars in 2016. Last year, he was on the Kansas City Chiefs' practice squad before being cut twice and acquired by the Broncos in December. With Deiontrez Mount's injury and his being waived, it's opened the door for a guy like Rush to possibly make the roster later in the year.
From a youngster doing everything to make the roster, to one who's a guaranteed lock in Bradley Chubb. Here, Chubb throws a decent stab/club, but it's something he could continue to work on, too.
Bradley Chubb (@astronaut) works ½ man & throws a stab/club with a tight arm over to clear the punch! #Broncos pic.twitter.com/tlz7mZUJku

— DLineVids (@DLineVids) June 9, 2018
Shane Ray, the oft-talked about and oft-injured outside linebacker, shows the rookie how it's done, here. He really gets that "stab" into the would-be offensive lineman's chest to create space and fly around him.
#Broncos Shane Ray (@StingRay56) works the stab/club. Stab the inside pec to create separation & get the OL/blocker off-balanced! #OTAs pic.twitter.com/tNxyqAHMms

— DLineVids (@DLineVids) May 26, 2018
Finally, from pass rushing to playing the run. Domata Peko has been a huge addition — literally and figuratively — to the Broncos defensive line lately. He's a true run-stuffer, and what's most impressive is his quick feet and agility despite his 325-pound frame.
Here, we see Peko get free of the blocker, bouncing off and then taking a shallow path along the line of scrimmage to block any holes which could have been there.
Domata Peko (@DomataPeko) controls his gap by striking his pressure key, reading zone & ricocheting off the blocker flat down LOS! #Broncos pic.twitter.com/aatDQJ1pcM

— DLineVids (@DLineVids) June 11, 2018
Seeing Peko do this must scare even the toughest of running backs, just like Miller strikes fear in most quarterbacks.
Simply, Denver has been built to dominate in the trenches on the defensive side of the ball. It's partly why they've been the only team in the top-5 defensively the last four years straight. And this season, with the addition of Chubb, the Broncos will almost certainly have the best pass rush in the game once again.
Note: Don't forget about Shaquil Barrett, who didn't have a video to post from DLineVids.