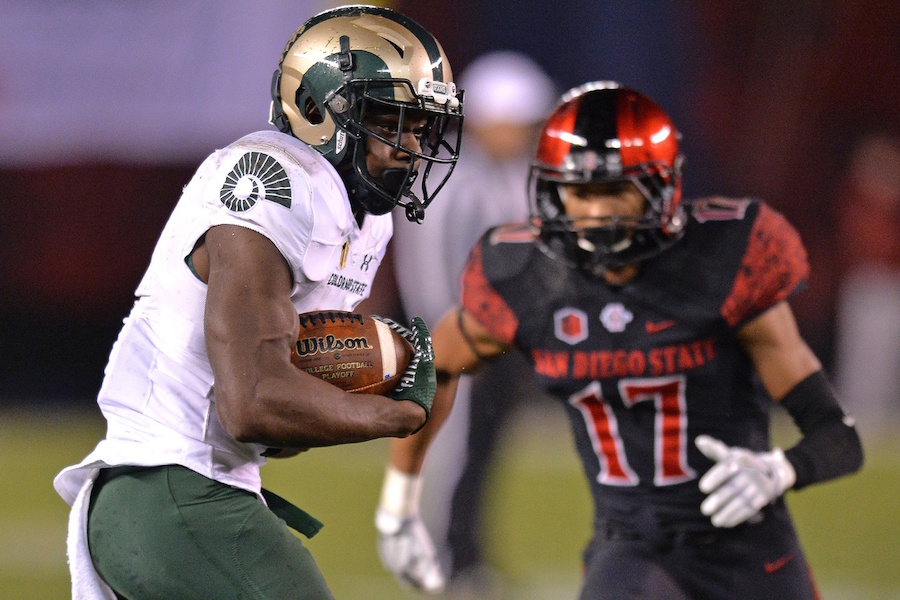 The outcome didn't matter in the Mountain West standings. San Diego State was going to win the Mountain West-West Division regardless of whether or not they extended their 10-game home winning streak. The Colorado State Rams couldn't improve their position in the Mountain Division with a win or a loss. Yet the Rams came out looking like a team with everything to gain in a 63-31 victory.
Junior quarterback Nick Stevens threw for four touchdowns in the first half – two to junior wide receiver Michael Gallup who had a huge night – to lead the Rams to a stunning 42-24 halftime lead. Colorado State didn't take their foot off the gas in the second half, though, as Gallup, and running backs Izzy Matthews and Marvin Kinsey Jr. would each find the end zone.
The Rams defense stood tall in the second half, allowing just one score on a broken play that went for 81 yards and a score. CSU forced two turnovers and held the Aztecs to 377 yards of total offense. Donnel Pumphrey, the nation's second-leading rusher, ran for just 53 yards – his lowest output of the season.
Gallup was the story of the night though, hauling in seven catches for 139 yards. Three of those found the end zone.
The win guarantees a winning record on the season for Colorado State. At 7-5, the Rams now await their bowl invitation. It is the fourth year in a row Colorado State will play in the postseason.