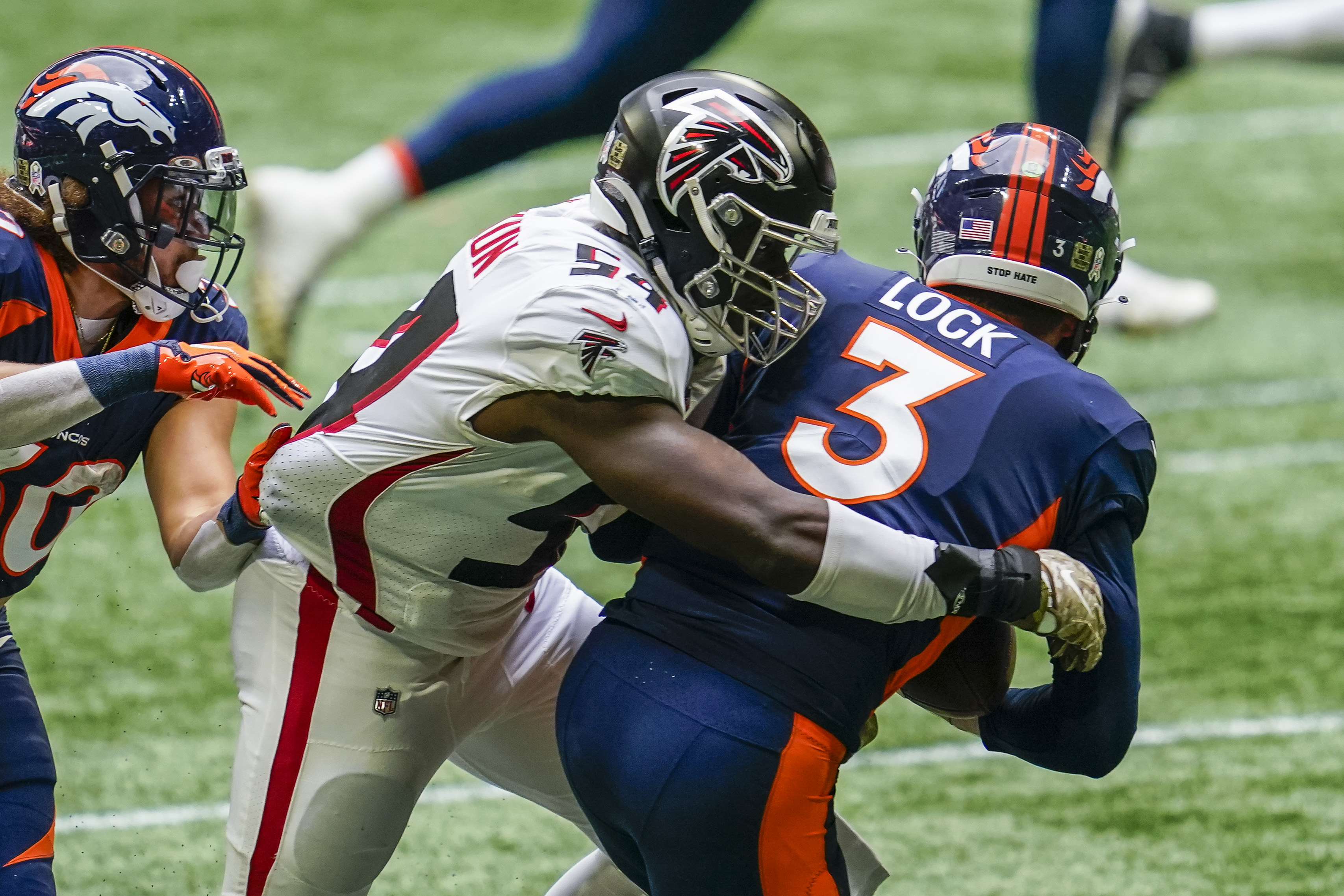 George Paton has hit a home run during his first free agency period. With that said, this roster is far from finished and there are still a few needs remaining that Paton will have to fix through the draft.
Let's take a look at those positions and why exactly they are such pressing needs.
Quarterback
No matter which side of the 'Drew Lock debate' you're on, the quarterback is the greatest remaining need on this roster and it's not even close.
You have quality starters at every other position on the roster, with the lone exception potentially being right tackle. Quarterback is also the most important position in all the American team sports.
That simple equation proves it's the Broncos' biggest need.
Maybe you believe that Lock can turn it around in year three, but the historical data over the past 10 years suggests it's incredibly unlikely. Using an EPA (expected points added) + CPOE (Completion percentage over expectation) composite shows that during that time span only Jared Goff, Josh Allen, and Derek Carr have ever had a top 10 quarterbacking season after struggling to the degree Lock has through 18 starts.
Also, only Goff experienced that season of top-10 play in the stretch following that first handful of starts. It took Josh Allen and Derek Carr two more years to reach that level of play, and we still haven't seen Allen or Carr play at that high level from season-to-season.
Meanwhile, in that same span of 10 years, there are four examples of rookies entering the league and immediately playing like one of the 10 best quarterbacks according to EPA+CPOE composite (Russell Wilson, Robert Griffin III, Deshaun Watson and Dak Prescott).
If you want to change the scope to "ever having a top-10 quarterbacking season" as we did for Lock, there are 17 quarterbacks who have been drafted over the past decade who have had top-10 quarterbacking seasons. That might not sound like much, but that's a rate almost three times as high as the rate of quarterbacks worse-than or comparable to Lock ever having a top-10 season (32.1% to 12%).
All that goes to show that attempting to solve the quarterback problem through the draft will not only have a better long-term payoff than rolling with Lock, but it's also likely to have a better short-term payoff as well.
Any way you slice it though, quarterback is the greatest remaining need on this team, and it will be up to either Lock or a to-be-determined rookie to fill that gap.
Tackle
Outside of quarterback, one would argue the most important position in football is either tackle or edge-rusher, and the Broncos could use an infusion of young talent at both positions.
Starting with the tackle position, Garett Bolles finally blossomed into the type of talent Denver thought they were getting when they drafted him in the first round of the 2017 draft. However, Ja'Wuan James on the other side has played just 65 snaps since signing his contract two seasons ago.
It's unfair to knock James for opting out of the 2020 season due to COVID-19 concerns, but availability has been a problem throughout James' career as he's dealt with nagging injuries.
As a result, the Broncos need to invest heavily in an insurance plan at right tackle through the draft. There's a good chance James could miss another 10+ games this season and Denver doesn't want to get caught with their pants down.
Even if you believe in James' ability to stay healthy for the 2021 season, it's unlikely Denver keeps him around past that, as they stand to save $8 million against the cap by moving on next off-season.
It should also be noted that the Broncos lost replacement tackles Demar Dotson and Elijah Wilkinson to free agency this year.
Linebacker
You could argue for linebacker being the top spot on this list, as it is one of the only positions (quarterback arguably being the other) that is lacking both starting talent and depth.
Alexander Johnson is an above-average linebacker, but having him as your best inside-linebacker in Fangio's linebacker-dependent defense isn't ideal. Especially when Johnson's partner in the linebacking core, Josey Jewell, is athletically limited.
Behind them, the Broncos only have the undrafted Josh Watson and last year's fifth-round pick Justin Strnad at linebacker. Don't sleep on Strnad, but as of now, he's a complete unknown.
Adding an athlete through the draft like LSU's Jabril Cox, Ohio State's Baron Browing, or Notre Dame's Jeremiah Owusu-Koramoah to handle some of those coverage responsibilities — which aren't Johnson's strong suit — could elevate this defense to a level of elite play we only get to see once every few years in the NFL.
It's also a future need as every linebacker besides Strnad is set to become an unrestricted free agent next off-season
Honorable Mention: Edge Rusher
As it stands now, with Von Miller and Bradley Chubb starting and Malik Reed in the wings, edge isn't much of a pressing need. However, all three of those guys are set to become unrestricted free agents in the next two years and Denver might want to prepare for the worst.
On this list, edge is relegated to the honorable mentions sections though as Chubb is likely to be locked up long-term, and the Broncos could easily choose to sign Miller to an extension, especially seeing how badly they wanted to keep him around this off-season.
While drafting a potential Miller replacement is something the Broncos should absolutely do this off-season, they could find themselves in a position where that eventual replacement goes the way of a Shaquil Barrett.