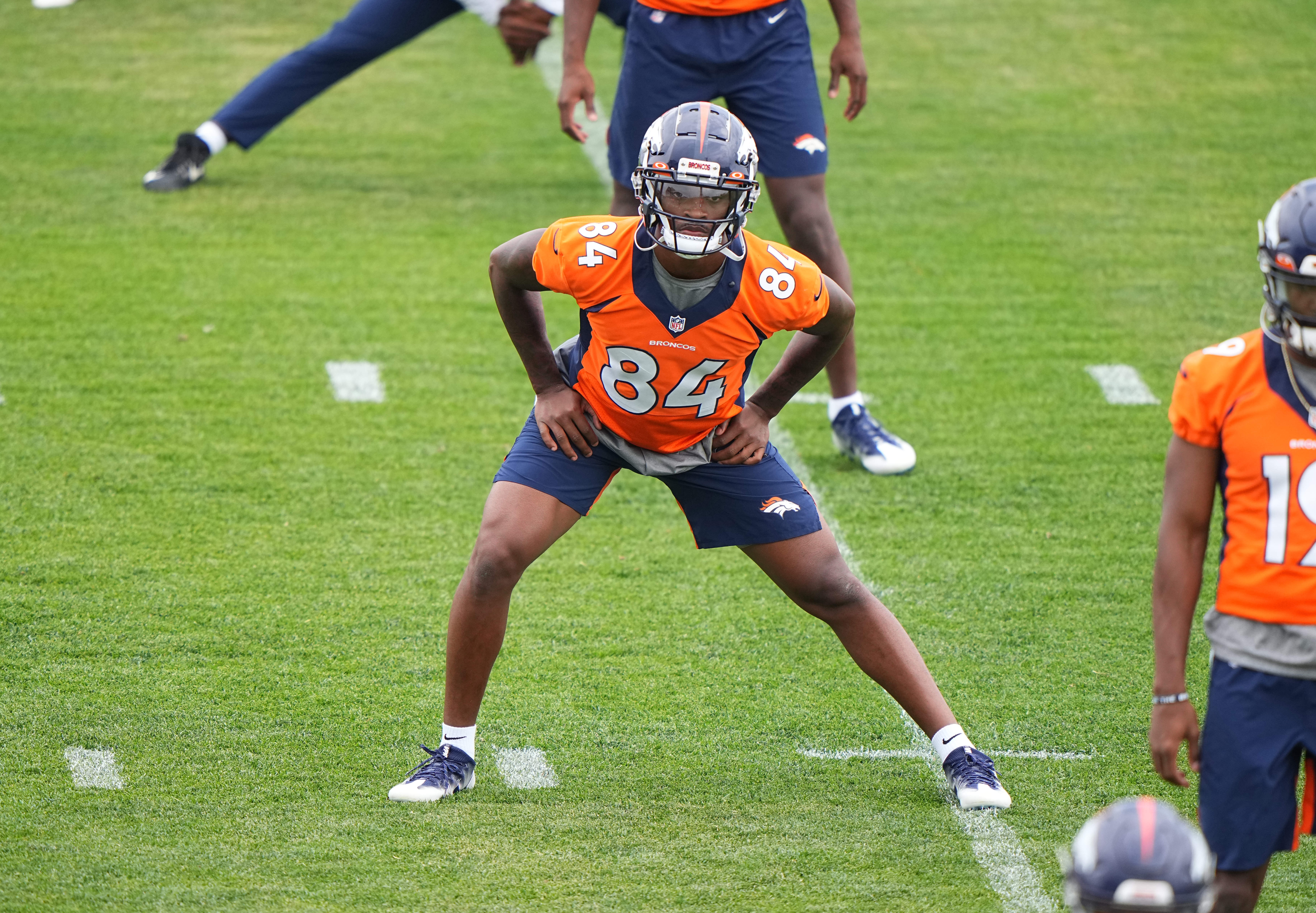 The Denver Broncos were forced to make their first batch of cuts on Tuesday and, as was expected, they were painful.
Unlucky players Peter Kalambayi, Deyon Sizer, Rojesterman Farris, Levante Bellamy, Devontres Dukes and Lorenzo Neal Jr. all got the boot, leaving the Broncos with just 85 players left on the roster.
What can we learn from these recent roster moves? Let's take a look.
Bellamy out, Killins in
It was expected that the Broncos would release five players Tuesday, but they were forced to release six as they also chose to bring in a RB-WR hybrid, Adrian Killins.
Killins was an absolute burner at the University of Central Florida, being used then in a scatback role similar to what someone like Darren Sproles did at the NFL level. Since leaving college, he spent some time on the Eagles' practice squad but has had a hard time getting much in the way of opportunities.
He might finally have found a good opportunity in Denver, as they don't have a player on the roster who can match Killins' skillset in the backfield. If Killins can carve out a niche for himself with his unique talents, and prove his worth on special teams, he might even make the final roster.
The unlucky sixth Bronco cut as a result of the Killins signing, was Levante Bellamy. The release isn't too surprising considering the injury Bellamy recently suffered, on top of his redundant skillset and already long odds of making the roster pre-injury.
Bellamy has shown flashes though, so don't be too surprised if he gets another opportunity elsewhere.
Dukes first of talented WR corps to bite the dust
Stop me if you've heard this one before: The Broncos have a lot of talent at wide receiver, and as a result, cuts at the position will be painful.
We saw our first evidence of that with the release of Dukes, who was performing like one of the top receivers on the roster bubble, but — much like Bellamy — suffered bad injury luck, leading to his release.
It would have been nice to see him get more time, but the move does make sense given how much practice he'd likely miss.
This will not be the last painful cut at wide receiver either. Tyrie Cleveland, Seth Williams, and Dionte Spencer all feel like likely cuts as of now.
Parnell Motley: He's not dead yet!
Many have been calling Parnell Motley 'barbecued chicken' after his early training camp performances saw him get burned by the Denver receiving core on a near-constant basis.
However, the coaching staff decided to stick with Motley — who's been widely criticized as one of Denver's worst camp performers — and instead move on from Rojesterman Farris — who's been widely praised as one of training camp's most pleasant surprises.
The move is puzzling anyway you slice it.
Even if the Broncos' staff loves Parnell Motley, it seems like there were other cornerbacks at camp that should've gotten the axe before Farris, considering how well he performed.