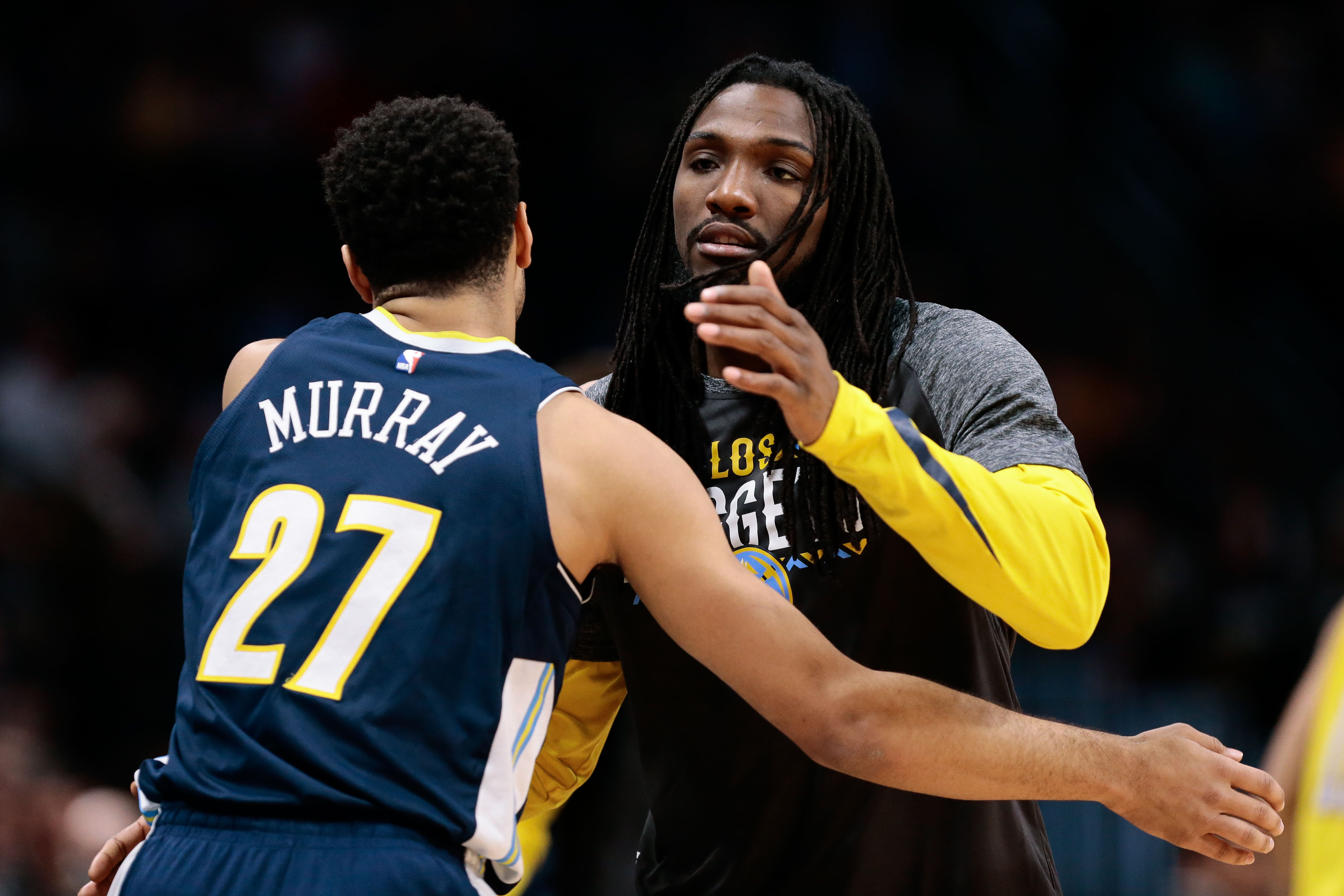 The Denver Nuggets have many questions to answer before looking to address what some consider the team's biggest summer. The Denver Nuggets haven't made the postseason in five years. What happens to head coach Michael Malone and does he get an extension? Does Nikola Jokic get a max contract? What happens with Will Barton's unrestricted free agency? One of the biggest questions that creates a domino effect for how the summer will actually go is what happens with Kenneth Faried.
Faried was a unicorn when he first got into the league. He was a high flying, energetic big with a motor that was a perfect fit for Denver's high octane offense at the time. The once double-figure scorer and Morehead State product that was a key part of the Nuggets team that won 57 games in the 2012-13 season is now a player that hardly sees the floor and has a game that doesn't function well to today's NBA, at least for this Denver team.
In fact, in his first 348 games, Faried started in 287 of them, but if you take a look at the past two seasons, he only appeared in 93 games and started in only 41 of those games. Those random spot-starts were mostly due to some sort of injury too which is troublesome as he made $12.9 million this year and is set to make $13.8 million next season. Faried is the third-highest paid player on the team as of right now and he still has one year remaining on his four-year, $50 million contract that raised eyebrows back in 2014.
Don't get it wrong; fans love 'The Manimal' and he is easily one of Denver's most entertaining players on the team despite not playing much these days, but after putting up forgettable numbers last season –- 5.9 points and 4.8 rebounds per game — it appears as if Faried is a veteran big man on a team that is allowing the young players to learn the ropes. He is still a serviceable player that just so happens to be on a team that has a surplus amount of power forwards with Juancho Hernangomez, Trey Lyles, Tyler Lydon, Darrell Arthur, and Paul Millsap all on the roster.
There was a time this year that things started to look as if they were trending in the right direction for Faried. In February, right before the deadline, it was reported by ESPN's Adrian Wojnarowski, that Faried and his camp were hoping that Denver would trade him, allowing him the opportunity to start elsewhere, but Denver was unable to find him a deal that best fit both parties and decided to hold on to him.
Sources: There's still hope within Kenneth Faried's camp that Denver will find a trade for Kenneth Faried and allow him a fresh start elsewhere. Denver has been talking to teams — including Indiana — but those haven't resulted in a deal.

— Adrian Wojnarowski (@wojespn) February 8, 2018
There are a few options that the team can do that benefit both parties. One option is they can sit him for one more season and let his contract expire at the end of the year. This will make it difficult for the team to sign Barton without also going too far into the luxury tax — a move that I don't feel as if upper management is willing to do despite Will being an integral part of the team these past few seasons.
They could also trade Faried to a team with cap space by including another valuable asset. One of Denver's current prospects or the 14th pick in this year's draft could be packaged with Faried to incentivize tanking teams with cap space that want assets. Teams like the Atlanta Hawks, Phoenix Suns or Brooklyn Nets would be ideal in this scenario as they may be willing to take up his salary. That is a move that could also save Denver some money to address certain areas.
Also, there is some sort of belief that Faried is bad for the locker room. Let's put those rumors to bed. It's not true. Throughout Faried's process of going from a budding star to now having a reserved spot at the end of the bench, he has remained a professional. He's been supportive of his teammates and pushes players at practice, in the weight room and has acted as a positive mentor to the younger guys. He also showcased his professionalism and positive attitude when he took to social media immediately after the season ended and thanked the fans for their support during the season with the promise that the Manimal will be unleashed next year.
Manimal will be unleashed next season

(via @KennethFaried35) pic.twitter.com/hDYyjiGpZV

— Sports Illustrated (@SInow) April 12, 2018
If somehow the Manimal is actually unleashed next season, it's safe to assume it won't be in Denver. Hopefully, it's somewhere that allows him to return back to playing and bringing that professionalism and energy that Nuggets fans fell in love with. He'll always be a hometown favorite – even if that means he ends up in an opposing team's jersey.