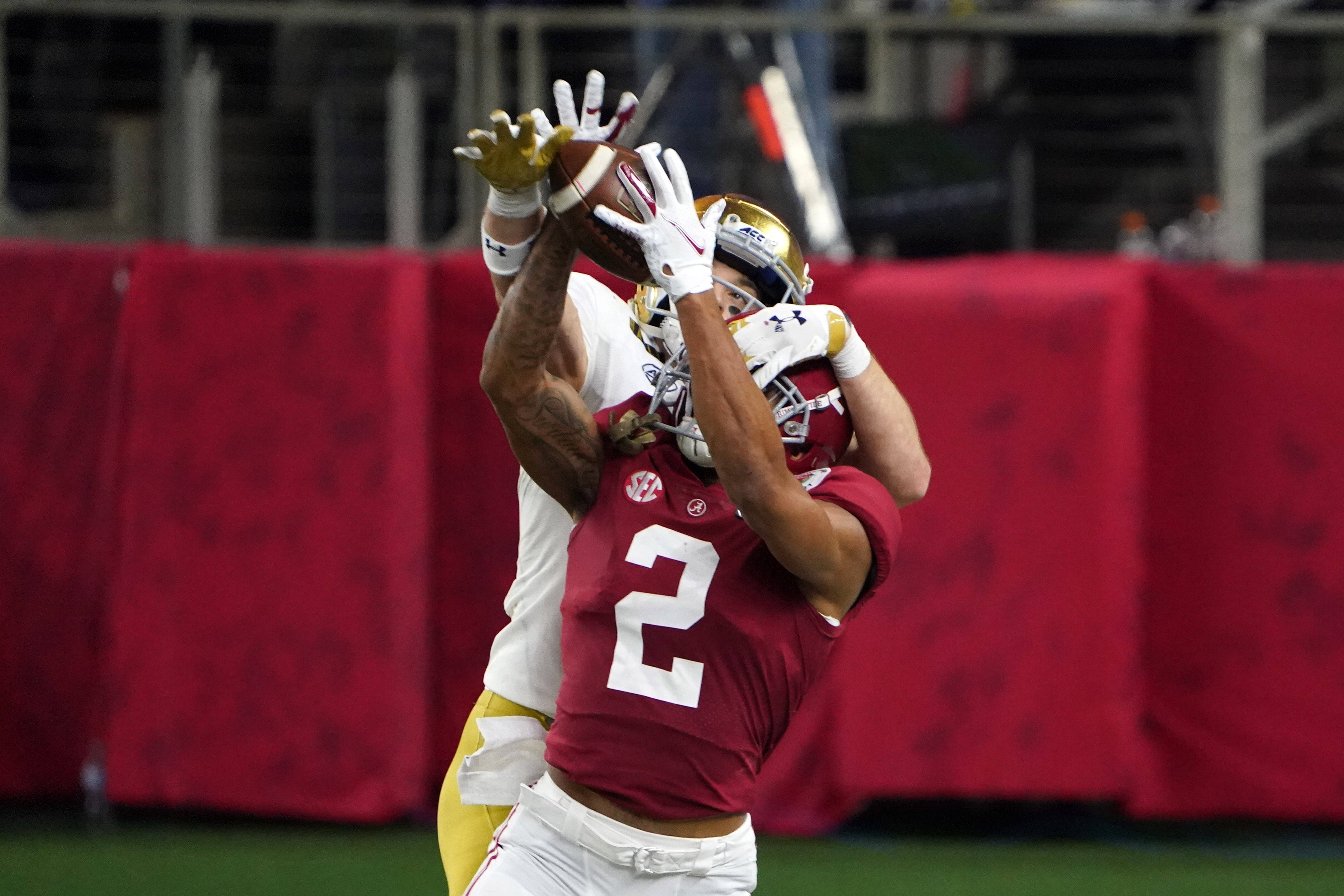 George Paton and the Denver Broncos added a ton of talent to the team's defense via the draft, but it will be hard for those rookies to crack the starting lineup with how much veteran talent already exists on the defense.
What is fair to expect out of these rookies in their first year in the league? Let's take a look.
Patrick Surtain II, CB
How much Patrick Surtain II contributes to the Denver Broncos defense will come down to how he performs in the training camp competition with Kyle Fuller, Ronald Darby and Bryce Callahan.
Considering Fuller is a former All-Pro on an expensive one-year who has a close relationship with Head Coach Vic Fangio, and Callahan was arguably the best slot cornerback in football last season, that task will be easier said than done. However, Surtain does stand a good chance of beating out Darby, who has never been an elite cornerback.
On top of being a special athlete, Surtain was drafted in the top 10 in part because of how exceptionally pro-ready he was. That has been showing up at Denver's OTAs and at minicamp, as Surtain has earned the nickname, "The Specimen" from Von Miller, and has impressed head coach Vic Fangio.
He has the talent to steal a starting spot, even if he's unable to do it before Week 1. He also has the ability to make an instant impact on this defense as a tight-end coverage-specialist if he opens the season as a backup.
As a result, he should be an instant contributor on defense, though that contribution might be slightly limited as a result of how crowded the room is.
Projected stat line: 11 starts. Two interceptions, 55 tackles, and one sack. Targeted 86 times, allowing 53 receptions for 623 yards and four touchdowns.
Baron Browning, LB
The Broncos might have found a player who can fill their need for an athletic linebacker in Baron Browning. His atheltic profile ranks in the 99.8th percentile among college linebacking prospects to enter the league over the past 34 years.
Unfortunately, there's a reason why such a rare athlete managed to fall so far in the draft — he's fairly raw, especially in the processing department. He needs a lot of coaching in that aspect to be ready to play inside at an NFL level.
However, he will hopefully still be able to get on the field as a rotational edge rusher. He played on the edge occaisonally for Ohio State, and was incredibly impressive in that limited time. Playing outside would also put less processing responsibility on his shoulders, and let his athleticism do the talking.
Projected stat line: Zero starts. 31 tackles, three tackles for loss, and two sacks.
Caden Sterns, S
Upgrading the special teams has been a major priority throughout George Paton's first offseason as general manager, and Caden Sterns is a sign of that.
Barring an injury to either Justin Simmons or Kareem Jackson, Sterns has no chance of starting this season, but he should be a valuable special teams addition with his elite athleticism.
He has the skillset of a safety worthy of being selected in the first round, but scouts questioned his drive and performance over the past two seasons and he fell in the draft.
He could see some playing time on defense in the 'Will Parks role' if he wins the No. 3 safety spot but Jamar Johnson should be considered the favorite there, and it's also safe to wonder if the role is occupied by a cornerback instead this season, considering how deep Denver is there.
Projected stat line: Zero starts. 18 tackles, one pass broken up
Jamar Johnson, S
The second safety the Broncos drafted, Jamar Johnson, finds himself in a nearly identical position to Sterns.
Though for Johnson, winning the battle to become the No. 3 safety is much more important. Johnson is a worse tackler than Sterns and a much lesser athlete, which limits his versatility somewhat and would likely lessen his effectiveness on special teams.
If special teams snaps are in fact harder for Johnson to come by, he will have to find a way to get on to the field on defense to avoid being on the roster bubble next offseason.
All that said, Johnson is an especially smart player with great coverage skills. He could instantly fill the void left by Parks, and be an upgrade on Parks as a rookie.
Projected stat line: Zero starts. 13 tackles, one pass broken up, one interception.
Kary Vincent, CB
Denver is hoping they found their nickel cornerback of the future in Kary Vincent, but he won't see the field outside of special teams as a rookie.
Vincent might even find himself on the practice squad with how many talented cornerbacks the Broncos have, but ultimately, his special teams ability and Denver's lack of true nickels should earn him a roster spot.
With the Broncos looking to move on from Diontae Spencer, don't be too surprised if Vincent sees some work as a returner.
Projected stat line: Five tackles
Jonathan Cooper, EDGE
Much like the Broncos' draft selections at safety, injury is the only path to Jonathan Cooper starting.
With that said, he should still have an impact. The job to be Denver's No. 4 edge rusher is wide open, and that's a rotational role that should see decent playing time. Plus, despite not living up to expectations, Cooper was a five-star recruit at Ohio State who was reasonably productive.
Most expected him to go around the fourth or fifth round until a last-second heart issue caused him to fall in the draft. Unless that heart issue holds him back, Cooper could turn some heads by carving out a decent role for himself.
Projected stat line: 3.5 sacks, 19 pressures, 26 tackles
Marquiss Spencer, DE
Barring an outstanding training camp performance, it's hard to see Marquiss Spencer making the final roster.
The Broncos might carry as few as five defensive linemen, but won't carry more than six, and there are six defensive linemen already ahead of Spencer on Denver's depth chart. Spencer will be a practice squad player who will hopefully be able to be their new version of DeMarcus Walker.
Projected stat line: N/A