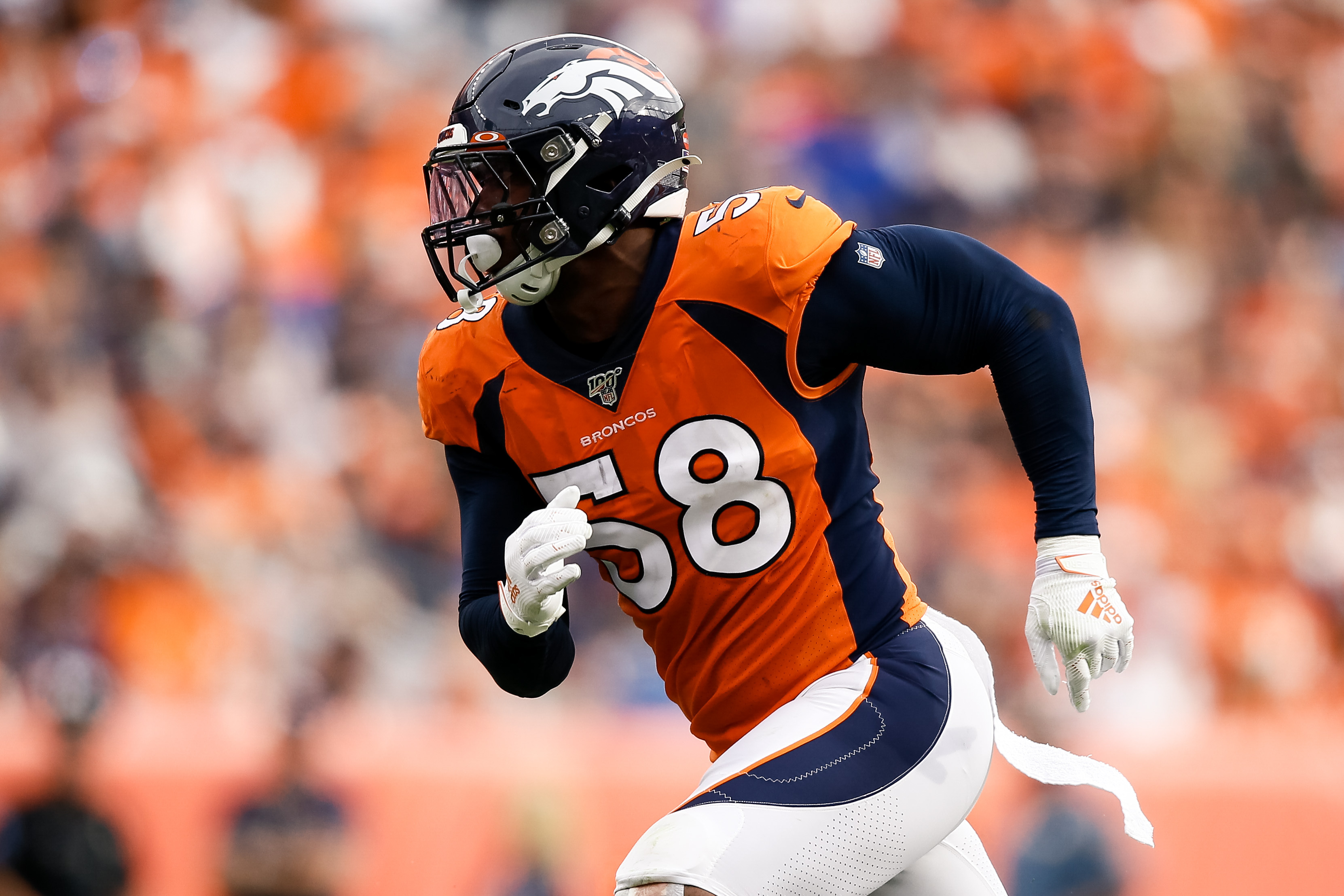 The edge position is undoubtedly one of the, if not the, most important position on the defensive side of the ball as limiting the performance of opposing quarterbacks should be the main priority for any NFL defense.
This is exactly what former General Manager John Elway had in mind investing heavily into the pass rush duo of Von Miller and Bradley Chubb. Unfortunately, this plan has yet to materialize like many would have hoped as Miller and Chubb have only been able to play a total of four games together under Head Coach Vic Fangio.
Pending any setbacks, Miller is expected to return to the football field after he suffered a season-ending tendon injury in a practice before the 2020 season had even begun.
Miller is a certified Broncos legend with a ridiculous resume that includes seven All-Pro selections, eight Pro Bowl selections, and a Super Bowl MVP, just to name a few, but at the age of 32 and coming off a season-ending injury, what should Broncos Country expect from Miller in 2021?
Although Malik Reed played well and even overachieved on what most had expected from him in Miller's absents last season, it is difficult to imagine a world where Reed is anywhere close to the caliber of player Miller will be in 2021. As mentioned earlier, Miller's resume speaks for itself and players simply do not reach that level of excellence without being incredibly technical and refined. Because of this, Miller's mere presence on the defensive line should help generate better pass rush opportunities, even if he has lost a bit of a step.
Projecting numbers on what Miller's season may be statistically is near impossible as we simply have no idea how he has recovered from this injury and at what age he will reach his peak performance but it is safe to assume that his impact on the field will be a significant upgrade.
Last season, Chubb received a great deal of extra attention from opposing offensive coordinators in an effort to slow him down on his pursuit to the quarterback. Reed was the beneficiary of this, getting many one on one opportunities as he was not nearly the threat Chubb was on the opposite side.
With Miller set to return, this may be a bit more difficult for offensive coordinators to accomplish. The number of resources one would have to throw at both edge rushers to slow them down could severely handicap an offense's ability in the receiving game as you will have to keep potential receiving options in to block. If this is not done, there should be plenty of one on one opportunities for both Miller and Chubb to get after the quarterback in the upcoming season.
On defense, success is found through how good the unit is as a whole is rather than in a specific position group or player. Every unit on defense helps the next succeed. For example, a good run defending defensive line unit will substantially help the linebackers in the run game or a good safety unit will help its corners succeed in the passing game.
For Miller, the revamped and retooled secondary should serve as a great help when getting after the quarterback, making him hold onto the ball longer than he may initially want to. This also works the other way as Miller's pass rush expertise should hurry up the process of the quarterback, making the jobs easier for the defensive backs and even potentially cause turnovers.
The most underappreciated aspect of Miller's game for years has been his run defense. Perceived as a finesse player, fans and members of the media have not given him the credit he deserves while fighting off massive offensive tackles to defend the run. This will be a huge area of improvement in 2021 as Reed simply can not do what Miller does in this department. Miller wins in the run with kind of an unorthodox style that no one else besides Miller can do in the entire league. He is incredibly technical at the point of attack but gets away with things that are unteachable as Miller is a rare caliber of athlete.
It is easy to forget just how much Miller means to the entire Broncos organization and fanbase. He is the longest-tenured Broncos player and truly the face of the franchise. There is a tremendous amount of respect for him league-wide and throughout the locker room. There are no statistics or numbers to quantify just how important his presence and experience are but having him back in the facility should come as a huge help to the Broncos for this upcoming season.
Broncos Country shouldn't put any amount of success past Miller as he has shown us just how special of a player he is countless times but probably should not expect a 2015-like performance as at his age and coming off the injury he had would be unfair to the player. Broncos Country should rather cherish this season with Miller as we do not know how much longer we will have him and will go down as one of the best Broncos of all time.