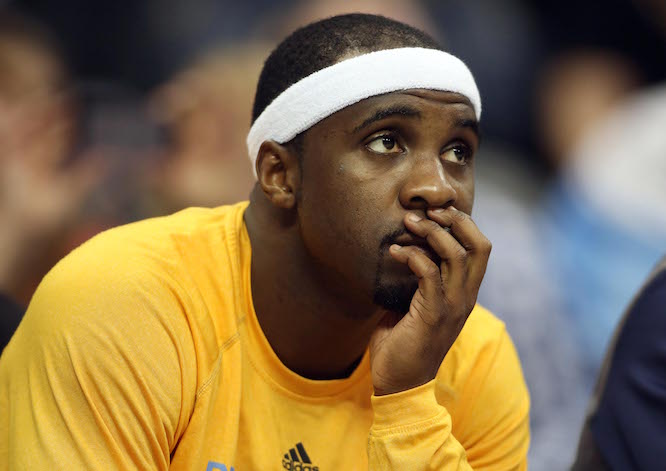 What was Ty Lawson really doing in Los Angeles this weekend? A question that deserves an answer in light of the news that unfolded on monday night and into the early morning on Tuesday.
While he was preparing to skip out on a youth skills camp bearing his name, he was not only partying in Los Angeles, as reported by TMZ, Mile High Sports has learned that he was also taking part in a celebrity basketball tournament – although not as a player.
Lawson is part of a basketball team competing in The Basketball Tournament. Lawson's team, H-SQUAD, was competing in Los Angeles this past weekend in the West Regionals.
Current NBA players can't play in the tournament due to contract restrictions, so Lawson was most likely on hand to offer moral support to his teammates – serving as GM, Booster or Coach. Several NBA players are also involved in the event in a more behind-the-scenes-role.
Unfortunately for H-SQUAD, after beating Mostly Sports on Friday, Team UTAH beat them on Saturday. With that, the chance of winning the $1 million prize was gone for Lawson and H-SQUAD.
Apparently Lawson wanted to keep the party going through Monday and into Tuesday morning, despite his prior commitment to his youth summer camp, which started Tuesday. The results of that decision have been widely disseminated on this site and elsewhere.
The Basketball Tournament is an open-application, 5-on-5 single-elimination tournament for up to 97 teams. The winning team took home $500k last year in the inaugural season and this year the prize is $1 million. With 97 teams competing, this is high-stakes semi-pro basketball at its finest (players must forego amateur status).
With regional matchups finishing up on July 19, the Super 17 Regional matchups will start in Chicago on July 23 on ESPNU and finish with the championship game in New York on August 2 live on ESPN.
For more information go to The Basketball Tournament 

---
Sammy Mugharbil, a Mile High Sports intern and MSU-Denver student contributed to this report
---