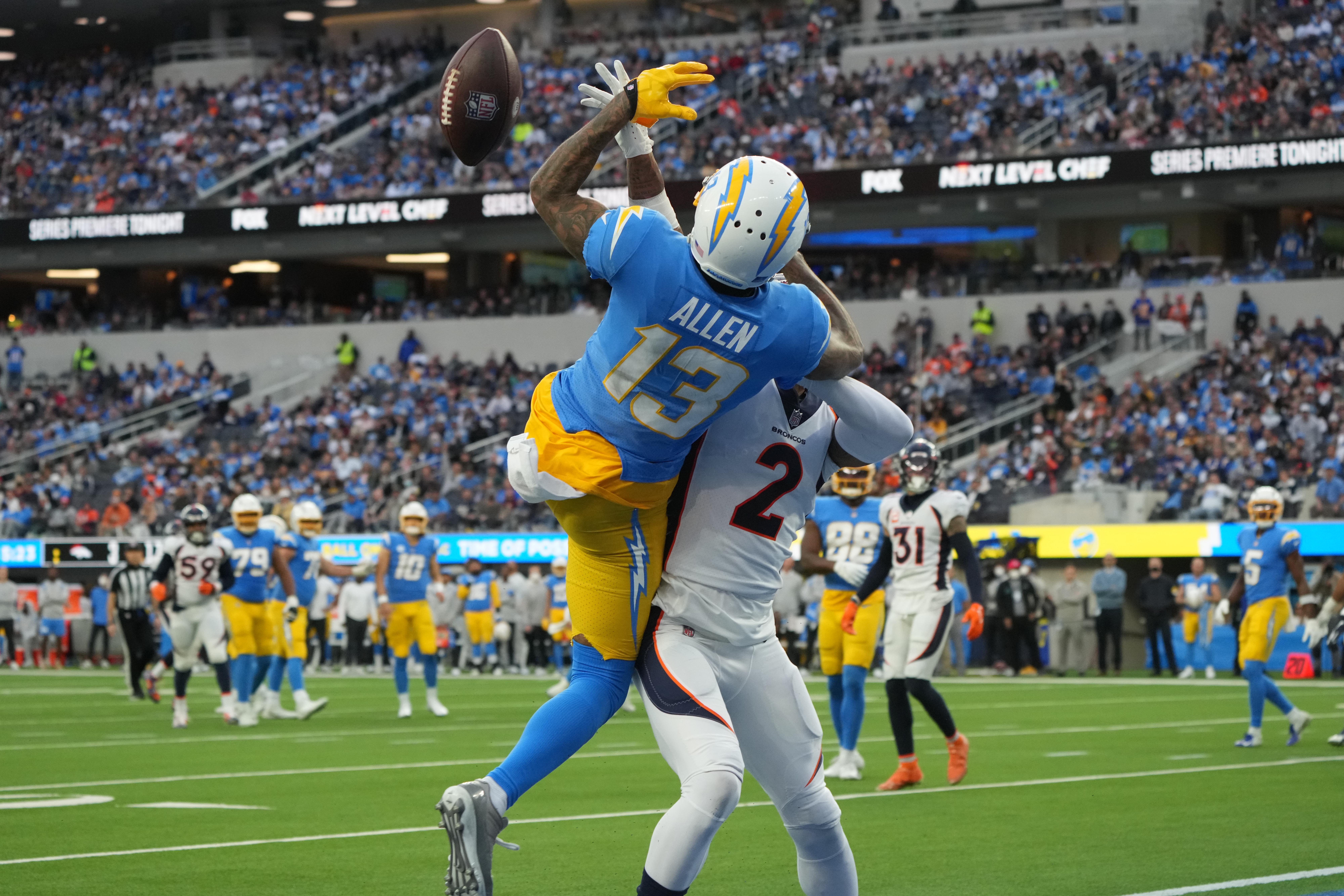 On Thursday, the NFL unveiled the schedule for the 2022 season, giving us a better idea of what the Denver Broncos' upcoming season will look like.
With that in mind, and ticket prices ever-increasing, here are the games you must try and attend, and the ones you can afford to miss live.
Tier V: Highly potent (potentially illegal) stimulants required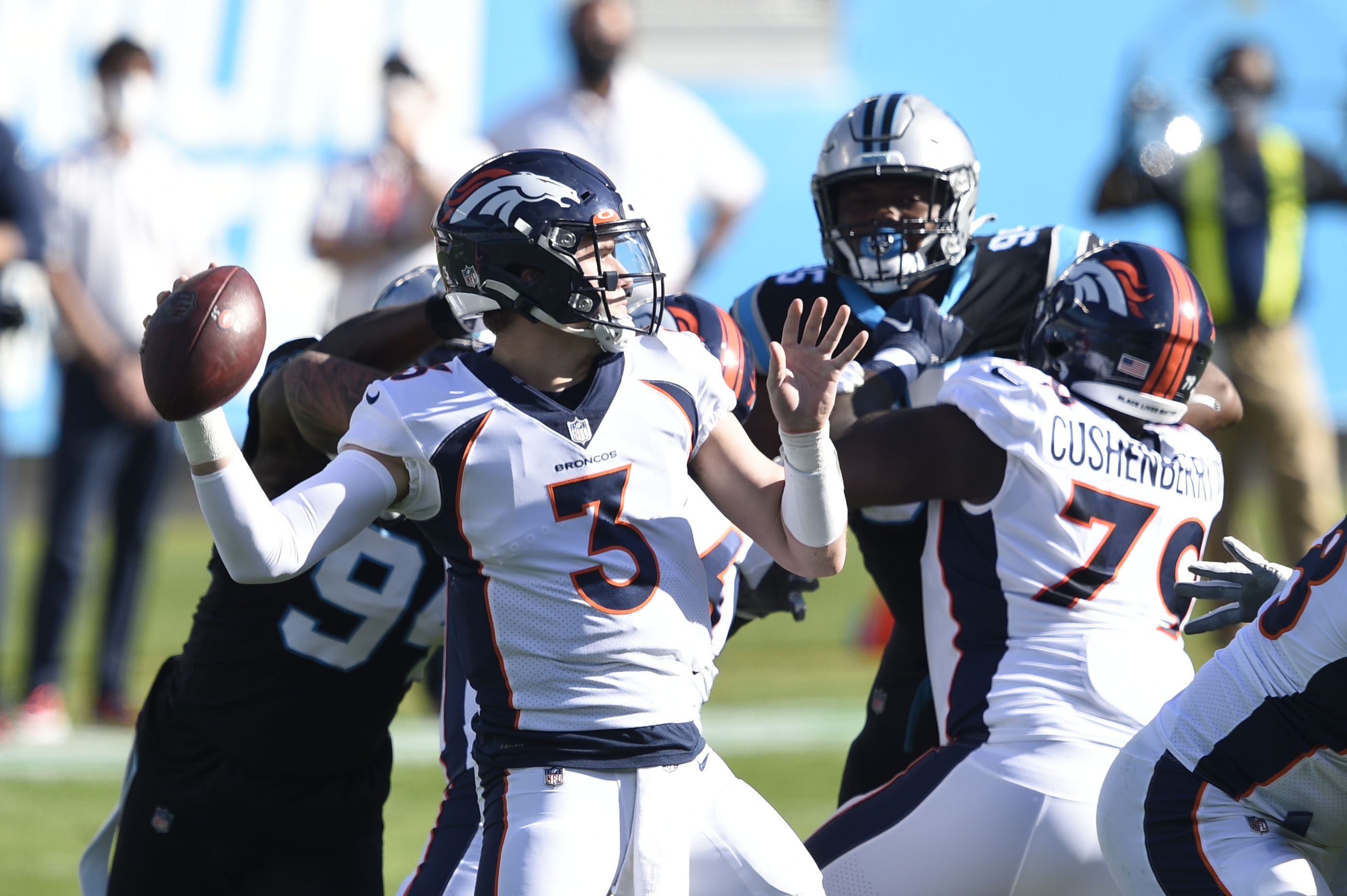 17. Week 12 @ Carolina Panthers: Every other game on the Denver Broncos' 2022 schedule offers something to get at least a little excited about. Carolina's offense and quarterback situation are among the most unwatchable in football, and their defense had a rollercoaster season filled with highs and lows.
The low-wattage nature of the roster applies to every other team in this tier, but the Panthers are especially uninteresting, and this game is on the road, plunging it to last place.
16. Week 7 vs. New York Jets: New York's little-brother franchise is another operation seemingly stuck in the lurch, but the matchup with the Jets edges out the one with the Panthers because the Jets have a little more intrigue — an explosive young backfield and receiving room, promising young quarterback and lovable defensive fireball Robert Saleh — and Broncos Country will be able to enjoy this game at home.
Tier IV: Highly potent stimulants optional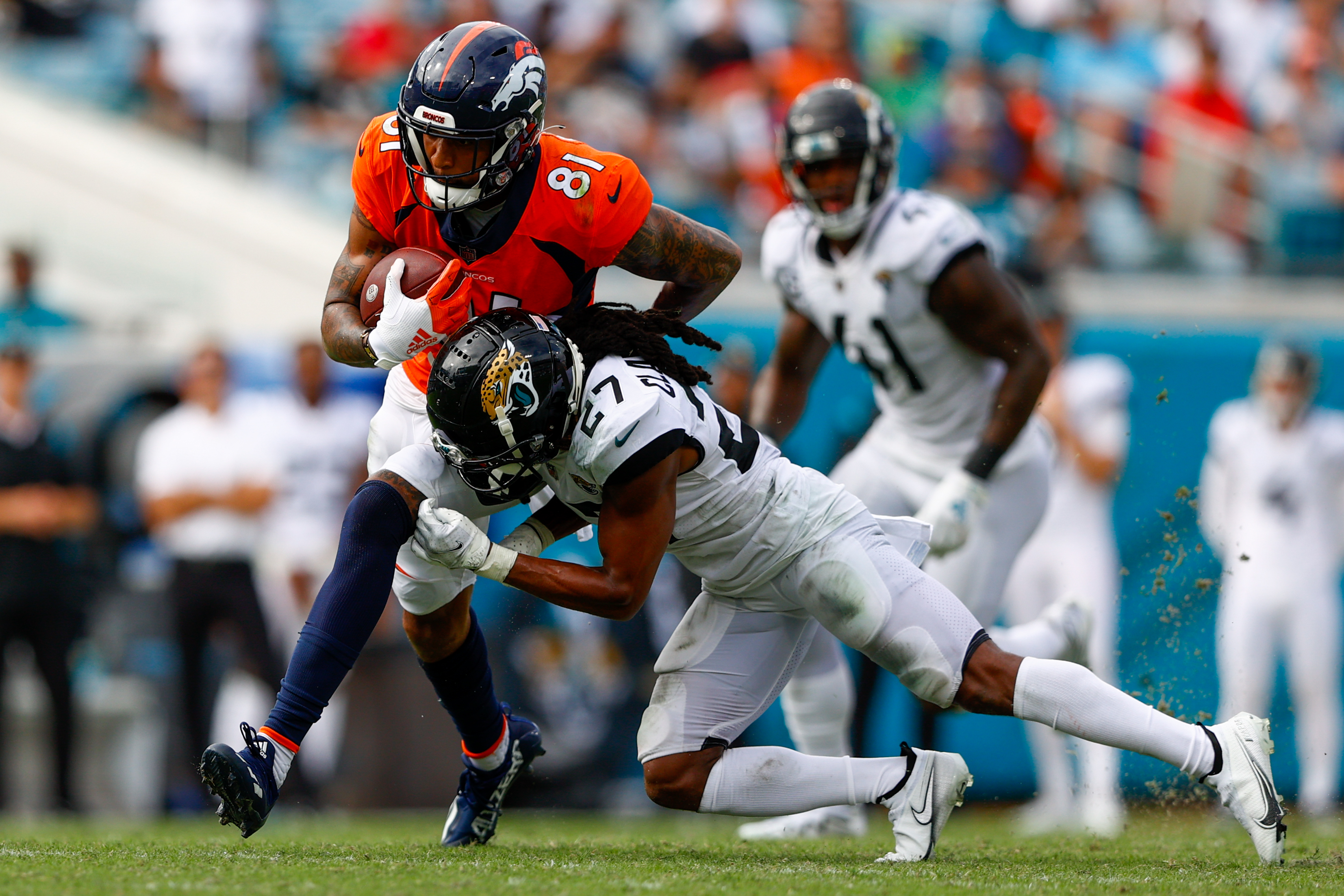 15. Week 2 vs. Houston Texans: The Texans don't have much going for them, especially in terms of excitement, meaning this one should be fun for Broncos Country to enjoy in person. That said, Houston's young, up-and-coming secondary led by Lovie Smith, sneaky-solid receiving core, and enigmatic second-year quarterback Davis Mills provide the matchup with some intrigue.
The fact this game is the home opener and should serve as a rousing start to the Russell Wilson experience for fans in attendance saves this game from being in the bottom tier.
14. Week 8 @ Jacksonville Jaguars (London): It hurts to rank this game so low, as it's great to see the Broncos back playing in the international series, but Denver's schedule has them facing so many quality opponents that novelty games like this will lose out.
Getting to see Trevor Lawrence with a competent coach and what No. 1 overall pick Travon Walker looks like is something worth anticipating, but we ultimately must confront the reality of the Jaguars and the typical quality of on-field play from London games.
13. Week 10 @ Tennessee Titans: Placing the Titans game in this tier might surprise some, but it's an early road game on the east coast against a fairly milk-toast, formerly competitive AFC team that seems to be nearing the cliff. Henry has a lot of tread on his tires and A.J. Brown has been shipped out, leaving the Titans dearly lacking in terms of personality and identity.
12. Week 15 vs. Arizona Cardinals: If the Broncos get the Cardinals of early 2021, this game should be ranked much higher, but like the Titans, the Cardinals feel like they're set to experience some decline. The Kyler Murray situation seems dicier and the benefits of Kliff Kingsbury appear even dicier. Kingsbury's teams consistently fold up like cheap suits down the stretch, and there's no reason to suspect the 2022 Cardinals will be different.
Tier III: Playoff contenders with QB questions
11. Week 5 vs. Indianapolis Colts (Thursday Night Football): The Colts nearly found themselves slotted alongside the Titans in the last tier, as the entire AFC South is slated to be one of the least engaging divisions in football this season. Seeing Matt Ryan in blue and white should be interesting, and Jonathan Taylor and Frank Reich are always fun, but they don't measure up to the other opponents on Denver's schedule this season.
This game will be on primetime, but even then, it's the smallest of the primetime stages.
10. Week 3 vs. San Francisco 49ers (Sunday Night Football): We still don't know who's starting a quarterback for the 49ers, and yet still, this game is worthy of a top-10 ranking. Kyle Shanahan is an absolute joy to watch and the defense has an underrated amount of zest, with Arik Armstead, Nick Bosa and Fred Warner leading the charge. If Trey Lance is starting and looks like a slightly more seasoned version of what we saw in year one — a reasonable projection — this game should climb up a few slots, to the middle of the next tier.
Tier II: Rivals, revenge, and road games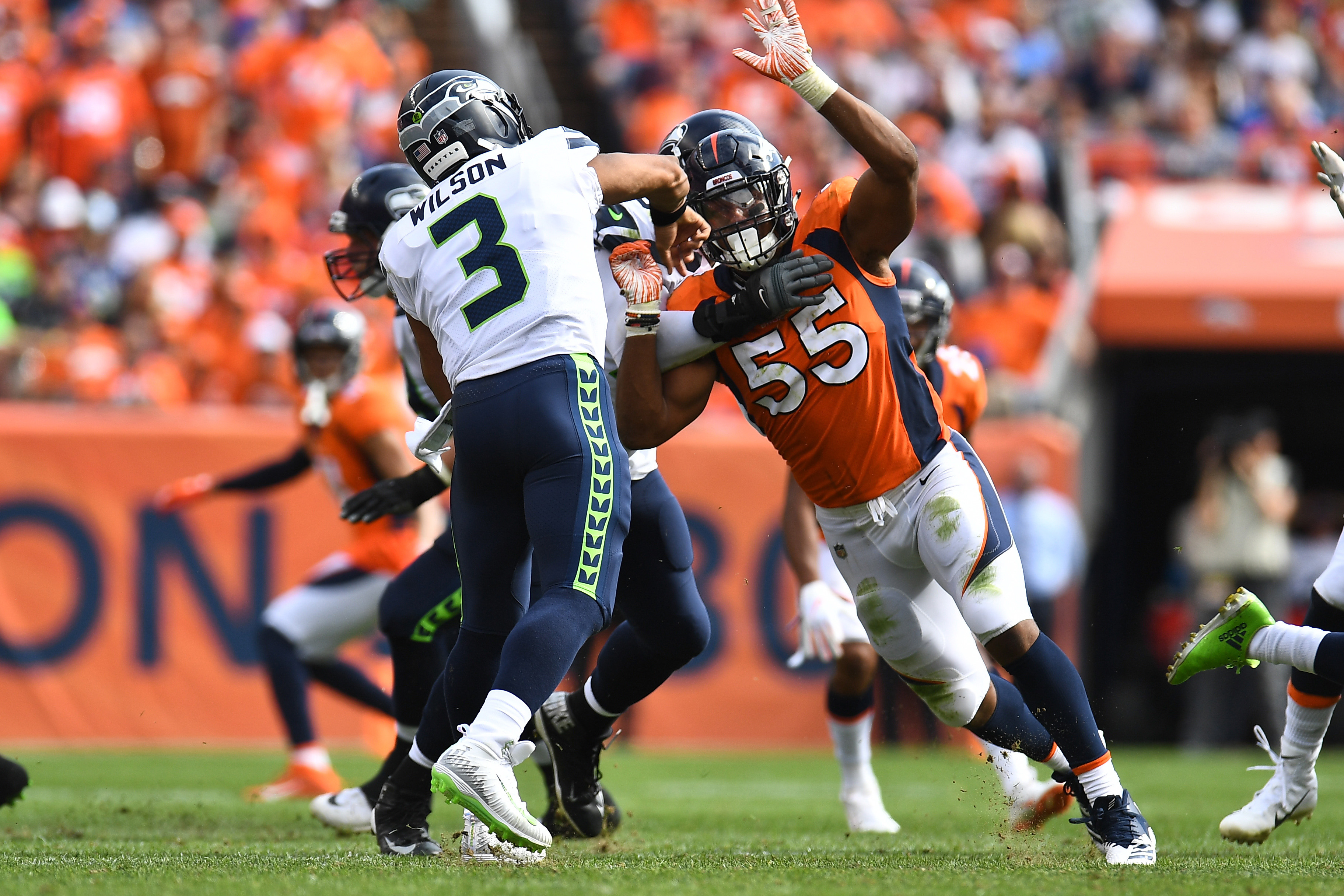 9. Week 4 @ Las Vegas Raiders: The Denver Broncos' 2022 divisional slate could be historically special, with a bevy of thoroughly stacked opponents. That said, the early-season matchup with the Raiders doesn't have the same juice as the other divisional matchups. It's early in the season and not on primetime, both of which limits the scale, and the Raiders aren't viewed as competitors on the same level as the Chargers and Chiefs. Plus, it's a road game, which dings it a little.
8. Week 16 @ Los Angeles Rams (Christmas Day): It is a testament to the incredible nature of the Broncos' 2022 schedule that they play the defending Super Bowl Champions, with one of the most star-studded rosters in football, on Christmas Day, and yet this matchup is barely in the top half. This will also be Denver's last non-divisional game of the regular season, adding some extra pop.
7. Week 13 @ Baltimore Ravens: This one is practically tied with the Rams matchup, but the Ravens ultimately got the nod because there isn't a player in football that is more fun to watch than Lamar Jackson. Now, he should be fully healthy, as should the rest of the Ravens' roster, making them one of the spicier AFC contenders.
6. Week 1 @ Seattle Seahawks (Monday Night Football): Sentimental factors are probably leading to this game being ranked much higher than it should be, but ranking it any lower just didn't feel right. Who among Broncos Country isn't eagerly awaiting Russell Wilson's trip back to the Pacific Northwest to see him stomp his former team, and Denver's former quarterback?
Tier I: Gauntlet through the greatest AFC West ever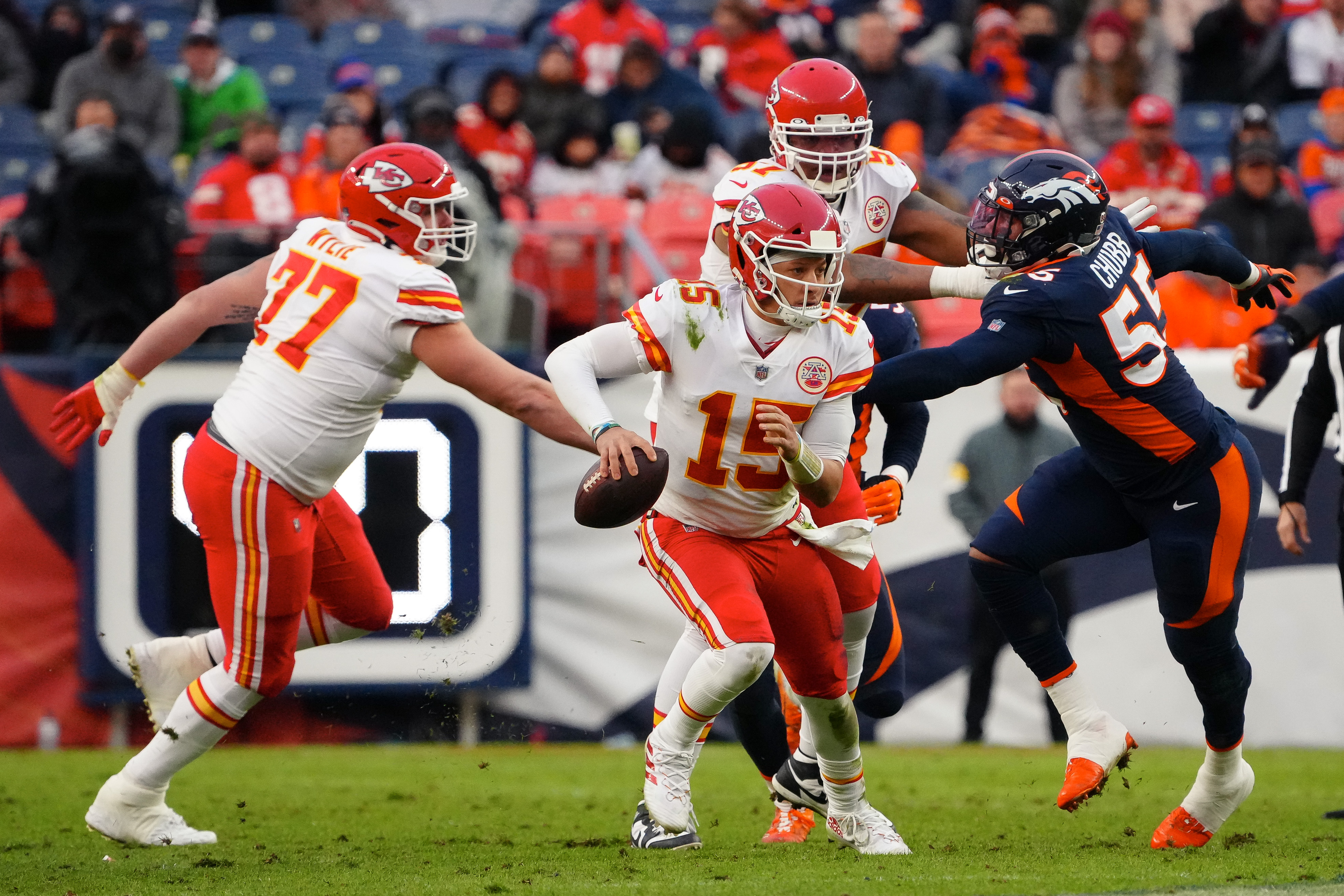 5. Week 11 vs. Las Vegas Raiders: A home divisional matchup with the Broncos' most despised rival this late in the season deserves to be ranked ahead of those highly anticipated non-divisional games, but the aforementioned problems with the Raiders still persist. They have the least talented roster in the division, and if Josh McDaniels' track record holds, they might even be mid-collapse by this point in the season.
4. Week 6 @ Los Angeles Chargers (Monday Night Football): Justin Herbert and the Chargers project to be one of the most exciting watches in football, and the fact they're a divisional rival makes them an easy selection for the top tier. Not only that, but their defense — which has just been infused with a lot of fresh, high-end talent — should also be a lot better in year two under Brandon Staley.
Getting to watch them face off against the Broncos in primetime makes it that much sweeter, but this game is ultimately too early in the season to be ranked any higher.
3. Week 17 @ Kansas City Chiefs: An early January road game in Arrowhead against the division-ruling Kansas City Chiefs feels like it could be a recipe for disaster, given recent history, but this game will have a massive impact on who wins the AFC West, and it will give the Broncos a late-season opportunity to pronounce themselves as legitimate contenders for the Super Bowl. Plus, this game might give the Broncos the chance to break their Chiefs losing streak.
2. Week 15 vs. Kansas City Chiefs (Sunday Night Football): The Broncos might snap their losing streak to the Chiefs in Week 17, but their better opportunity will come in Week 15, at home, in primetime. This rivalry has been painfully one-sided as of late, so one can safely bet that if the Broncos are able to snap the streak, Empower Field will erupt.
1. Week 18 vs. Los Angeles Chargers: Right now it feels certain, set in stone since the age of The Big Bang, that the fate of the AFC West will come down to Week 18, making this the No. 1 matchup on the Broncos' schedule. It's a highly consequential home game against a divisional rival — who just so happens to be one of the best watches in football — with postseason hopes on the line. Oh, and with all that in mind, this game is a safe bet to be flexed into Sunday Night. What more could you possibly want?