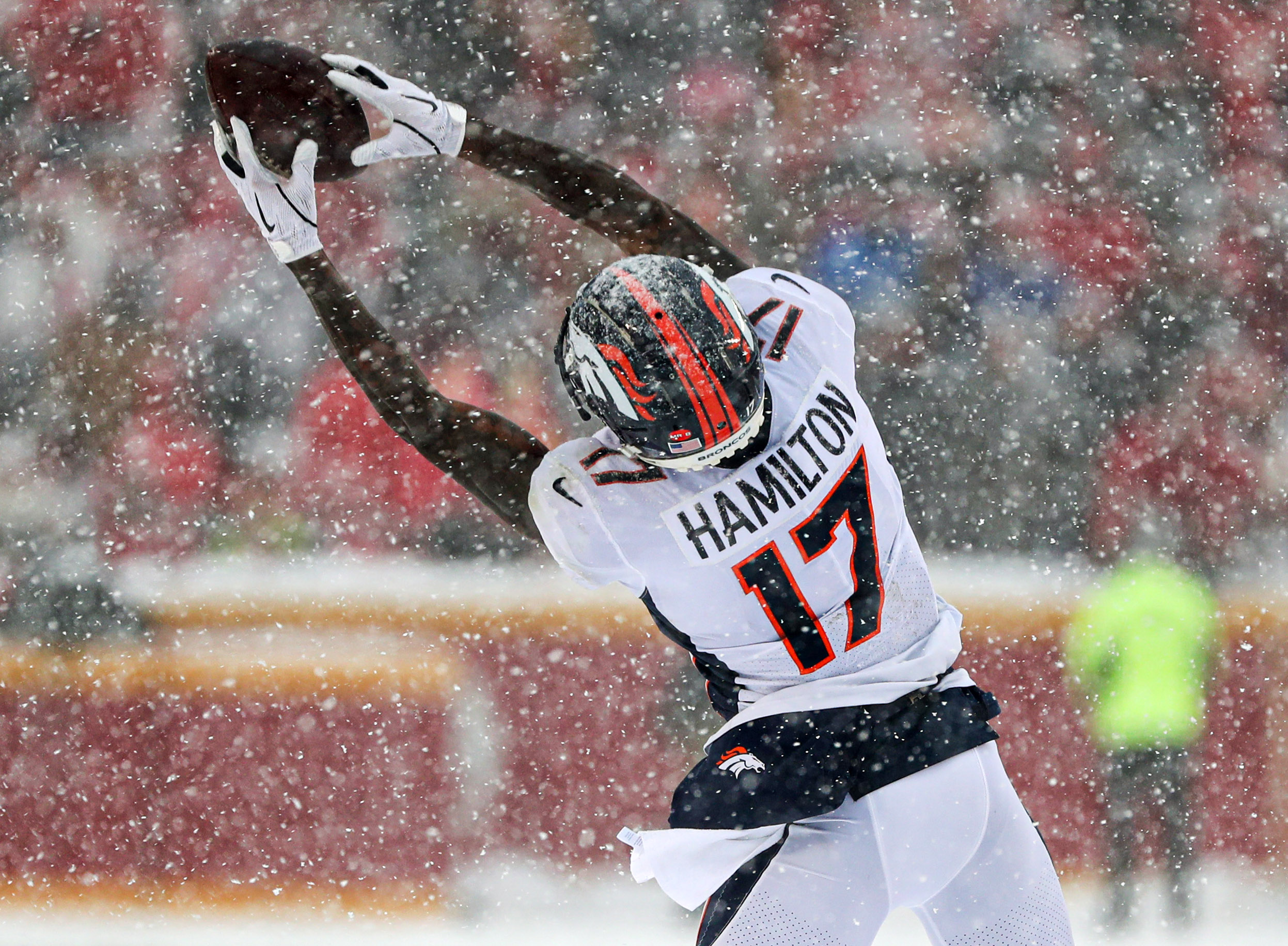 Newly-hired general manager George Paton quickly got to work with the Denver Broncos, cutting A.J. Bouye and Jurrell Casey and saving more than $23 million in the process.
He's not done yet though, and more heads are expected to roll. Here are the three most likely to be searching for a new team next.
3. Nick Vannett
Don't let Nick Vannett being ranked third on this list fool you into thinking he is likely to stick around in 2020. He could easily have found himself in the No. 2 spot for this exercise, and all three of these players are very likely to be gone in the near future.
Out of all of Denver's non-starters, Vannett easily has the highest amount of cap savings following a pre-June 1st cut at $2.68 million. He also was a disappointing player for the team last season and was quickly passed by rookie Albert Okwuegbunam on the depth chart, though a torn ACL got Vannett his snaps back.
The only reasons for Vannett sticking around are that the Broncos need a blocking tight end — which is a role Vannett is currently filling — and it can be surprisingly difficult to find a cheap, instant-impact replacement at tight end.
With Noah Fant and Okwuegbunam, the Broncos have two highly-talented tight ends that both struggle to block. They need someone like Vannett to take on some of that load, so if they replace him, it'll have to be with a tight end that can get on the field in Week 1.
That's a hurdle because the cheapest replacements for Vannett will be rookies and rookie tight ends are notorious for their long period of adjustment from college to the NFL. If Denver opts to go the veteran route instead, they probably aren't saving much money.
2. DaeSean Hamilton
It feels like DaeSean Hamilton has been a "likely cut/trade candidate" for well over a year now.
Following a severely disappointing 2019 campaign, it appeared the writing was on the wall for Hamilton. That was especially true after the Broncos used each of their first two picks on wide receivers, as well as a seventh-round selection.
He managed to survive the shortened training camp though and cling onto a roster spot throughout the season. However, during the season, he didn't do much to improve his standing with the organization despite having two struggling rookie receivers and a superstar out for the season above him on the depth chart.
Hamilton finished 2020 with just 23 receptions for 293 yards and a score. Meanwhile, that aforementioned seventh-round pick, Tyrie Cleveland, shined in his limited playing time.
Hamilton's precision as a route-runner and willingness as a run-blocker might be enough to argue Vannett deserves to be ranked here instead, but it's much easier to find an instant-impact rookie receiver than it is to find an instant-impact rookie tight end. Especially in this year's class.
Also, the savings of cutting Hamilton ($2.18 million) ranks seventh on the team.
1. Jeff Driskel
Why on earth would you bring Jeff Driskel back for another season if you're Paton?
Without even diving into Driskel's beyond-underwhelming play, the proposition of retaining him seems dubious.
The Broncos stand to save $2.5 million by parting ways with Driskel, an amount only topped by Von Miller ($18 million), Kareem Jackson ($10 million), Bryce Callahan ($6.8 million) and Vannett. That's not a difference-maker like the over $20 million the Broncos saved by cutting A.J. Bouye and Jurrell Casey, but it's still a nice chunk of change, especially compared to other potential savings on the roster.
Unlike Miller, Jackson and Callahan, Driskel isn't a star player who is integral to the team's performance on one side of the ball. In fact, he arguably couldn't be farther from stardom as a backup that was outshined by a member of the practice squad — Brett Rypien — when asked to step up.
There's the real hurdle for Driskel's future with the team. He's currently the third-best quarterback on a team that is somewhat interested in upgrading their starter at the position, and definitely interested in finding a new backup to serve as a mentor.
It's hard to hold onto a fourth-string quarterback when you can save $2.5 million by cutting him.