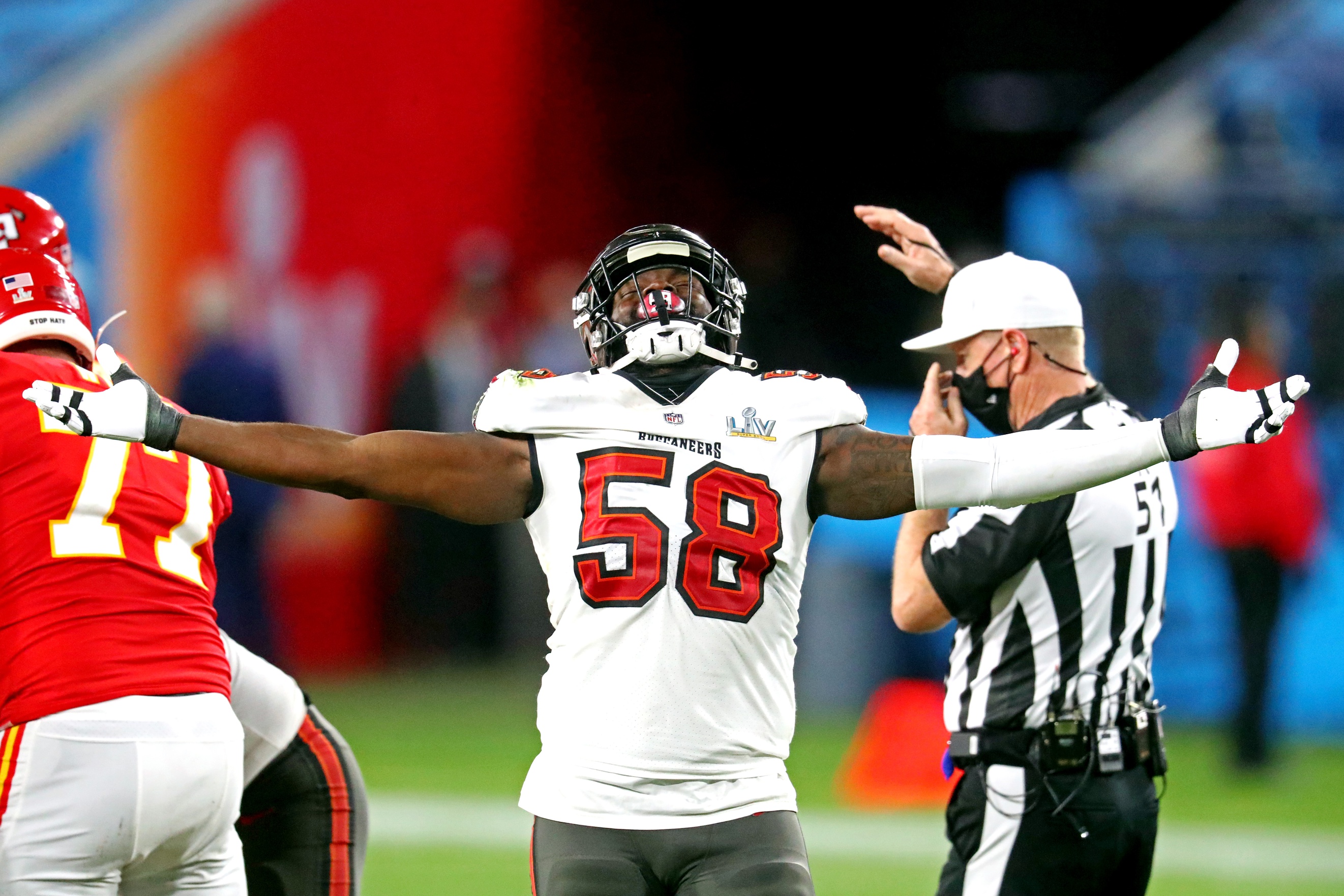 Tom Brady was the correct choice for Super Bowl MVP. But if there's a close second, it's former Denver Bronco Shaquil Barrett.
Former.
In hindsight, it sure is easy to watch an edge rusher dominate a game, and then say, "Boy oh boy, it would have been nice to have that guy on your team!" Then again, every team in the NFL was saying that yesterday about Barrett. On a defensive line that features household names like Ndamukong Suh and Jason Pierre-Paul, it was Barrett that had the biggest day on the biggest stage.
This, of course, is just more salt in the wound for the Broncos, who finished 2020 a dismal  5-11 this season. Remember, after Denver said "thanks but no thanks" following the 2018 season, it was Barret who bolted for the Bay and proceeded to lead the entire NFL in sacks with 19.5 in 2019. In the 2020 regular season, Barrett posted 8.0 in 15 games. En route to the Super Bowl, the former CSU Ram gave the Bucs three sacks during the playoffs. And yesterday, Barrett was seemingly everywhere; if anyone ruined Patrick Mahomes' day, it was Barrett, who had a sack and four quarterback hits.
Of all the Broncos on the 2015 roster, Barrett is the only one to slip another Super Bowl Ring on his finger. Furthermore, he wasn't just along for the ride – he was a key to helping Brady win his seventh Super Bowl.
You know who hasn't won a Super Bowl ring since Barrett left?
Anyone who plays for the Broncos – namely – Malik Reed, Bradley Chubb or Von Miller.
Since saying goodbye to Barrett, those three players have yet to combine for the newest Super Bowl champ's regular season sack total: Barrett's 27.5 v. Reed, Chubb, Miller's combined total of 26.5.
Now, to be fair, those Broncos have suffered significant injuries and missed significant time. Chubb missed most of 2019; Miller missed all of 2020.
Reed had as many sacks this season as Barrett did (8.0), but his total is nowhere close (10.0 between 2019 and 2020).
Chubb, while voted into the Pro Bowl this season, was a half-sack short of Barrett's 2020 total.
Miller, who was once great, is the Broncos biggest contractual question mark of the offseason. Miller was the reason the Broncos won Super Bowl 50, but his current contract is massive. Barrett made $15.8 million this season and now becomes an unrestricted free agent. Meanwhile, Miller pocketed $25.6 million this season and would be a $22.5 million cap hit next season (if, of course, his contract plays out "as written", which it likely won't).
Sure, Barrett now wears two rings because his quarterbacks were named Peyton Manning and Tom Brady. Chubb and Reed haven't been lucky enough to share a locker room with either.
To be certain, this gripe isn't necessarily about which outside linebacker the Broncos should or shouldn't have kept. Instead, it actually might be more about which one they shouldn't have drafted and who they could have drafted instead.
Bradley Chubb is a Pro Bowl player. It's not as if he was a "bad" pick. But, in theory, if the Broncos were to have showed the kind of faith they could have (see, should have) in Shaq Barrett, then there would have been no need to draft Chubb. Instead, the Broncos could have selected Josh Allen.
Yes, hindsight is 20-20 – especially in 2020 – but at a very basic level, the Broncos would have been better served drafting Josh Allen in 2018 rather than Bradley Chubb. And if last night's Super Bowl was any indicator, they might have been better simply handing Chubb's job to Shaquil Barrett when he was already a Bronco.
Regardless, Tom and Tampa Bay found a gem in Shaq Barrett. Conversely, the Broncos tossed him aside as if he were Fool's Gold.
At current, Tampa is tops, while the Broncos are bottom.