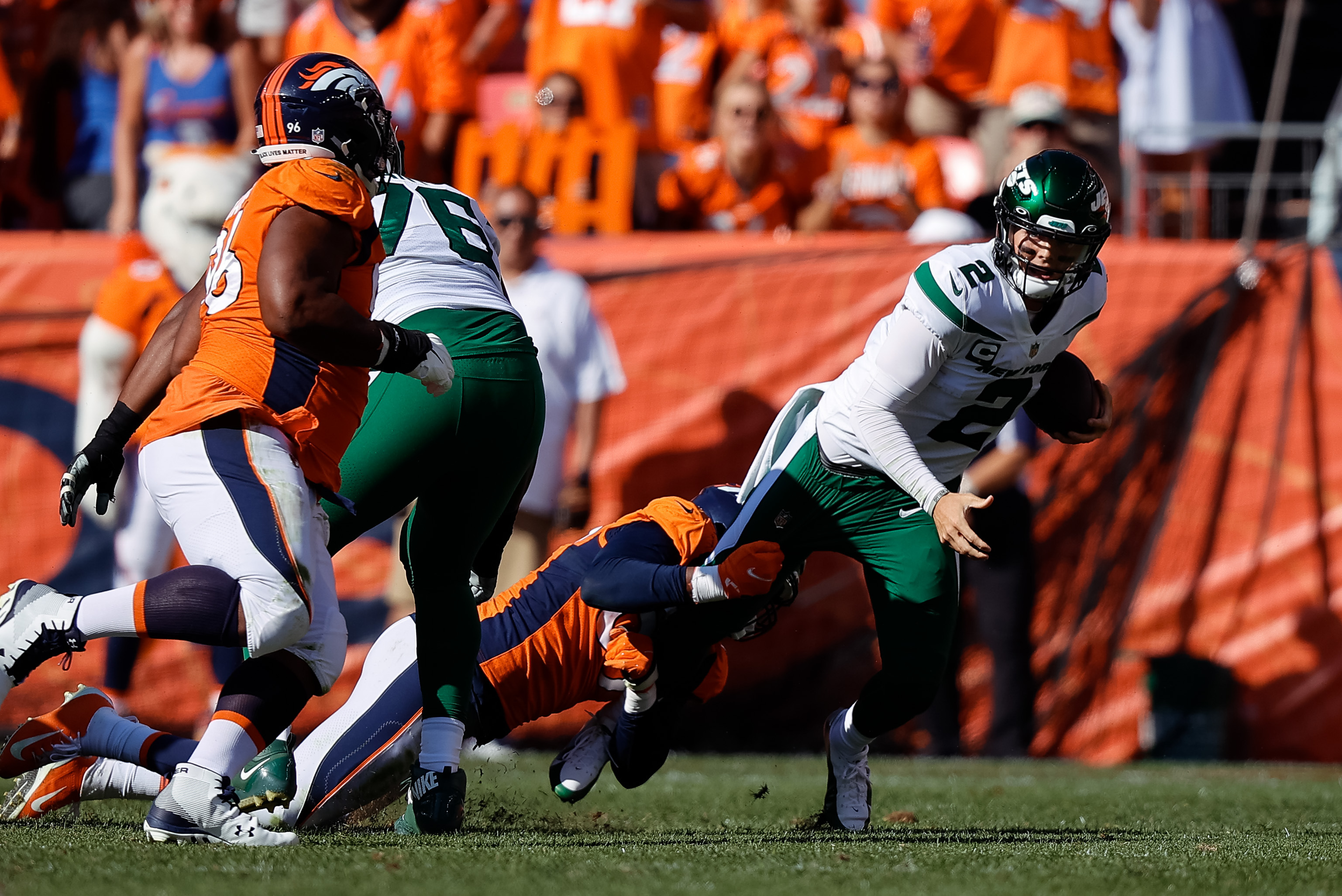 For the first time since 2016, the Denver Broncos are 3-0 and on top of the AFC West, thanks to a convincing shut-out victory over the lowly New York Jets.
But who were Denver's biggest stars of the game? Let's take a look.
Stock Up
Broncos pass rush
Through the first two weeks, the Broncos pass rush seemed to be almost solely based on the performance of superstar Von Miller, as he recorded all of the team's sacks.
That changed this week, though Miller still certainly got his fair share.
In the first half alone, against Zach Wilson and the Jets, the Broncos tallied four sacks, each recorded by a different defender. Von Miller, Alexander Johnson, Shelby Harris, and Malik Reed each got one apiece, and helped hold the Jets offense under 25 passing yards in the first 30 minutes.
In the second half, Denver's pass rush was quieter, though they still made life difficult for New York's rookie quarterback. On one of the Jets' last offensive plays, Malik Reed came within inches of his second sack, but ultimately came up short. This led to a fourth-down attempt that led to Alexander Johnson and a gaggle of orange jerseys to get their fifth sack of the game.
Denver's coverage unit
The Denver Broncos thoroughly suffocated the New York Jets passing attack, and while the pass rush certainly deserves its credit for accomplishing that, so does the pass coverage downfield.
On the day, Wilson completed 19 of his 35 passes, for 160 yards and two interceptions, and yet still, those paltry numbers are inflated by garbage time. The entire Jets offense didn't cross 100 yards until the third quarter, and rushing yards made up almost half of New York's total at the time.
In fact, at the end of the first quarter, the Jets actually had negative passing yards.
Things quickly spiraled as Wilson, trying to dig the Jets out of a deep hole, through two interceptions. Justin Simmons came away with one, but it's worth spotlighting Caden Sterns, who secured the first interception of his young NFL career.
Alexander Johnson
With co-star Josey Jewell exiting for the season as a result of a pectoral injury suffered in Week 2, there was a lot of added pressure on Johnson to step up and be the leader of the second level of Denver's defense.
Against the Jets, he did just that. He finished the day with five tackles (tied for the team lead) and two sacks.
Most impressively though, was the impact he made on the Jets' second offensive possession, as he almost singlehandedly forced a punt. On first down, he did a good job limiting the running back to a six-yard gain, when it could have been much more. Then, following an awesome pass break-up from Bryce Callahan, Johnson secured a sack on Wilson for a massive loss on third down, forcing the punt.
Later in the game, Johnson got yet another big sack.
If Johnson can continue that level of play, the Broncos should be able to survive Jewell's heart-wrenching injury.
Tim Patrick
Another Bronco who was up to the task of filling in for an injured compatriot, or two in this case, was Tim Patrick.
Patrick has continued to be an incredibly reliable and consistent force for Denver's aerial attack. When the Broncos need a conversion, there's little doubt where the ball is going.
At the end of the day, Patrick finished with five receptions for 98 yards. No one from either team finished the day with more yards or receptions.
Just like Johnson though, he had some highlight-reel-worthy moments that stole the show.
First, was when he mossed Jets cornerback Bryce Hall to get the Broncos in scoring range.
Broncos face a 2nd and 6 and Teddy Bridgewater hooks up with Tim Patrick for 27 pic.twitter.com/S0Iqe48ljq

— Joe Rowles (@JoRo_NFL) September 26, 2021
Second, was an impressive contested catch that Bridgewater beautifully threw up at the goal line.
Teddy Bridgewater throws it up for Tim Patrick and the Broncos are back in the redzone pic.twitter.com/YNf2Iszgv0

— Joe Rowles (@JoRo_NFL) September 26, 2021
So far, every time Bridgewater has targeted Patrick, it's resulted in a completion. That's unreal production that deserves recognition.
Special Teams
Following ugly performance after ugly performance, the special teams finally turned in a solid performance on Sunday against the Jets.
How did they accomplish such a performance? By keeping the ball out of play, preventing their coverage team from making back-breaking mistakes. On the day, the Jets had just one kick or punt return, and it didn't result in strong field position.
Hopefully, special teams coordinator Tom McMahon has learned his lesson and replicates this game plan in the coming weeks.
Stock Down
Offensive line
The few times one the Broncos drives stalled, a sack or a heavily-pressured dropback were often major culprits as to why.
The Jets finished the day with just two sacks, but their presence loomed large throughout the entire game.
However, the real reason the offensive line finds itself here, are the injuries to Dalton Risner and Graham Glasgow, which we're still awaiting an update on.
Denver's interior offensive line was the worst-performing unit on the team, outside of special teams. Losing their two most-cemented starters in that unit, including their best performer in Glasgow, could be devastating in the coming weeks.
Noah Fant
Today was a pretty bad day for Noah Fant, Denver's rising star at tight end.
Off the back of two stellar performances against the New York Giants and Jacksonville Jaguars, Fant came back down to earth against the Jets.
Fant hauled in just two receptions for 15 yards, and lost the team more yards than that, with two ill-timed penalties that erased big gains.