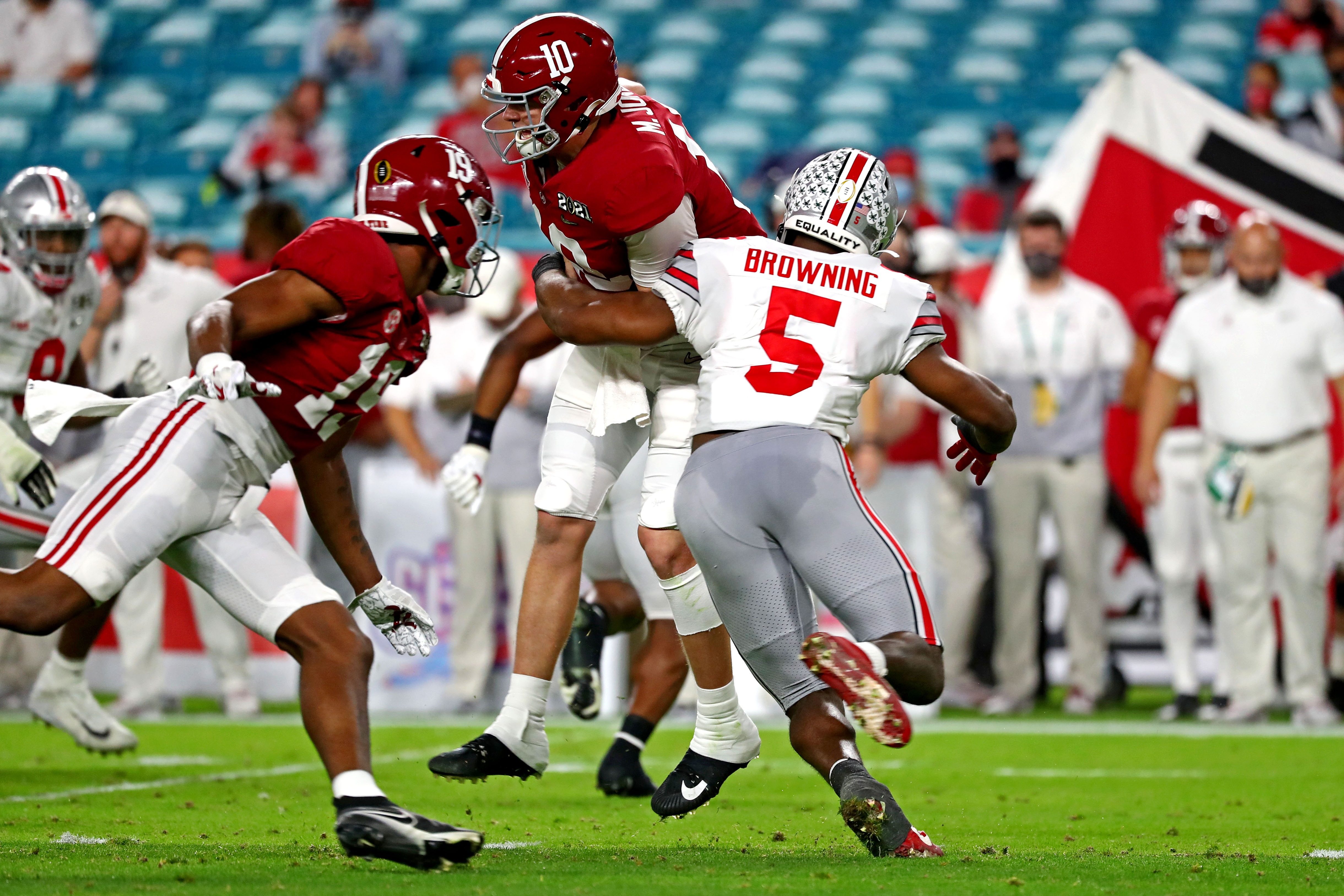 Vic Fangio is arguably the greatest inside linebacker coach in NFL history. He's coached the likes of Sam Mills, Ray Lewis, Patrick Willis and Navarro Bowman among several others during his time in the league.
Unfortunately, the Broncos haven't provided Fangio with that same level of talent at his 'pet' position. Alexander Johnson has been an incredible find, especially considering the bargain he's been financially, but he's nowhere near the aforementioned quartet of linebackers from Fangio's past. He's also sneakily old for a three-year veteran, at age 29.
Johnson's sidekick, Josey Jewell, doesn't bring much excitement either. He's a smart player who doesn't make mistakes often, but his athletic limitations consistently hurt the Broncos in coverage against receiving backs and talented tight ends, which the AFC West is full of.
Plus, both of those two are unrestricted free agents after the 2021 season.
Enter the 105th pick in the 2021 NFL Draft, linebacker Baron Browning. But, as Broncos fan Larry Reed posed on Twitter, 'why should we be so excited?'
Ok explain it to me like I'm 5. Why we so hyped on browning? Lol I'm not gonna pretend like I know all that much about him.

— larry Reed (@L_The_Ideal) May 1, 2021
Well Larry, I'll tell ya.
The best word you can use to encapsulate Browning's style of play is explosive. He flashes to the ball with lightning quickness — thanks to his instincts and high-level athleticism — and when he makes contact, there's a thunderous clap. That quick reaction speed will be huge in Fangio's defense.
For your own health, don't come across the middle when Baron Browning's lurking in zone

— Thor Nystrom (@thorku) April 6, 2021
That explosiveness shows up the most in Browning's run defense and as a blitzer. He's very aggressive and can slip between tackles with ease allowing him to quickly penetrate the backfield and blow up the run before it even has a chance to get started. He is such a devastating blitzer that some believe he has the potential to be one of the best edge rushers in the class if the Broncos wanted to put him there.
He certainly has the athletic upside for it.
Also, while there are some inconsistencies to his form, he's an excellent tackler a majority of the time. The times he does whiff has more to do with lack of experience and muscle memory than a lack of physicality or aggression.
The top concern for Denver's next linebacker though is how they can help the team in coverage, where Browning receives another large checkmark. He has no problem matching up with running backs and carrying them upfield if necessary. The same could be said for his ability to cover tight ends, though the Buckeyes didn't match Browning up against Travis Kelce and Darren Waller like the Broncos will be.
One of the most appealing elements of Browning as a prospect is how much better he can be. He's already got terrific burst, speed, size, strength and power, he just needs to further refine those tools and understand how to better utilize them.
Given his track record, Fangio might be the coach to do just that.
A lot of Browning's problem areas can be tied back to a lack of experience or consistency in any of the roles he played while at Ohio State. Over the course of 32 collegiate games, he spent a considerable amount of time playing the Mike, Will and Sam linebacker-roll in the Buckeyes' defense.
As a result, Browning can look like a jack of all trades, but a master of none. He probably won't be a day one starter, but that's fine as Justin Strnad, Jewell, and Johnson can handle those snaps early on in the season while Browning adapts to his role.
That inexperience also rears its head with some inconsistent tackling and also when it comes to how quickly Browning can read a play and then react to it. Once he deciphers what's going on, he's quick to react, but that time-to-reaction will have to shorten at the next level. Fortunately, that should just be a matter of time and reps.
Final thoughts
Baron Browning would have been an ideal second-round pick for the Broncos. He has as much upside as any linebacker in his class and you trust a high-level linebacking coach like Vic Fangio to get the most out of him. Somehow he fell to the final pick of the third round, more than 60 picks later than where he was projected to go, which is an incredible steal.
Linebacker is the one pressing positional weakness remaining on Denver's defense, and Browning has the potential to quickly be the team's best inside linebacker. He'll have to prove in training camp that he can be trusted to consistently make the right read and be in the right place at the right time, but from an athletic perspective and from a coverage perspective, Browning will be radically different from the other linebackers on the practice field.
Realizing Browning's sky-high potential might take some patience and some coaching, but that isn't a big concern for Denver because of Fangio.
They also don't need Browning to be a day one starter. That's not to say he couldn't become one, but the Broncos wouldn't need him to have an instant impact, which is what made them one of the most ideal landing spots for Browning.
He can sit behind Alexander Johnson, Josey Jewell or Justin Strnad for the first few weeks of the season while he gains familiarity with Fangio's defense, but it would be shocking if he wasn't starting by season's end.