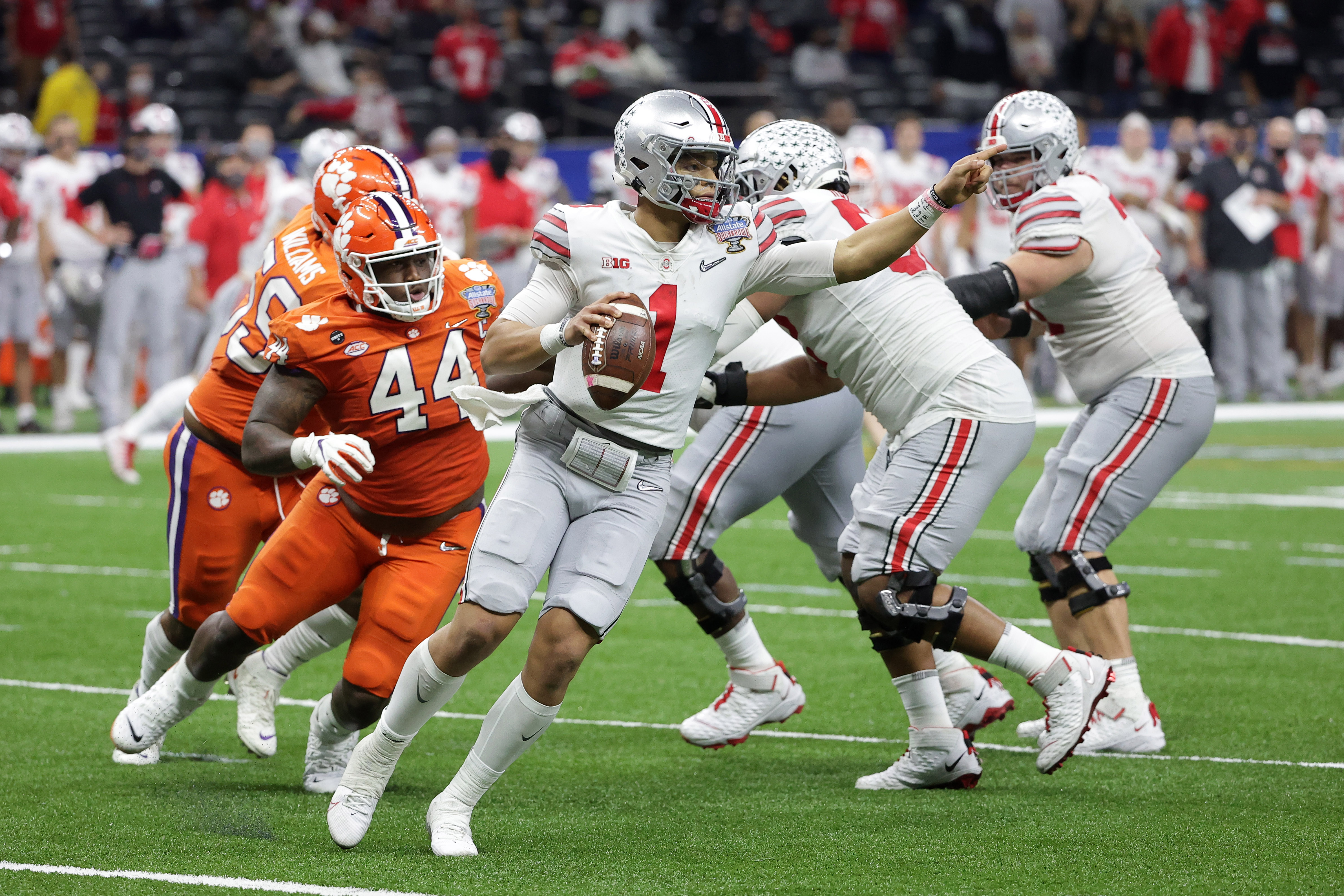 Six seasons ago, the Broncos were in a very different place from where they are now. They were in the final season of one of the most impressive four-year stretches in NFL history, all led by future-Hall-of-Fame quarterback Peyton Manning.
The five years since have been far less glamorous, as the Broncos find themselves cast adrift and lost at sea in search of a quarterback in what is beginning to feel like a hopeless quest. Much like the Greek hero Odysseus and his long, winding journey to find his home of Ithaca.
Except rather than having to survive monsters like the human-snatching Scylla; the living maelstrom, Charybdis; or the alluring yet cannibalistic Sirens, Broncos Country has had to survive watching Paxton Lynch and Brock Osweiler for extended stretches.
Who else feels envy for Odysseus?
Finally, Denver's odyssey could be nearing its end, with the ninth selection in a class so loaded at quarterback it projects to be the first one with five quarterbacks selected in the top 10 or four quarterbacks selected in the top five.
Among this elite quarterback class, Justin Fields sticks out as a special talent, though the NFL is mysteriously low on him. That provides Denver with an arguably undeserved opportunity to land a high-end quarterback.
Let's look at whether or not the Broncos should take Fields, and who he has as a prospect in terms of his strengths and weaknesses.
Positives
Fields is the prototypical star quarterback that we all pretend to be growing up.
He is lauded for his leadership and character inside the Ohio State locker room.
"Can he lead in the locker room? That will never change. What I noticed about Justin Fields, especially during this difficult season, his leadership skills," Urban Meyer said in December. "I didn't know that….but he's taken over the locker room. He's a great leader, he's a great worker. People see a guy that's Braxton Miller-fast and Dwayne Haskins-accurate, but what they don't see is incredible leadership and character. That's important, especially if you're going to sink that kind of money and investment into a player."
Not only is Fields a leader, but he has the grit and toughness old-school football fans and teammates love to see.
That toughness was on full display in the Sugar Bowl when Fields took a nasty shot to the ribs that could've brought his Ohio State career to an early — and untimely — conclusion.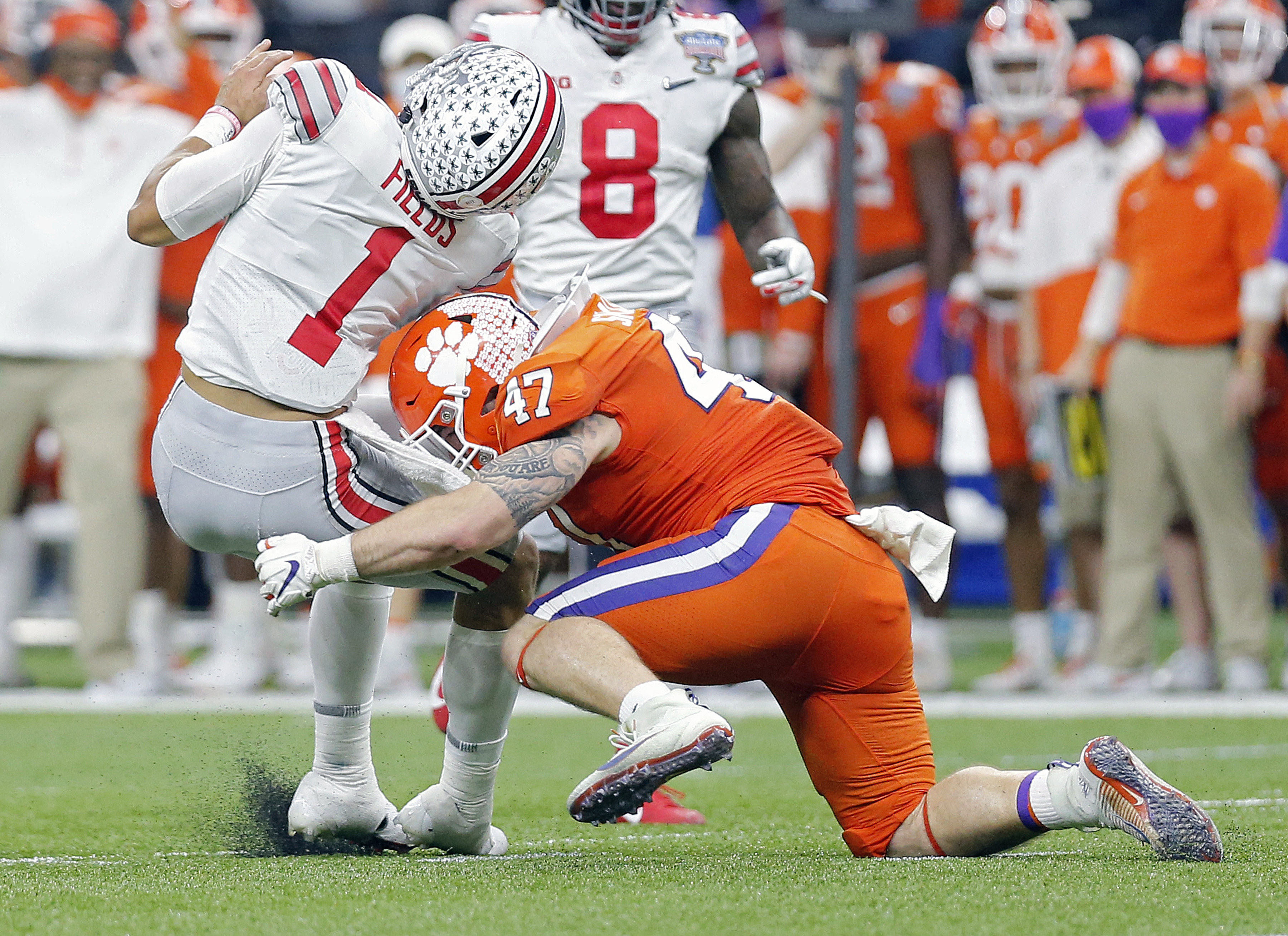 However, Fields hung in that game and arguably had the best performance of his collegiate career. He then was quick to follow it up with another one of his best performances, this time against the Alabama Crimson Tide in the National Championship game.
Fields isn't just limited to his fantastic intangibles though, as his athletic traits are incredibly appealing too.
His arm strength is elite, and he has more than enough power to get the ball anywhere he needs it to be. His whip-like release also makes sure the ball gets out quickly and finds its target with zip. Fields has no issue standing in the pocket and getting punched in the teeth while he delivers a flawless frozen rope 20 yards downfield.
Even more impressive is that his accuracy manages to upstage the sheer power of his arm. While at Ohio State, Fields threaded the needle and placed the ball perfectly on a regular basis and he made it look easy. Even when under pressure or while escaping the pocket he can deliver a dime.
He's also an extremely dangerous runner of the football and has the potential to be even more deadly than his college tape suggests. If opposing defenses back off in coverage too much in fear of Fields' arm, the Ohio State product will make them pay with his legs. He has a strong, thick build which should protect him from contact, but he's deceptively quick as well. His 40-yard dash is closer to Robert Griffin III's coming out of Baylor than either Cam Newton or Deshaun Watson, and it's a tenth-of-a-second faster than Colin Kaepernick's combine time.
In fact, his pro-day 40-yard dash is faster than the combine or pro day times for the infamous Antonio Brown.
So if he's got a golden arm in terms of both strength and elite accuracy, is faster than Kaepernick and nearly as fast as Griffin, and has all the intangibles you would want at the quarterback position, what are his flaws that have media reporting he's viewed as the league's No. 4 or 5 quarterback?
Negatives
The big problem with Fields is he's aware of how marvelous his arm is. For all four years of high school and his first year at Ohio State, Fields could get away with almost any throw he wanted to make without repercussions. That has led to a high degree of confidence in his arm, which is good, but as we've seen with Drew Lock, it can also be devastating in terms of turnovers.
Fields' overconfidence or faith in his athleticism isn't at the degree Lock's was last year, but it's still a concern and something he must reign in.
Some wonder about Fields' ability to read the field, and while that is a valid question, the level of concern surrounding it seems greatly overblown.
For starters, it shouldn't surprise you that Ohio State had a sizable advantage over their competition at almost every position on the field. As a result, Fields' first read was very often wide open and the right read.
Is it fair to question a quarterback for having things be too easy for him? Yes, but you shouldn't penalize them too much for it and it's also an argument you could make for every other top quarterback in the class. Clemson, Alabama, and Ohio State all faced this ease on offense, yet Fields seems to get knocked for his ability to read the field more than either Jones or Lawrence.
Another reason for the concern might be Ohio State's weird offense that relies heavily on wide-receiver option routes. As a result, Fields has to hold onto the ball longer and watch his reads longer, which should be expected. That's a mild concern, but we have seen quarterbacks struggle to transition to the NFL from Meyer and Ryan Day's college system.
Though again, you could make similar arguments about funky offensive schemes with either Jones or Lawrence.
Verdict
Sometimes the NFL gets caught over-thinking a prospect. We saw it with Justin Herbert last year, with Lamar Jackson in 2018, and with Patrick Mahomes and Deshaun Watson in 2017.
This feels like one of those times.
It's unfair to say Fields is a flawless prospect, he certainly isn't, but the level of criticism he's received is absurd. He's a much better prospect than Kyler Murray or Baker Mayfield — both of whom went first overall — and anyone else from their respective classes. The fact you could get Fields at pick No. 4 or later is a robbery, and one the Broncos would be foolish to not target.
Draft Projection: Top 10
MHS Broncos Big Board Ranking: 2nd (2nd among QBs)