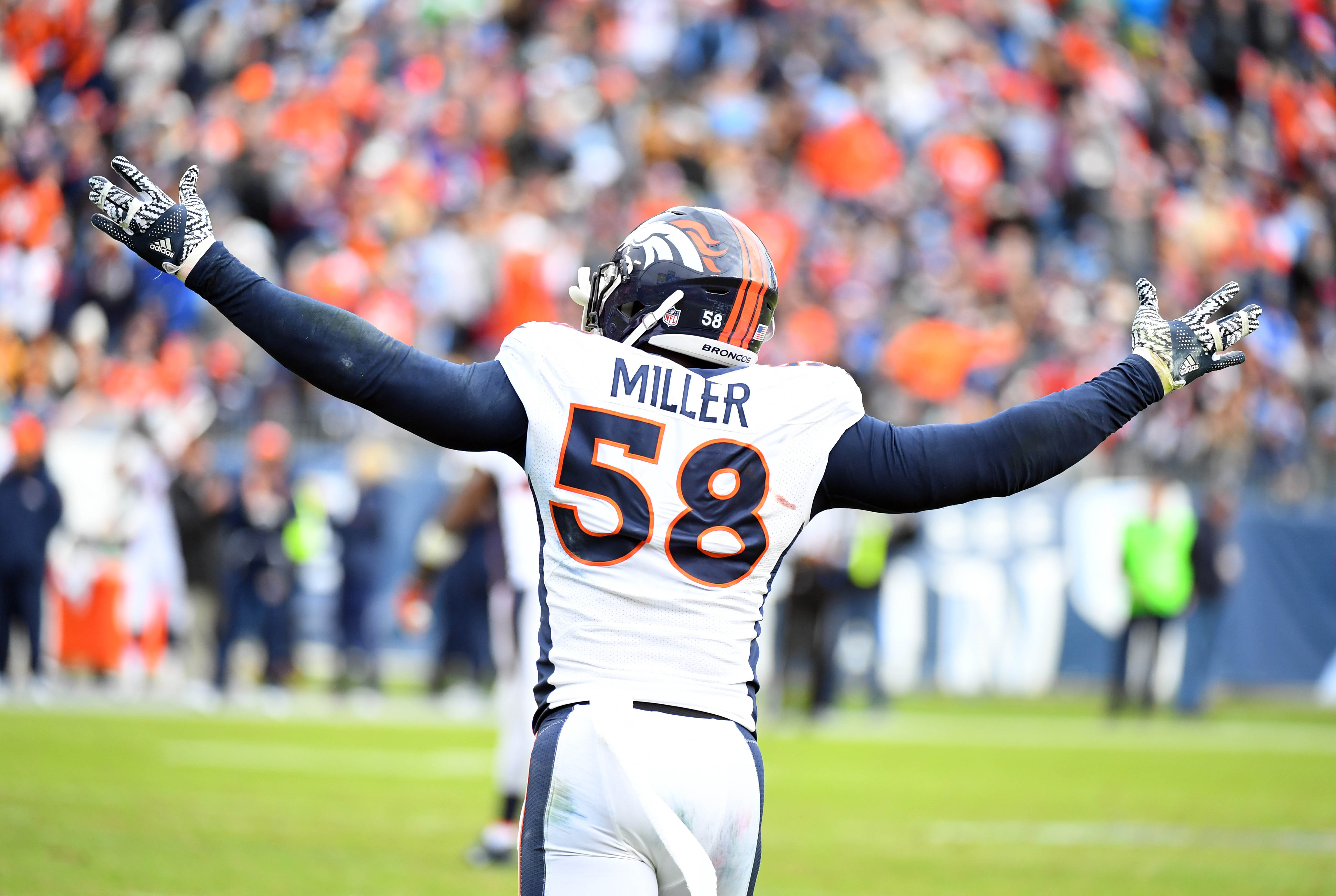 Unfortunately, Von Miller wasn't able to play a single snap for the Broncos in 2020, which means Week 17 of the 2019 season might end up being his last game as a Bronco according to ESPN's Dan Graziano via UStadium.
With that said,
Graziano: #Broncos are "likely" to decline Von Miller's $18M team option. That would make him an unrestricted free agent.

MORE: https://t.co/2PWjUZbFL3 pic.twitter.com/Hj39YSiiZJ

— uSTADIUM (@uSTADIUM) February 17, 2021
That's not a report that should be shrugged off either. The notion Miller could be off the team in 2021 isn't even a remotely crazy one. Declining the option would free up $18 million ($22.125M salary minus $4.125M dead cap) in cap space for Denver, which when combined with the money they freed up by cutting Bouye, would free up enough cap to re-sign Justin Simmons, Shelby Harris, and still probably have $5-6 million left over.
Also, as great as Miller is, it's fair to wonder if he can live up to that $22 million salary as a 32-year-old edge rusher coming off a serious, season-ending injury. Though cutting him would also give Denver a very shallow and fairly inexperienced edge-rushing unit, which they would likely have to use some of those cap savings to solve.
With all of that said, it does seem like Broncos Country can rest easy, as 850KOA's Benjamin Allbright, Denver7's Troy Renck, 9News' Mike Klis — and even Von Miller himself — shut down UStadium's report.
Just confirmed this with team. 👇🏻

No decision has been made on Von Miller's option, no one has contacted Von's representatives or Von with any decision (because no decision has been made) and they would be first to know.

Team is still trying to work through all that. https://t.co/gVncs7URaP

— Benjamin Allbright (@AllbrightNFL) February 17, 2021
Allbright was first to comment on the matter and reported that no official decision had been made yet and that Miller and his representatives hadn't been contacted with a final decision.
Last night, Miller himself sent a cryptic message out via his Instagram account, which has weirdly been a common occurrence of this off-season. Miller went back and edited his Instagram post from when he originally signed his long-term extension but made no discernable changes.
Edited five hours ago by Von Miller. A post from July 2016.. pic.twitter.com/NqVOTsdOiU

— ᴄᴀᴍᴇʀᴏɴ ᴘᴀʀᴋᴇʀᴾᴼ (@CameronParkerPO) February 17, 2021
The fact he edited it and it still says "FOR LIFE" could be a positive sign, but it's also a cryptic enough sign that it's difficult to assign much meaning to it.
After Allbright shut the report down though, Klis and Renck put the nail in the coffin.
From what I understand this is a prediction, not a report. While declining the $7m guarantee option on Von's $18m payout is possible, per source nothing has been decided. There remain multiple options on option decision. #9sports https://t.co/JPrANGRzDL

— Mike Klis (@MikeKlis) February 17, 2021
I know there's been predictions out there today about Von Miller's future. Talking to multiple sources, nothing has been determined regarding Von as team works through contractual decisions. He is due $7M bonus in mid March so something will be decided by then. #Broncos #Denver7

— Troy Renck (@TroyRenck) February 17, 2021
Now, none of this means Miller is definitely going to be in Denver in 2021. Just simply that no decision has been made yet and the situation is still very much up in the air.