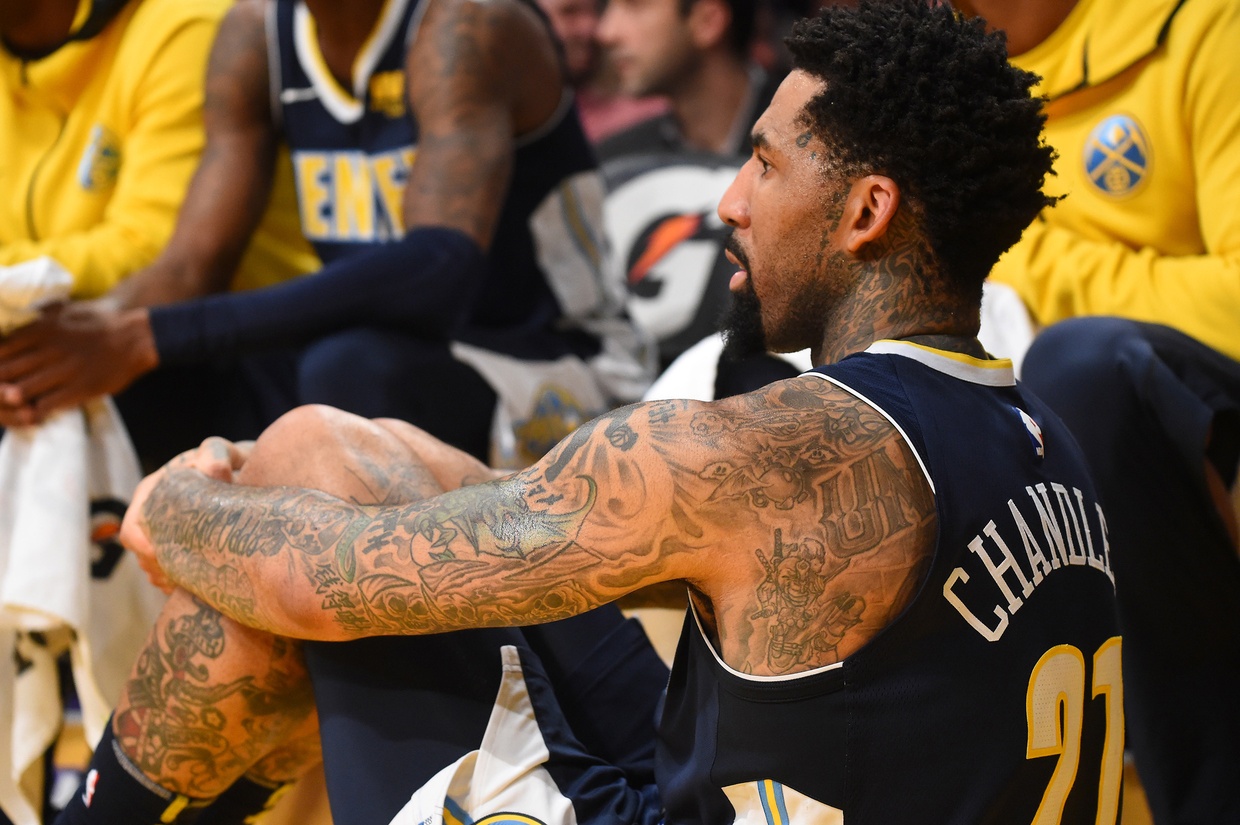 There is a terrific trend developing for the Denver Nuggets over the past nine games. Yes, the Nuggets are a modest 5-4 in their past nine games, but it is the way that Wilson Chandler has been playing on both ends of the floor that is promoting excitement within the Nuggets' organization.
"I was looking at some of our defensive numbers recently," Malone explained at shootaround before taking on the Utah Jazz later that evening. "In the past nine games, I think we are third in defensive efficiency. I think Wilson Chandler, Gary Harris, and Mason Plumlee have a lot to do with that. Those guys are going out there every night and accepting the challenge of guarding whatever their matchup is."
Malone is right. The Nuggets are posting a defensive rating of just 102.5 in the past nine games — good for third-best in the Association over that nine-game sample size — and they are getting their defensive production from Plumlee, Harris, and Chandler. All three of Plumlee, Harris, and Chandler are posting an individual defensive rating that is 100.4 or under, which is fantastic.
While Harris and Plumlee have been a large part of getting the Nuggets' defense back on track, the real genesis of the defensive improvement has come from the re-emergence of Chandler — who had been dealing with a sore lower back up until recent times.
"That last game he had prior to him missing time, I felt awful. He couldn't move," Malone explained when talking about Chandler's effectiveness. "I think it was the Memphis game when he was having a hard time getting up and down the court. Now, you see a guy that is moving well, attacking, exploding, getting downhill, driving, and finishing at the rim. I definitely see a healthier Wilson Chandler which has a huge impact on how he approaches the game and how he plays."
Getting Chandler back to playing at a high level has helped transform the Denver defense into an unrelenting force. It definitely helps that the Nuggets were able to hold the Portland Trail Blazers to just 85 points on their home floor, but where the Nuggets' improved defense was on full display was the very next night against the Golden State Warriors in Oakland where the Denver held the defending NBA champion Warriors to a season-low 81 points — which just so happens to be the Warriors lowest point total since 2014.
In the Nuggets' matchup with the Warriors, Chandler was instrumental in holding Kevin Durant to just 6-17 from the field and an abysmal 0-5 from three-point distance. Chandler also helped keep Draymond Green in check as Green proceeded to shoot just 4-10 from the field and 1-4 from three-point distance. The defensive versatility that Chandler possesses seems to unlock the Nuggets' defensive potential.
To help explain how solid Denver's defense has been over the past nine games with Chandler playing well, try to think of it this way: over the 82 games from last season, the Nuggets' had just 11 games in which they held opponents under 100 points. Over the 33 games Denver has played this season, the Nuggets have already matched their 11 total games in which they have held opponents under 100 points. Even more incredible is that five of the last nine opponents were held under 100 points in just the month of December.
It is not just the defensive end of the court where Chandler has improved. On offense, Chandler has finally begun finding his rhythm and role. When looking at Chandler's offensive numbers in November compared to December, it is impossible to not see his improvement.
It is not just that Chandler has improved in a couple of areas from November to December. His minutes, points, and rebounds per game have all swelled as has his three-point percentage, free throw percentage, and individual offensive rating. He has become a significantly more useful offensive player seemingly in an instant.
"I think we have seen a more aggressive Wilson Chandler — driving with the basketball and shooting the ball with confidence," Malone said. "Wilson is playing well. He is playing confident right now and he is playing aggressively."
Of course, having Nikola Jokic rejoin the starting lineup — with Plumlee as his frontcourt partner — does make life easier for Chandler. The frontcourt of Plumlee and Jokic is one of the more pass-happy units and it also helps that Plumlee is not much of an individual shot creator himself. That means that Chandler is given more offensive responsibilities and is given more playmakers to get him the ball when he is open. That is a recipe for individual offensive success. Malone said that he sees things the same way.
"I think it is also a result of who he is playing with," Malone explained. "With Nikola and Mason out there — and I think Wilson even alluded to that — you have two bigs out there that are very skilled, they are playmakers, and they make the right play all the time which makes it a lot of fun to play with guys like that."
One thing is undeniable: the Nuggets must be ecstatic that Chandler is rounding back into form.
Injury update
The Nuggets are getting healthier by the day. Emmanuel Mudiay — who has missed the last four games with a right ankle sprain — went through a full shootaround Tuesday morning. Malone considers Mudiay probable heading into Denver's matchup with the Jazz.
"Emmanuel was able to go through shootaround," Malone said. "I would say he is probable for tonight; we will get the final word from our training staff, but he looks pretty good.
When it comes to Plumlee — who appeared to have dislocated the same pinky finger twice in the Nuggets' matchup with the Warriors — Malone seems to have no worries about his availability. Malone even went as far as to lightly joke about his injury.
"And Mason — obviously his finger — just tape him up," Malone joked. "He will be fine. It is just a finger. He has nine others right? Come on."
Jokic is also nearing full health. After missing seven games with an ankle sprain, Jokic has now played in the past five games while recording at least 36 minutes in Denver's last three contests. While Malone was transparent that Jokic may not be back to full health, he did say that we are seeing the Jokic of old.
"I don't know if he is 100 percent to be quite honest. I would say that if you have watched him play lately that he looks like Nikola Jokic," Malone explained. "I think that when you get to this time of the year, I do not know how many players in the NBA are actually at 100 percent. I think he is a lot closer to that then he was a week ago when he first came back."