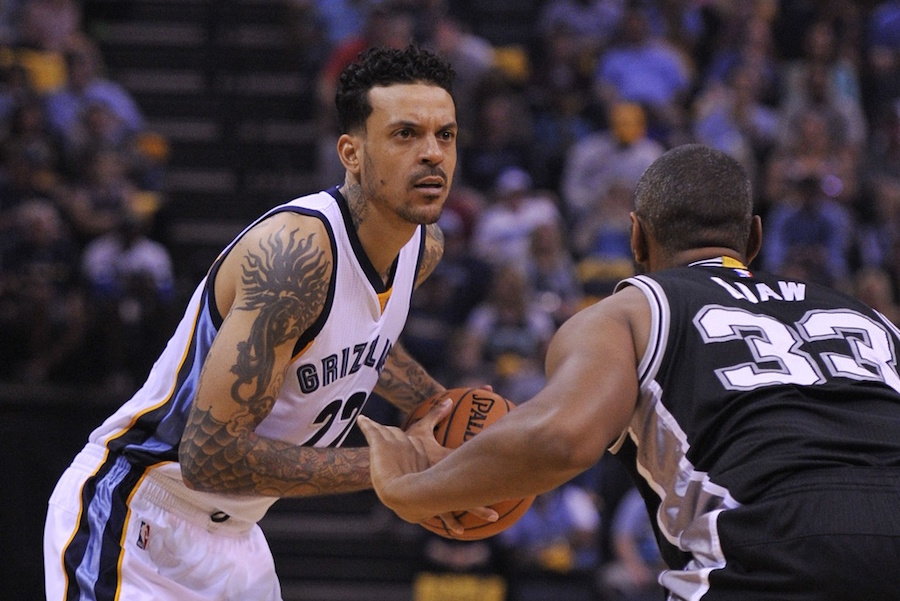 Take a second and picture a 2000s rap music video. What's the first thing you see? Money? Ding, ding, ding. Huge stacks on yachts. Bills falling from the ceiling. People randomly throwing wads from a car. Money, money, money. (Oh, how I miss the extravagant music videos of the '00s.)
Well, beginning midnight EDT on Friday NBA free agency will resemble one of those music videos. Everybody has a ton of cash and they're ready to spend/waste it.
During the offseason the NBA's salary cap rose 34 percent, thanks to new TV deals, giving most general managers a fresh $24 million to play with. But just because you have more money doesn't mean you have to spend it, unless you're a handful of teams like the Denver Nuggets. The Nuggets aren't just $20.8 million under the salary cap, they're $11 million under the cap floor. Tim Connelly and company have money they need to spend.
Luckily for the Nuggets, there couldn't be a better time to have plenty of cap space. There are a ton of big-name free agents on the market: LeBron James, Kevin Durant, DeMar DeRozan, Andre Drummond, Bradley Beal, etc. Unfortunately for the Nuggets, it's highly unlikely any of those guys has even considered playing in Denver. (Some could be off the market by the time you read this.) But, there are still plenty of good players who can help the Nuggets contend for a playoff spot in the Western Conference (and get rich in the process).
Here are four free agents the Nuggets should target with all that money:
Last season Williams averaged 11 points and 6 boards a game. Those definitely aren't numbers to write home about, but they're consistent numbers from a position the Nuggets have struggled to get consistency from. As a 6-foot-9 small forward Williams can guard multiple positions in and out and is a threat from behind the arc. He hit 40 percent of his threes last season.
Williams is a steady veteran who knows how to work within a system and plays on both ends of the floor. He's a perfect fit for what the Nuggets are trying to build.
Barnes in the quintessential love-him-when-he's-on-your-team and hate-him-when-he's-not guy. He is tough, gritty, emotional, an above average defender, a great rebounder for his size and never gives less than 100 percent. Barnes brings his hardhat and lunch pail to work every night. This is exactly what the young Nuggets are lacking. The entire team would benefit from Barnes' grit and defensive toughness.
After two impressive years with the Suns, Green fell off the map last season in Miami averaging only 8.9 points per game. He's undoubtedly a high-risk, high-reward guy. Green is an athletic freak that has the ability to create instant offense at three positions and has worked at becoming a much better defender.
Green was at his best in Phoenix when he was complementing the offensive talent around him. As a Nugget, that's exactly what he'd be asked to do.
No, seriously. What are the Nuggets two biggest needs? Outside shooting and defense. Smith can provide both in a much more consistent fashion then he did in his last stint with the Nuggets. The player that would shoot lights out one night then shoot his team out of a game the next is finally gone. No one can deny his ability; his biggest issue was always between the ears. If you watched his postgame press conference following the Cavs' NBA Championship you saw a changed man. Smith has grown by leaps and bounds on the court over the last two years and he's overcome his own demons to do it. He could help this young core learn how to avoid those mistakes. Plus, with his head in the right place, Smith can ball. He'd give the Nuggets a proven outside threat teams would have to focus on. That would open up the paint for Nikola Jokic to operate and driving lanes for Emmanuel Mudiay.
Despite the fact that the Nuggets have all the cap space in the world don't expect them to start throwing around money like Ja Rule circa 2004. And, don't think that's a bad thing.
Denver's front office isn't focused on building a winner by wastefully spending money in free agency. Rather, they are looking to bring in veteran players who can fill specific roles and help develop a young roster.
Buying offense in NBA free agency is a pricey endeavor. Scorers that can put up 20 points a game aren't cheap. Buying defensive-minded players and guys that can give you 10 points off the bench are much more reasonable. That's the market the Nuggets find themselves in and that isn't a bad thing.
Tim Connelly has stocked up on young, talented players through the draft. Now, with money to spend, it's time to add two or three key veterans that can help this team finally compete for a playoff spot in the West.