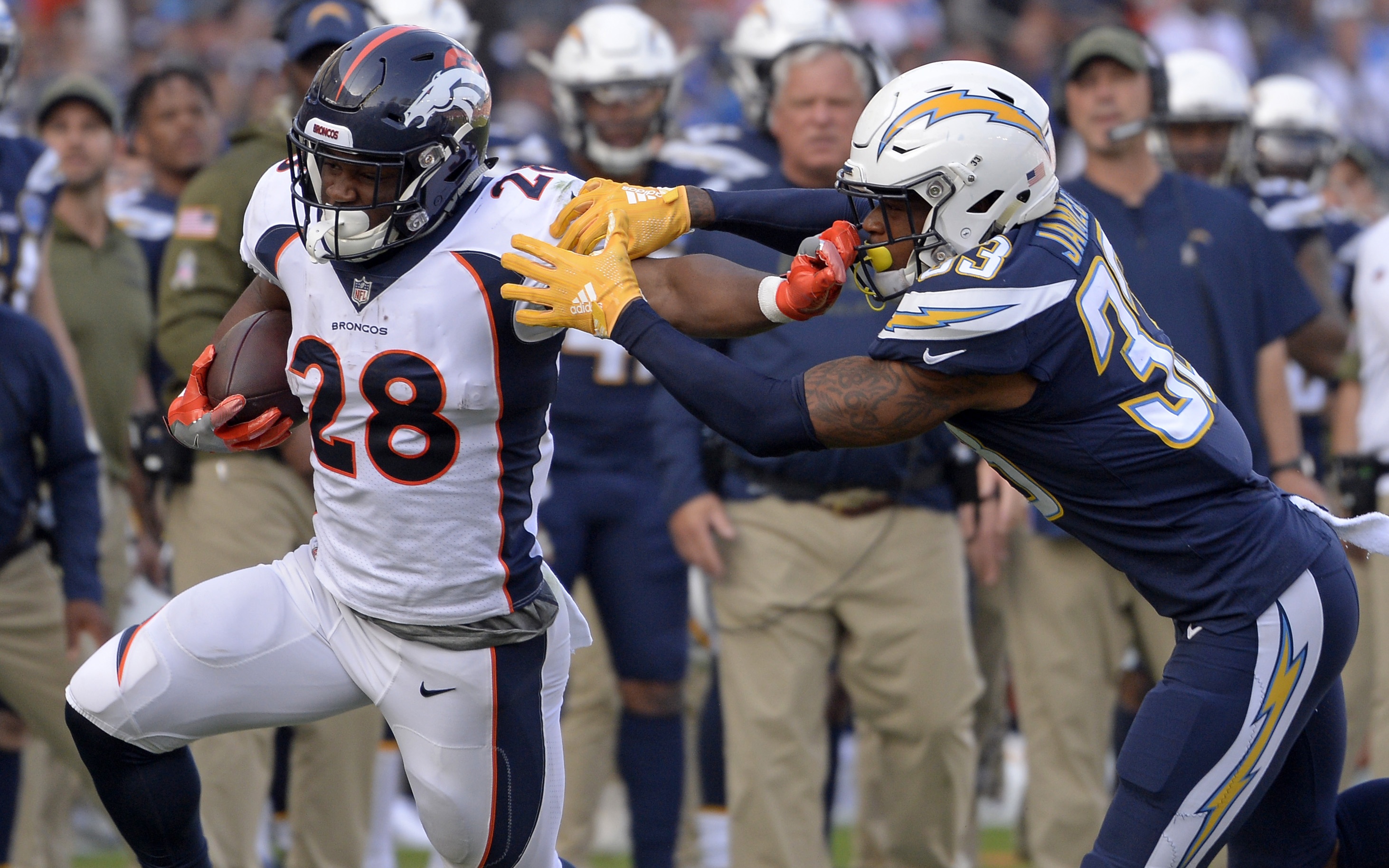 Now is the time for Royce Freeman to take his chance and run with it.
Freeman — who was drafted in the third round this year — started for the first half of the season before Phillip Lindsay started turning heads all across the league. But, Freeman has still be a solid back, racking up 461 yards and five touchdowns on a 4.1 yards per carry average.
And this week, with Lindsay likely moving to the Injured Reserve due to his wrist injury, Freeman will see his workload increase greatly.
"(DeVantae) Book(er) will get a bunch of runs," offensive coordinator Bill Musgrave said on Thursday at Dove Valley. "Then we'll have, of course, Royce take the lion's share."
Booker's best game of the year came against the Kansas City Chiefs in Week 4, rushing eight times for 67 yards (8.68 YPC) with a touchdown trot. That scoring run, in which he seemed dead to rights but ran through multiple would-be tacklers on his way to the end zone and dragged one into the end zone, is indicative of the way he runs; with power, toughness and determination.
"I think just as a running back group, we just go out there and compete and play the way we know how," Freeman of his getting the start this week. "Going out there, (Lindsay) supported me when I went down and we're making sure we still support him."
Like with Lindsay, the Broncos have been more than cautious with Freeman, as neither rookie running back enjoyed 20 carries in a single game all season long. That could finally change for Freeman this week, or not, depending on Musgrave's play-calling.
This season-finale is all the more important for Freeman to excel in because last week in Oakland was by-far his worst of the year according to Pro Football Focus. He carried the ball seven times for only 21 yards and missed his one target in the passing game. His overall grade was 35.6 (out of 100), the only time he's been lower than a grade of 52.9, which is still not good.
A quick glance at his grades on PFF suggests Freeman is fading down the stretch of this, his rookie season. But, a strong game this Sunday against the Chargers in the Mile High City will help to right the ship.
And, this game's a chance to leave an impression going into next year.
Lindsay will have anywhere from a 3-6 month recovery time with that injured right wrist, meaning in all likelihood, he won't be able to do much in OTAs. Freeman can start earning more playing time in 2019 by putting on a show against the Chargers and follow that up with a strong offseason.
"Just go out there and compete, especially with a great opponent like the Chargers coming in," Freeman said of his goals. "Playing at home, definitely go out on a high note, going out there and improving on things and just have a great culmination of things leading into the future."
Even with Lindsay's dominance at times, having a balanced attack with Freeman complimenting the Denver native, will only help the Broncos offense keep opposing defenses off balance.