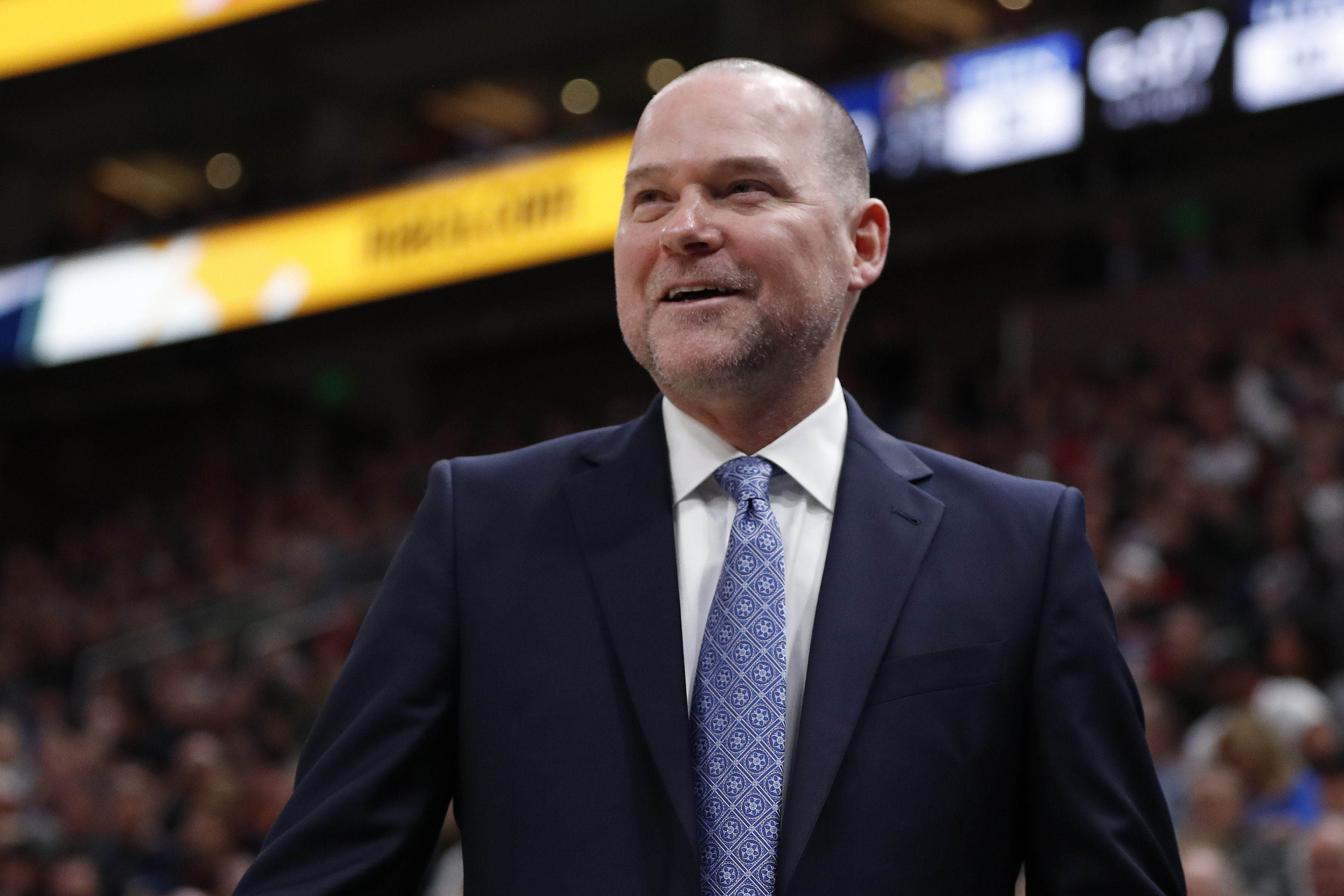 It may seem impossible, but training camp is virtually here for the Denver Nuggets.
On Tuesday, December 1st, training camp begins for the National Basketball Association which means the 2020-21 season is upon us.
But with all that excitement in the air, how ready is the Nuggets roster to dive into next season? What questions need to be answered during training camp and preseason? What will their rotation look like?
Well, let's dive into the Nuggets roster and break it down top-to-bottom.
Guards
Denver has six guards on their roster and that number grows to seven if will Barton III is included. So how is Nuggets head coach Michael Malone supposed to navigate such a stacked and talented backcourt?
Starters
Jamal Murray is obviously the incumbent starter at point guard and seemingly only an injury would invalidate that fact. After his incredible postseason run — where he averaged a whopping 26.5 points, 4.8 rebounds, and 6.6 assists per game while making 45.3% of his 7.2 triples per game — Denver has even higher hopes for how good Murray can become. There is no reality in which Murray does not start if healthy.
At shooting guard, things get more interesting. Denver has a few options to occupy this role. They could go back to Gary Harris to provide some perimeter defense which is glaringly missing from the Nuggets starting unit. If not, they could look to add Barton's size and versatility at the starting shooting guard spot, but he is also going to be needed to fill time as a small forward. Lastly, and admittedly the least-likely outcome, Facundo Campazzo makes some sense as the starter at shooting guard. He would allow Murray to play off ball more, could attack bent defenses with his incredible passing, and adds more shooting than Harris. Plus, Murray being big and strong helps make up for Campazzo's vertical limitations.
For arguments sake — and when taking into account what Malone values — let's slot in Harris as the starting shooting guard.
Reserves
Off the bench, things begin with Monte Morris. He is one of the premier backup point guards in the NBA and one of the most steadying on-court presences the Nuggets have. He will slot in as the backup point guard as did last season.
With the second backup guard slot up next, things get to be a bit more confusing. Once again, Barton makes a lot of sense here, but Denver needs him to soak up wing minutes in a major way which hurts his odds of playing more shooting guard. That leaves the Nuggets with two options: Campazzo or PJ Dozier.
Let's start with Dozier who signed a three-year contract worth a total of $3.85 million prior to the Orlando bubble. While it seemed like Dozier's role to lose at first due to his defensive versatility — especially with Torrey Craig now in Milwaukee — the signing of Campazzo brings a new variable to the equation. Dozier is the far superior athlete and defender, but Campazzo is one of the most gifted passers to every grace the earth and a versatile offensive threat. Dozier struggles to shoot 3-pointers and still has not found how he can help on the offensive end of the floor.
With that being said, a league source has told Mile High Sports that nothing will be given to Campazzo. He will have to earn his role as everyone else on the Nuggets roster has had to which gives Dozier a chance to secure it for himself.
With that being said, Campazzo will likely win the role which is why he will be slotted in as the backup shooting guard even though he is more of a pure point guard based on his size.
End-of-bench
That leaves Dozier and newly-drafted R.J. Hampton as the end-of-bench guards.
Dozier will have a better chance to play than Hampton based on the trust he has earned from Malone as well as the fact that he will bring high-level defense to the court whenever he steps onto it.
For Hampton, it will be a slower progression to playing time for him. He is just too raw and inexperienced to provide the Nuggets with important minutes during their pursuit of a NBA title. That does not mean he will never see the court this season with the Nuggets, but there is no place for him in the regular rotation as the playoffs near.
The only way Hampton becomes an important member of the Nuggets roster this season is if something went very right and he was significantly more ready for NBA basketball than previously advertised or something went very wrong and he was forced into the rotation.
Wings
Heading into the 2020-21 season, Denver is most thin on the wing.
Really, they only have two players ready to play small forward on the roster in Michael Porter Jr. and Barton, but where things get even more concerning is who fits in behind them.
Starters
At first glance, it seems it is time to give Porter the starting small forward role. He is the Nuggets best hope at a third star alongside Nikola Jokic and Murray and the only way he will ever reach those heights is to begin establishing himself with the starting unit and getting the repetitions needed to begin sanding down the rough edges of his game.
Still, there is a chance that Barton ends up starting at small forward over Porter. Barton showed he can be a much more impactful defender than many believed he could and also added a ton of rebounding to his game before eventually losing his chance to play in the postseason due to his knee injury. Malone trusts him and he is the emotional leader of the roster so it would not be surprising if Barton won this role.
Still, it seems the odds-on favorite to win the starting small forward role is Porter so let's slot him there for arguments sake.
Reserves
This means that Barton is on the fast-track to being the Nuggets backup small forward which should be a role he thrives in. He will be able to attack slower footed wings going to the rim or physically dominate smaller guards he gets switched onto him. Plus, the offensive capability of a Morris-Campazzo-Barton backcourt is incredibly exciting for a bench unit that had issues scoring the ball at times last season.
But what happens if one of Barton or Porter cannot play for whatever reason? Then where does Denver turn?
End-of-bench
There are three names who could potentially fit into this end-of-bench tier of wings, but it has more to do with two of them playing out of position more so than their talent level.
Let's start with the most traditional small forward of this group who is Vlatko Cancar. He is a wildly smart player, can play three different positions from shooting guard to small forward to power forward, can shoot the ball from deep, is a better passer than he is given credit for, and is a helpful team defender. Cancar is not a walking SportsCenter Top-10 highlight reel, but he does all of the detailed work that can get overlooked in the grand scheme of a full game.
Beyond Cancar are two players who are not ideally wings in Dozier and Bol Bol. Before getting into Bol, let's touch on Dozier a bit more. He would also be a fantastic pairing with Morris and Campazzo off the bench. His size and strength would be needed defensively and he also brings a high level of playmaking to the table. He would be a very nice fit at small forward if Denver suddenly found themselves without one or both of Barton or Porter.
Bol is much more fascinating and experimental. His offensive skill set allows him to play small forward in a pinch because he is a terrific shooter and knows how to create for others, but where this experiment has the potential to go off the tracks is on the defensive end of the floor. There is a high likelihood that Bol cannot defend small forwards or power forwards at the NBA level right now which puts his viability of helping a contending team like the Nuggets in doubt, but if he can find a way to just become passable on defense, the potential for Bol as a small forward is undeniably on the table.
Bigs
Jerami Grant choosing to leave the Nuggets despite their Western Conference Finals run and the fact that Denver offered Grant the same contract as the Pistons was a gut punch for the Nuggets organization, but it also left the Nuggets with virtually no frontcourt depth on the roster at the time of his decision.
President of basketball operations Tim Connelly and his staff did a great job of pivoting and finding ways to shore up their roster, but there are still some concerns with the Nuggets rotation of bigs on their completed roster.
Starters
Obviously Nikola Jokic will continue starting at center. Not much else to say here.
But at power forward things get more interesting. Denver now has Paul Millsap retained for one more season, but they also brought on JaMychal Green as well. So who ends up getting the nod to start at power forward and who comes off the bench? That is going to be one of the most fascinating position battles for the Nuggets entering training camp on Tuesday morning.
Let's start with Green who is one of the new faces in the locker room this season. Green is a smart and versatile defender, a strong shooter, and plays mistake-free basketball. On paper, he was a fantastic pickup to replace the loss of Grant, but are those skills enough to overtake Millsap who started at power forward over Grant all last season?
Millsap has the trust of Malone, help push the Nuggets to their current heights, has been a terrific addition alongside Jokic, and is the wise sage in the locker room, but his playoff performance showed a player who's age was finally catching up to him. Does Millsap have enough left in the tank to continue starting at power forward or is his ideal role as a backup big who can play both power forward and center? That is the question Malone will have to answer in a hurry.
For now, let's slot in Green as the starting power forward alongside Jokic.
Reserves
With Jokic and Green starting at center and power forward, Denver will have a couple options for their backup frontcourt pairing.
First off, expect whoever of Green or Millsap doesn't start to play the bulk of the minutes off the bench. For this, let's keep working a if Green is starting and Millsap is coming off the bench. That would allow Millsap to play backup center in a small lineup or to play power forward alongside a center for a more traditional five-man group. That versatility would allow Millsap to play a good chunk of minutes even if he is not starting games.
There are two names that could fill the backup center role: the newly-acquired Isaiah Hartenstein or the newly-drafted Zeke Nnaji. The Nuggets are excited about the potential that Hartenstein brings to the table as a hyperactive and athletic big, but being that he has yet to play over 500 total minutes at the NBA level there is still a worry that he is not a NBA-caliber role player at this time. Nnaji is still a rookie who is working towards expanding his shooting range and defensive impact which puts his ability to contribute in question. Denver did their best to find bigs who can help right away, but there is a reason Millsap might end up playing backup center.
So this means Millsap and Hartenstein are the most likely options to fill out the backup frontcourt.
End-of-bench
The rest of the Nuggets depth for bigs exists in the likes of Nnaji and Bol. If someone gets hurt, one or both of them will be asked to fill time.
Nnaji is probably more prepared than Bol to contribute right now, but that could change quickly. According to multiple Nuggets sources, Bol has looked great in workouts and they are excited for what his future holds so maybe he finds a way to force his way into the regular rotation.
For Nnaji, everything hinges on his ability to hit NBA 3-pointers and defend multiple positions consistently. Connelly believes these skills are already manifesting on the court, but he will have to prove it in training camp if he wants to carve out a role for himself this season.
---
So with all of this being said, what does the Nuggets depth chart look like?
Here is what the Nuggets starting lineup, reserve unit, and end-of-bench groups all look like on the depth chart for the Nuggets:

As stated above, the Nuggets are thin on the wing and need one of their young bigs to step up in a big way this season. They also need to find a way to discern which of their guards will be in the rotation and which will find themselves without a role.
There are still many questions to answer during training camp even if the Nuggets roster is finally finalized.