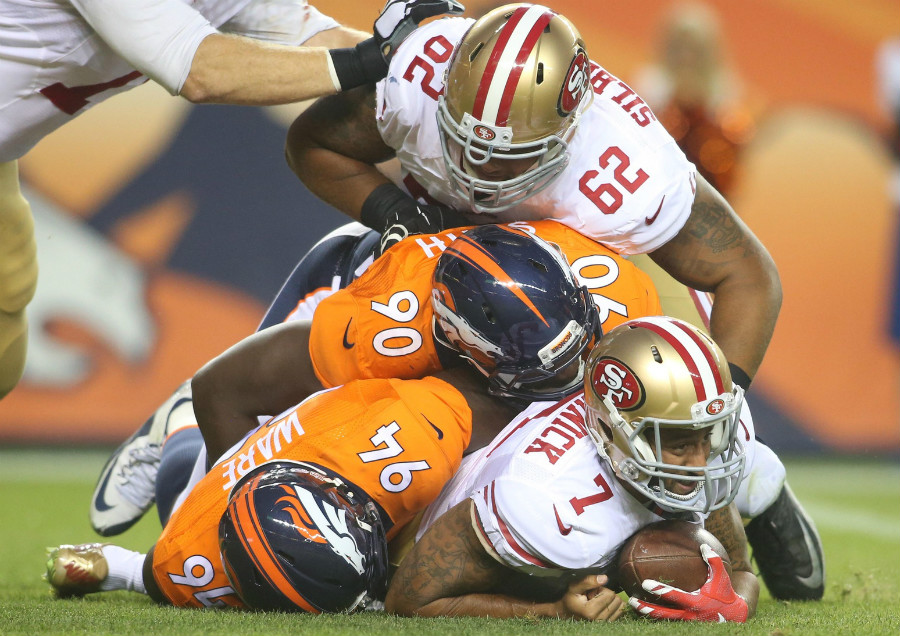 It's no secret. When you run into the same person at full speed every day for three weeks, there's going to be some animosity, even if it only lasts for a second.
The Broncos have proven that.
On Monday, two or Denver's star performers, wideout Emmanuel Sanders and cornerback Chris Harris, engaged in a heated shoving match after a play that ended with both players sprawled on the ground. Head coach Gary Kubiak took both players off the field for the remainder of practice, but he wasn't angry; he understands.
Tempers flare this time of year, and all it really means is that the team is ready to start hitting someone else.
Luckily, they'll get that chance this week, as the San Francisco 49ers are set to come into town, where they'll practice with the Broncos for two days before facing off against each other on Saturday for their second preseason game.
Following Monday's intense practice, some of the Broncos spoke up on the importance of facing off against a new opponent.
Virgil Green on the intensity of Monday's practice
"When you have a practice like on Saturday, you definitely want to come back out and establish yourself as being very competitive. That's what we went out there today and did. We just competed and treated it like a game today. We had a good day today."
Bradley Roby on the tension between offense and defense
"It was just a competitive practice. Those types of things happen, especially when you've been going against each other for a couple weeks now. [Head Coach Gary Kubiak] 'Coach Kube' got after those guys because last practice we basically shut them out. We knew they were going to come out a little more focused and chippy. Those things happen. We're playing a physical sport. There's a lot of testosterone, a lot of grown men out there banging. Of course those things are going to happen. They [CB Chris Harris Jr. and WR Emmanuel Sanders] made up. They're both teammates at the end of the day. I ran over there, too. I was trying to stop it though. I wasn't trying to do anything."
Roby on practicing with the 49ers
"It'll be easier for me for sure because I get to go against their receivers, the same guys I'm going to play on Saturday. It'll be easier for me. It's cool. [49ers RB] Carlos Hyde is over there. He's another Ohio State guy, so I'll be talking trash to him a lot. I just want to keep in to it, keep it focused and keep it light."
Roby on the positives of a joint practice
"I think the coaches just want to see people compete. They want to see the young guys compete. They want to see who is going to step out there and handle their own when foreigners come. I think that's what it's really for. It's good work."
Sylvester Williams on practicing with the 49ers
"At the end of the day, you want to be able to hit somebody different. You want to be able to go out there and compete against somebody different because you get to take your game and really see where you're at. When you run against the same person every day, you get used to that person. It's good to go against another team and other players so we can get a different feel for our team, our defense, our offense, special teams—everything."
Gary Kubiak on Monday's practice
"We had a good edge today. I thought the offense practiced really well, especially the first hour and twenty minutes. They made a lot of big plays. We just had a good competitive edge to us. It's something that we have to find all the time. It was a good practice. We're tired of practicing against each other. We got one more day then San Francisco comes in."
Kubiak on what he wants to see from his team
"I have so many questions that we can answer on the team. I get a lot of them answered. This week is a big week for this team. We had a very competitive practice today. We're going to have two against the 49ers, and then we're going to play them on Saturday. You're getting to a point where you should start to answer those things. We'll keep pushing. I'm not going to treat this week any different other than our starters will play longer. We treat all games the same. We have to make a decision on reps and how we'll go about it."
Kubiak on Haris and Sanders' shoving match
"They're just tired of going at each other. We have to keep our composure. Guys are going to get upset and battle each other, but there are some things that they won't let you do on the field, so we can't do those at practice either. They were just competing. Nobody was thrown out of anything. They're just competing."