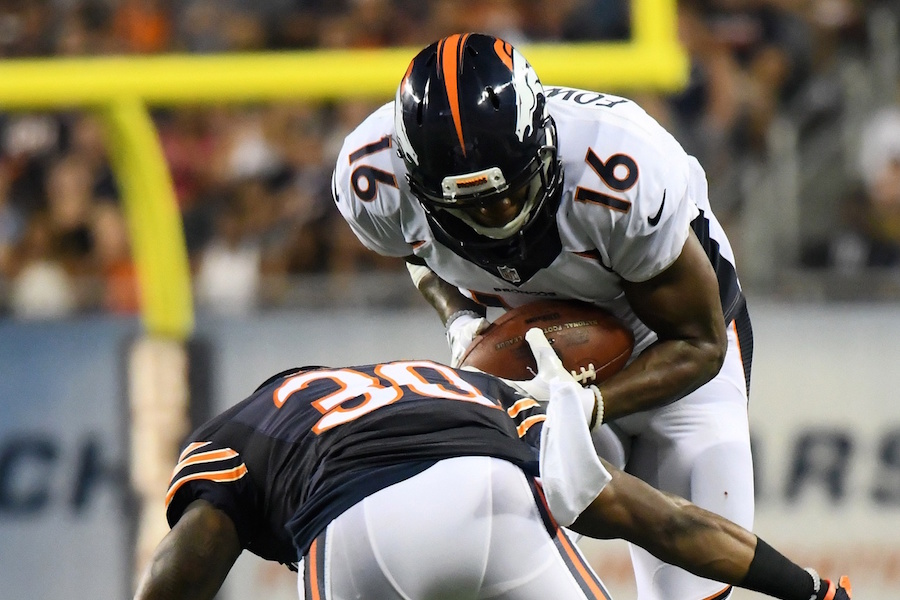 Bennie Fowler suffered a setback in his efforts to take firm hold of the No. 3 wide receiver spot when he revealed Saturday he has a minor fracture in his elbow that will keep him out "a few weeks," in his words. Wide receiver Cody Latimer, Fowler's chief competition, will likely see increased reps in Fowler's absence.
The two met with the media after Saturday's practice, along with head coach Gary Kubiak, and spoke about the situation.
Here are the highlights from their media Q & A, courtesy of Broncos PR.
Bennie Fowler
On injury to his arm
"It's alright, it's nothing too major. Just covering a punt and I just fell on it awkwardly. It's just a small fracture, nothing major. I'll be back in a couple weeks." 
On his feelings about injury 
"I'm not really frustrated. I still have an opportunity. I just got to get healthy and once I get healthy, just get back out there to pick up where I left off."
On when he felt the injury 
"I didn't feel it. I played the rest of the third quarter. I had no problem with it. Then I woke up and had to get an X-Ray. It showed a little tiny fracture." 
On his approach to being out for some time
"Just stay locked in mentally. I'll be able to run and things like that while still conditioning. That's a good thing that I can still run and do other things."
On his performance in the first preseason game 
"I feel happy. I got some catches in there and was able to block a punt. I was able to show my versatility and show what I can bring to the table." 
On whether he will need surgery
"No, no surgery on it." 
On how long he'll be out
"A couple of weeks."
On where the injury occurred 
"Just right outside the elbow. I don't know what the bone is called; it's the radius bone or something like that. It's not that big of a deal, though. I'll be back again in a few weeks."
On when he knew he had sustained an injury 
"The next morning. I played the rest of the game with it so I didn't even know."
On what his motivation will be after he recovers
"Motivation is still the same. I still want to be out there as much as possible and make plays on offense and special teams."
Cody Latimer
On the first preseason game
"It felt great. I knocked a little rust off. I'm sore from it, but it felt good."
On his opportunity for more reps
"You never know. It's camp. Everybody has an opportunity. You never know what is going to happen. I just have to keep focusing on me, keep making plays and doing what I can to make this team and get out there on offense."
On why he is improving as a player in this training camp
"It's because I'm confident. I don't have to do a lot of thinking. I know the offense, so I can just go out there and just run. I don't have to think so much and worry about things. I just go out there with confidence and make plays."
Gary Kubiak
On WR Bennie Fowler's injury
"He made it through the game. He has some type of a small fracture in his elbow. He's going to be a few weeks. The plan is kind of like with [OL] Ty [Sambrailo] from a standpoint of we have to stabilize it here for a few days. He should be able to do all the running and conditioning, but Bennie is going to miss a little bit of time. It's disappointing. He's really playing well, but we're going to get him back. It's just going to take a little time."
On when Fowler injured his elbow
"He did it covering a punt. He went to the ground, got blocked, put his hand on the ground and I think it dislocated or something."